This eBay retailer sells designer teas and spices and for tea lovers everywhere making this ecommerce retailer a dream come true!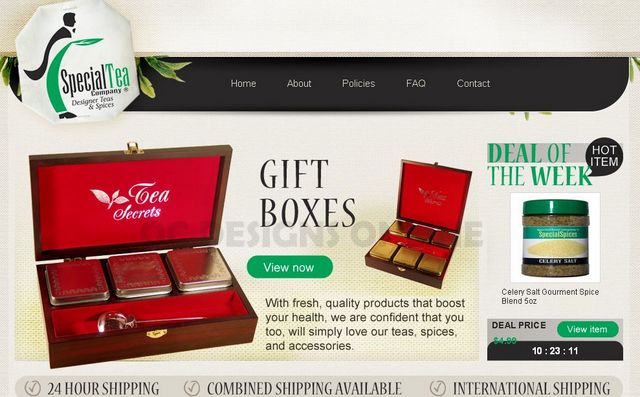 The experts behind the Special Tea Company are a British father-son team who have learned over the years the value of inspirational teas and spices—and they've even delved into the incredible health benefits teas can offer. With award-winning healthy teas, they utilized extensive research and development by investing in both natural tea blends and premium spices that are free from irradiation, additives and preservatives.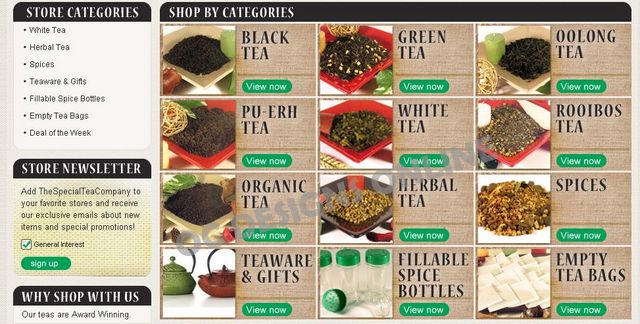 With their new eBay store design, the Special Tea Company can now reach both U.S and worldwide tea lovers in a shopping arena most of us love today—online shopping!
For this eBay store design, OC Designs Online really wanted to make the storefront stand out and we're sure we did just that! Upon entering this eBay storefront you may think you're not on eBay at all. With the prominent logo, top navigation bar featuring links to their About Us, Polices, FAQ and Contact Us tabs and a showcase of tea gift boxes they provide, this tea store really looks stunning.
We also including something important to this client—a hot deal of the week which show the price and how much time is left so buyers can easily take advantage of these special deals. A short welcome/introductory text of what they do in the tea world is also prominently displayed along with important why buys: 24-hour shipping, combined shipping and international shipping.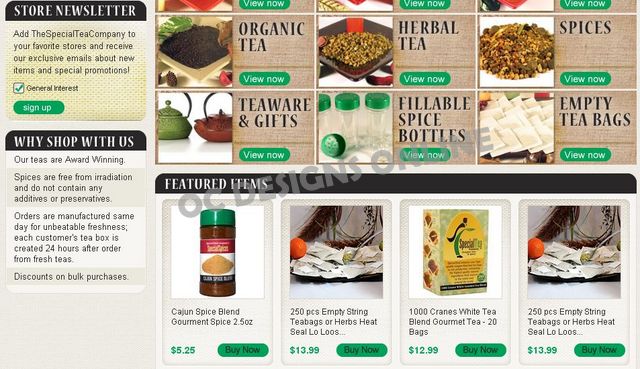 Drop down a little further on this eBay store design and there are shop by categories based on tea flavors and a sidebar menu also showing tea shopping categories. With eBay store designs, it's important to offer buyers tons of ways to search your product listings.
Shoppers can also sign up for a free newsletter to stay on top of what's up at the Special Tea Company and browse featured items. For shoppers who scroll down on this eBay storefront, they also gain more why buys like how their teas are award-winning and are free from all the bad elements tea drinkers don't want in their beverage, how orders are manufactured the same day for freshness and how each ordered tea box is created 24 hours after ordering from the Special Tea Company. In addition, another why buy is their offer of discounts on bulk purchases.
The bottom of this eBay store design shows the various types of payments they accept and a mini clickable sitemap for shoppers. And a click on any of the sitemap pages—FAQs for instance still delivers a must do eBay store design element—the feeling you are still within the Special Tea Company ecommerce store by not losing the store categories or the top navigation menu—even their logo remains!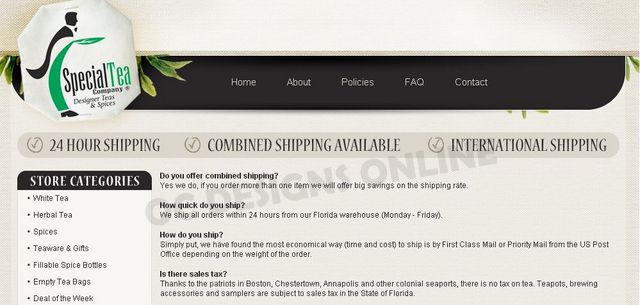 At OC Designs Online, we know you can sell just about anything on eBay, but having the right eBay store design can and does make a difference in your brand and getting noticed on eBay. We are delighted with this eBay store design and if you're looking to sell on eBay or already do, Request a Quote and browse some of our other eBay store designs to get an idea of what we can do for your ecommerce store!
As far as tea goes…we think we're a little thirsty now—it must be tea time!