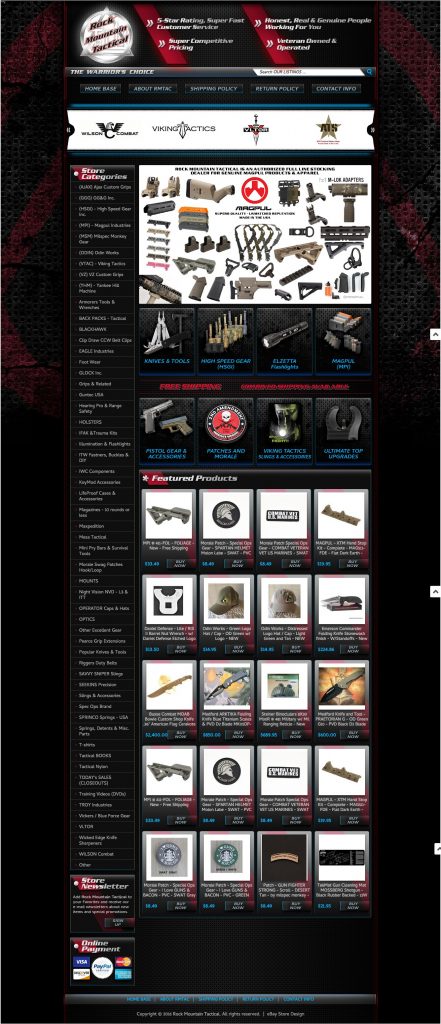 Today on the blog, we wanted to share with you a strong design we created for Rock Mountain Tactical on eBay. This design features dark/highlighted colors, well-placed information, and more. Stay tuned for the design story below, as well as some other designs you may want to see from the OCDesignsonline team.
The Dark, yet Highlighted Colors Bring About a Strong Mindset
Rock Mountain Tactical has a strong title and as such features a matching masculine eBay storefront design. One of the elements that help evoke this kind of feel in a design is the color scheme chosen for their look and feel. While bright and colorful tones would bring about a sense of innocence or excitement, rightfully so, darker colors were used to remind potential customers of the serious nature that is shopping for home protection. Black colors cover most of the storefront, with dark reds bringing an added highlight.
Well Placed Information Helps the Consumer and SEO
Another benefit to Rock Mountain Tactical's eBay HTML store design is the easy to locate information. Information such as pricing, customer support history, owner details, and so on are located right at the top of the page. Also located are other important store policies like returns, contact information, and shipping policy so that current and potential customers can see most of the important information customers search for easily.
This helps consumers be less frustrated with the buying process and it helps Google and other search indexes compile a list of terms to associate with your store, which can help in Rock Mountain Tactical's search engine placement.
If you want an eBay design that helps you impress customers at first glance, sell more products, and helps you reach your eCommerce goals than you need to contact the OCDesignsonline team for a free quote as soon as possible.
Other blogs you may want to peruse when considering your eBay designer:
Request a free quote now to get started
OCDesignsonline has a large portfolio of clients, spanning several years and platforms, so browse our portfolio to get a feel of our quality of work and then request your free website design quote to see what we can do for you. Don't forget to also follow us on our social media accounts: Facebook, Twitter, Google+, and Pinterest for more updates.