OCDesignsonline loves working with companies that have a set brand identity that they already love and understand. Especially since on eBay, you can pretty much sell anything and everything. Today we are sharing with you the brand Southern Star Surplus, a store that loves the spirit of Country and all of the clothing and personal styles that the southern states are known for.
The header image sets the tone
The way customers are welcomed into your store is a really important factor in their first impression of you. You want customers to be drawn in right away, so this image featuring a woman with a horse helps show the prospective customer what they can expect from this store before they even have a chance to look around.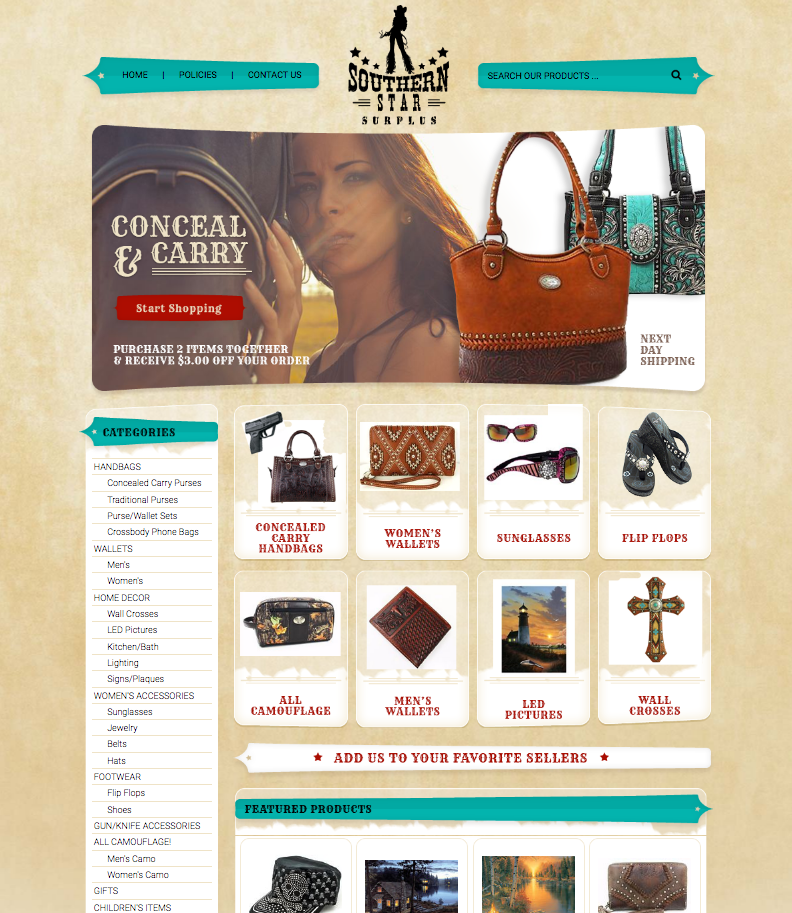 We also made sure to add an eligible sale, call-to-action, and shop policy to the image so that customers can be encouraged to look around right away. Having engaging buttons and other call-to-action elements throughout your store is a great way to encourage more browsing and in turn, more sales.
Clickable category images help encourage more sales
Making things easier for eBay customers is one of the best things you can do for these eBay store designs. As such, we created clickable category images that have examples of some of the products sold by our client so that they can grasp more of what is available and browse with intention.
Right beneath those category images we have put together a Featured Products widget, which is a great sales driver because it shows customers average prices before they even click around. This area is also perfect for featuring more seasonal items, like summer clothing, during the seasons they will sell the most.
These elements, combined with the on-brand logo and textured background, bring together a store that outperforms the rest.
Other eBay clients you may want to explore:
If you want a design team with years of experience on eBay, someone that actually knows what works and what doesn't when it comes to eCommerce platforms, OCDesignsonline is the designer for you.
Request a free quote now to get started
OCDesignsonline has a wide array of eBay listing templates to choose from on the site. Take a moment to browse our portfolio and request a free quote. Also, don't forget to find us on Facebook, follow us on Twitter and check out our Google+ Page too!