There is a huge online coin seller presence on eBay and we have been honored enough to be able to design several of the stores that make up this exciting group of collectors and aficionados. 
Designs we have created for eBay coin sellers:
Today we are sharing a look into the design we put together for CA Gold and Silver, another one of the coin collecting stores we get to add to our expanding portfolio. 
This blue and gold design helps boosts sales
For this eBay coin seller, we chose several features to emphasize so that they incur more clicks and sales. For example, the Daily Deal section shares a limited edition sale that customers can tell immediately won't last long because of the countdown clock feature.
The Featured Products section we created also helps boost sales for our client because they show some limited edition or on sale coins available at a glance, which helps customers that find our client see what this store has to offer at a glance.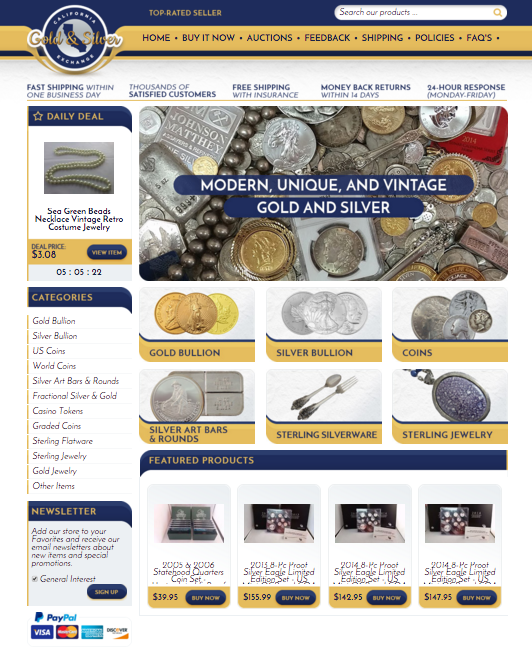 The blue and gold we use in this design helps bring attention to the colors of the coins shown in the welcome image and category sections. Above the welcome image, we also have created a Why Shop With Us? banner area, which is one of our favorite features to add in stores because it helps build trust with potential clientele.
Overall, it's the little details in designs that matter. You need a design team that knows what works and what doesn't for your eBay business sector and we have experience in all of them. We won't waste your time or your money, we'll create a store for you that is more than just a pretty design.
Request a free quote now to get started
OCDesignsonline has a wide array of eBay listing templates to choose from on the site. Take a moment to browse our portfolio and request a free quote. Also, don't forget to find us on Facebook, follow us on Twitter and check out our Google+ Page too!