We at OCDesignsonline love hearing success stories, especially when we help long standing businesses improve. Treasure Island Coins has been in business since 1976, is Paypal verified, and has an A+ rating at the Better Business Bureau (BBB). That is quite a feat. Check out below how we upgraded their eBay storefront design and then make sure to request a free design quote so we can get you started on a new eBay or eCommerce design.
We began with a color scheme and logo
The logo for our client, Treasure Island Coins, mimics the look of a minted gold bar. This clever logo shares with potential customers the idea behind the brand – that they sell more than just coins. Our client specializes in both precious metals and coins, so we decided against creating a coin logo so as not to accidentally marginalize their brand image.
The colors we chose for this design were gold, black, white, grey, and a few sprinkled in blue tones to match their BBB seal of approval. Since the products they sell are often sold to collectors, a more sophisticated look would be more appropriate than some of the trendier designs we've created for clothing brands or shoe stores. We consider every brand image seriously so that we make sure the design we provide for the client matches the store's personality.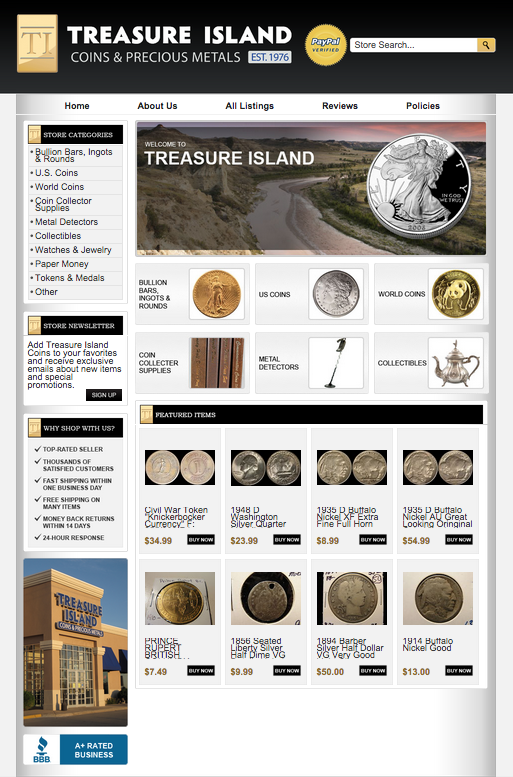 Creating an image for a brand that actually speaks to the soul of the product increases sales for our clients because it brings in the right customers and makes said customers feel like they can identify with the store owners.
For the head image of the store, we highlighted their Paypal certification, motto, and established business date to also share with our client's customers the value that they can provide. Beneath the header image is also links to their About Us, Reviews, and Policies pages so that Treasure Island Coins' customers can feel informed about their purchase decisions – which also builds trust with customers and helps increase sales for our client.
Contact OCDesignsonline for a free quote today on your new eBay design
OCDesignsonline have a wide array of eBay listing templates to choose from on the site. Take a moment to browse our portfolio and request a free quote. Also, don't forget to find us on Facebook, follow us on Twitter and check out our Google+ Page too!