We at OCDesignsonline have created many designs for eBay coin sellers and all of them have been high performing yet completely different. For examples, check out our designs for these coin selling clients: Rare and Modern Coins and Supplies, Bullion Exchanges, Fast Coin, E-Coin Show, and there is even more.
eBay sellers of all kinds come to us to make designs that boost their sales because our way of approaching the design process works. It all starts with a goal.
This design grabs the eye
In today's success story, we are going to share the design we put together for our client Coin Exchange. Our goal with this design was to create an eBay storefront that features products in an eye-catching and uncluttered way.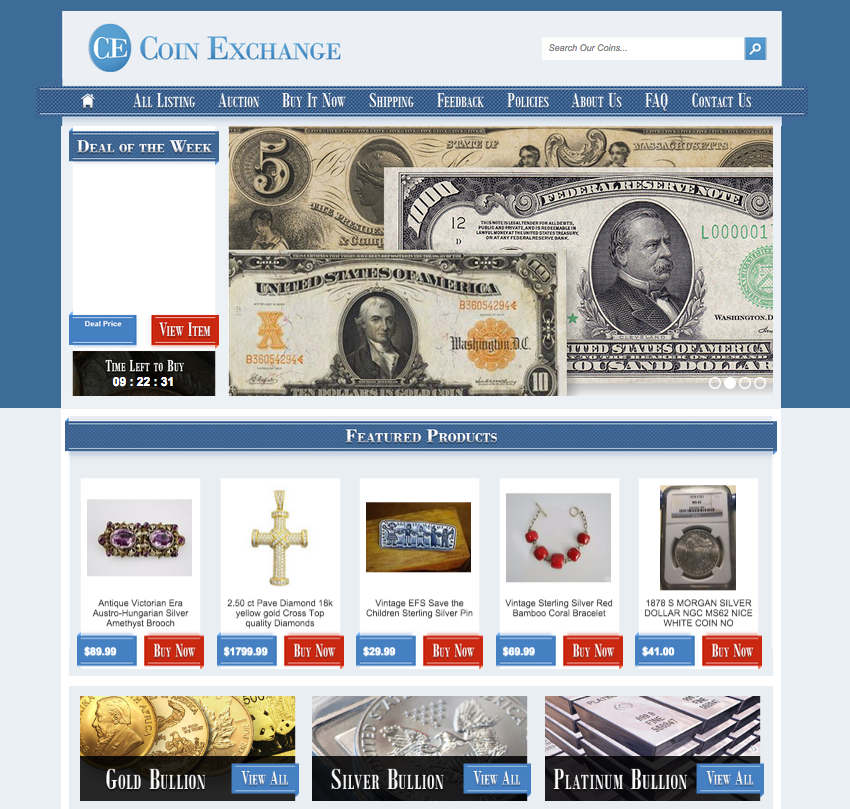 We started with a Deal of the Week section up front and center. Time and time again we've seen Deals of the Week (or similarly, Daily Deals) sell products at higher rates. As you can see from this screenshot, the Deal of the Week is actually already sold out!
Additionally we created a rolling Featured Products section that really brings attention to what our client has to offer. It isn't visible in just a screenshot so we recommend you go to our clients store to see how the rolling aspect works.
Beneath both of these high performing sections we have photo categories for the types of coins offered in our clients store. This is very visual oriented page grabs the eye of customers, encouraging them to browse and buy more.
Custom category and listing pages create an environment for success
However, since the main eBay store design features many images it doesn't work for the category pages and individual listing pages. So we created a custom category page that had links on the left instead of clickable images.
For the custom listing template page, we took it up a notch by adding a Why Shop With Us? area to encourage customers that have found our client's listing through search to end up going to their main store page and adding on more items. Having listing templates is an essential for eBay sellers as it encourages new customers to become returning customers, while also creating a feeling of trust in our client over brands that don't have listing templates.
Contact us for a free quote today
OCDesignsonline have a wide array of eBay listing templates to choose from on the site. Take a moment to browse our portfolio and request a free quote. Also, don't forget to find us on Facebook, follow us on Twitter and check out our Google+ Page too!