The windows roll down, the sunroof goes back and the volume turns up. These are the signs that you're trying to drown out the noise of a road trip gone wrong or that your favorite song has just graced the radio. In hopes of the latter of the two, Vortex Audio Express amplifies the beat of your favorite tune. The e-commerce shop recently joined forces with OC Designs Online to turn up the volume of their eBay storefront. The audio speciality store found a custom design that fit the vibe of the shop with a vast array of eBay templates. Now it's easy to turn the volume up in both sales and customer views!

The welcome pane of this eBay store design keeps matters simple and sleek. The custom design keeps the flow of the store simple with an edgy vibe. The pane hosts two sets of tabs that introduce online shoppers to Vortex Audio Express. The left hand side expands on the shop and allows customers to contact the store with a "Contact Us" tab. The right hand side displays the perks of shopping with the store including fast shipping and hassle free returns. The silver and golden tabs keep a nice flow to the shop and remind customers they're in the best spot for audio products!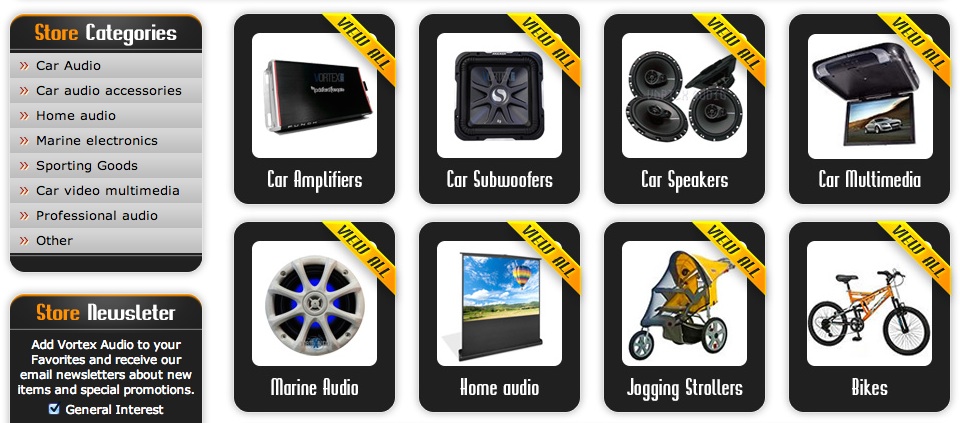 The midsection of this eBay shop design keeps browsing store inventory a cinch. Each of the eight tabs include a category title, an image of the product and a golden yellow ribbon. The ribbon drapes over the top right hand side of the tab to inform customers they can view all products by clicking the category tab of their choice. Don't forget to browse through the stroller and bike tabs too! With all these new changes the store is growing and expanding their expertise beyond the world of audio products.
If the customer is in the mood for a discount, deal or new product there's a tab for that too. Directly to the right of the midsection in this eBay store design is a tab for the store newsletter. The button adds the store to your favorites on eBay and automatically keeps you in tune with what's going on with the shop!

The footer of this eBay shop design showcases the shore's featured products. Store inventory will constantly grace the main storefront page allowing customers to become aware of products and allow them to instantly add products to their shopping cart.
Partner with OC Designs Online for a custom design that meets your needs as well as the needs of your customers. Take some time to browse our portfolio of dazzling store designs, and then request a free quote.
Don't forget to find us on Facebook, follow us on Twitter and check out our Google+ Page too!