Many people believe there's a world out there beyond our own. The World of Warcraft games allow us to reach beyond what we know and explore people and creatures only our imagination can dream up. The MMORPG, massively multiplayer online role-playing game, came about in 2004 by Blizzard Entertainment. Today thousands of gamers and enthusiasts lose themselves in the World of Warcraft and are able to do so with TCG Centers. TCG Centers is currently the highest volume WoW seller on eBay and plans to stay that way. The shop just teamed up with OC Designs Online for a custom eBay store design that suits both them and their shoppers.

The header of this eBay shop design sets the tone for the shop. The rustic crimson and black backdrop along with the bold, gold dated font add a mysterious feel to the store. The logo is front and center making it hard for customers to miss. A panel lies underneath the logo introducing shoppers to common store topics such as store policies and customer feedback. This panel introduces the shop to the customer and enables them to feel comfortable shopping with a credible online retailer. In the top right hand corner is a search tab. This allows customers to dig a little deeper into the inventory and search for specific products. Just like the game, each tab leads to one discovery after the other.

The midsection of this eBay store design brings WoW characters and cards to life! The welcome pane has a store greeting on the left hand side welcoming the shoppers to the store and introducing customers to the shop. Below the welcome is a "Shop Now" tab which directs online shoppers directly to items for sale. Customers won't be able to take their eyes off the glowing, whimsical character to the right. Her beaming eyes and multicolor body light up the storefront!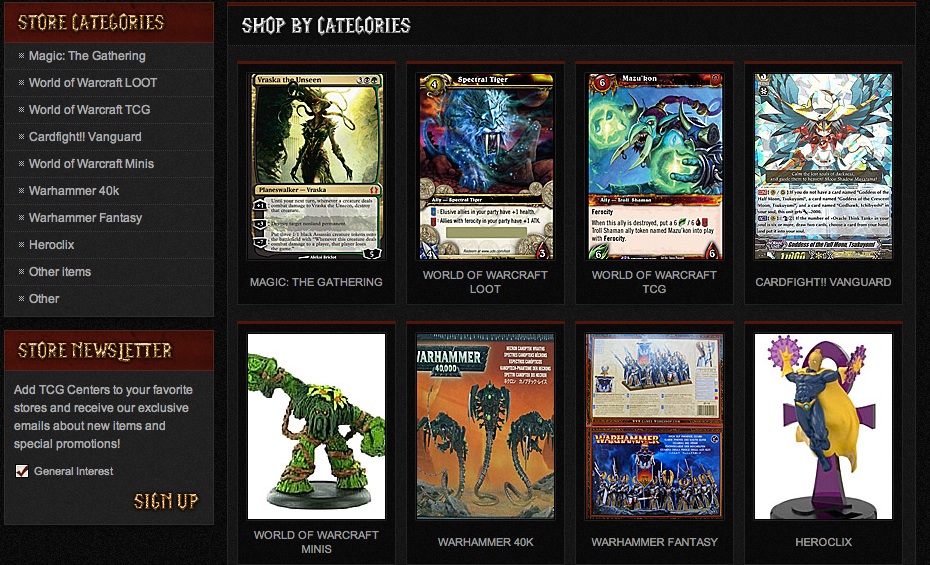 Categories are the main topic of this eBay shop design footer. A panel that lines the left hand side of the page introduces customers to categories within the shop. However, directly to the right online shoppers can find categories accompanied by a high resolution photo. Online shoppers are visual and seeing products nudge them to shop and look a little further.
OC Designs Online have over 250,000 eBay templates to choose from and customize. Take some time to browse our portfolio of store designs, and then request a free quote. If you have any questions feel free to ask!
Don't forget to find us on Facebook, follow us on Twitter and check out our Google+ Page too!