We live in a world where you should be prepared for anything. Safety is a concern for everyone especially when the zombie apocalypse can happen at any moment. Machetes, knives and hand cuffs often grace the big screen in horror and action films, but these tools can be used in martial arts and emergency situations. Blade Addict has sharpened up their eBay storefront by teaming up with the graphic designers at OC Designs Online. They skimmed OC Design's endless array of eBay templates and found the layout perfect for the store.

The header of this eBay shop design makes a simple statement with a shiny silver undertone. The store logo stands in the top left hand corner immediately introducing online shoppers to Blade Addict. Meanwhile, a black panel stretches across the header highlighting the must-sees to the shop. Outstanding feedback, shipping information and customer support can all be accessed by simply clicking the tab of choice. Finding store information is seamless and keeps this knife shop layout everything but choppy.

Some may say the welcome pane to this eBay store design is cutting edge. A polished knife glistens under the light along with a proper greeting from the e-commerce shop. Beneath the blade is a "Start Shopping" tab to guide online shoppers straight to store inventory. Beside it is a miniature shopping cart that directs customers to the items in their digital shop cart. This eBay shop design makes checking out and finding products a cinch!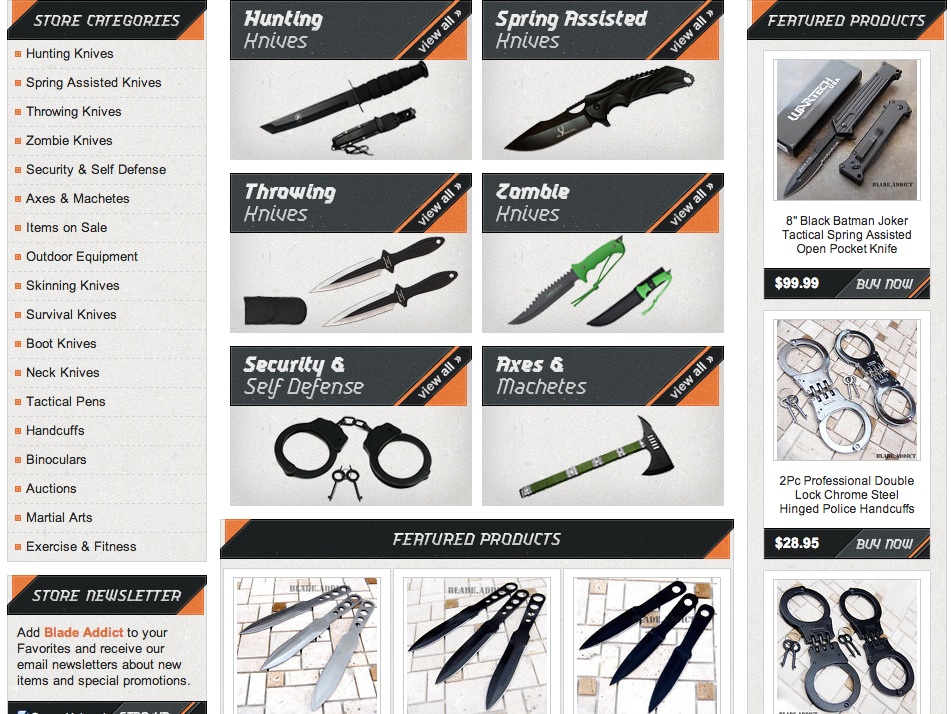 The footer of this eBay store design keeps blades, knives and cuffs in clear view of the shoppers. Two separate panels stretch horizontally and vertically across the page showcasing items in high demand or with a great deal. Six tabs lay in the center of the page making store categories the center of attention. Whether you look left, right, up or down there's a sharp visual with an even sharper product behind it!
Blade Addict offers more than items that cut and dice. They also cut the price! This eBay shop design includes a tab to sign up for the store newsletter. The newsletter is dispersed among new and previous customers to keep shoppers informed of discounts and deals.
Partner with OC Designs Online for a one-of-a-kind design that meets your needs as well as the needs of your blade enthusiasts. Take some time to browse our portfolio of sleek store designs, and then request a free quote.
Don't forget to find us on Facebook, follow us on Twitter and check out our Google+ Page!