When choosing a platform to host your shop there are numerous things to take into account. Security may be a top priority for many e-commerce shops. Others may want to focus their energy on having a strong search engine presence. BigCommerce prides themselves with being fully loaded in all the crucial departments! Everything you need to have your e-commerce shop excel can be found through BigCommerce.
The BigCommerce store comes with a large package of benefits. A website, domain name, secure shopping cart, payment gateway, and a mobile-optimized store are just a few of the perks with hosting your store though the webshop platform. Search engine dominance and built-in marketing tools are also no stranger in everyday advantages with teaming up with BigCommerce. In the end, along with all the benefits, you want to make sure your store looks exceptional. When it comes to superior design and layouts you look to OC Designs Online. OC Designs Online specialize in BigCommerce store designs and will customize looks for any occasion.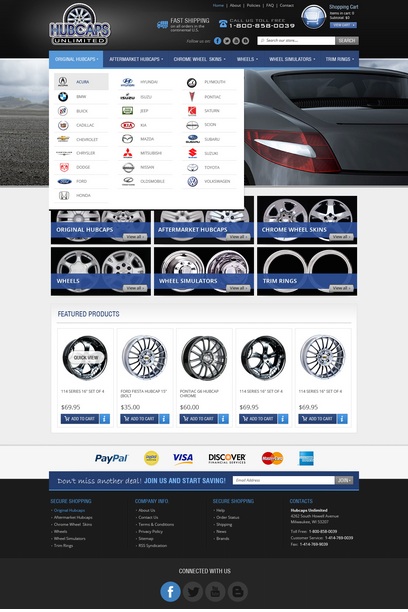 The BigCommerce store design above was designed specifically for a hubcap shop by OC Designs Online. One thing that many online retailers know if that online shoppers are visual. OC Designs always takes this into account for a visually stunning shop design. The hubcap specialty store has photos of products for both the store category tabs along with featured product tabs. The top panel has a drop down menu making the store user friendly and mobile-optimized all at the same time!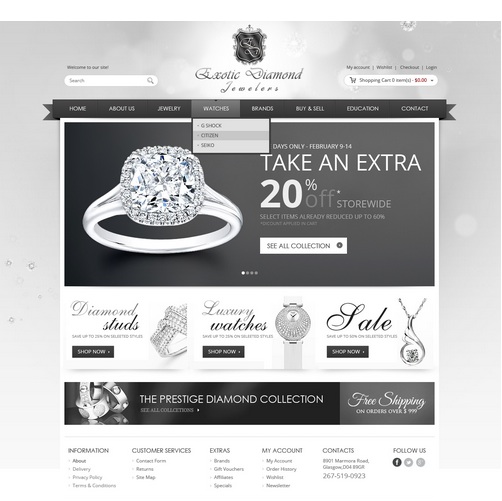 An exotic diamond shop remains sleek and sophisticated with a crisp white, silver and charcoal grey layout. The storefront displays product inventory throughout the page, introduces shoppers to a sale and discount at first glance and dazzles customers with sparkles in every corner. The logo of the shop is front and center building a strong brand identity for the store. The store shopping cart can be found on the right hand side of the shop logo. BigCommerce enables online retailers to view customer's abandoned shopping carts. This makes it easy to target customers with sales and remind them of their interests through email, prompting them to finish checking out and browse inventory. It's a small, simple feature that can easily generate higher sales!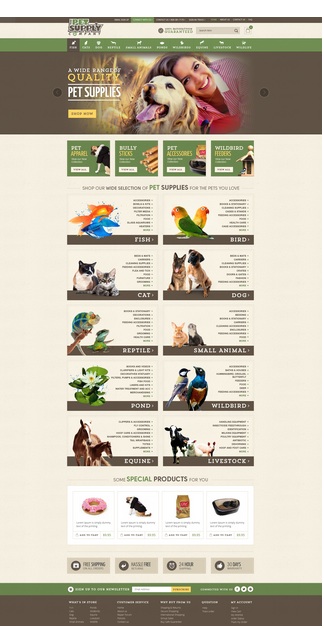 Online retailers and e-commerce shops have specific needs and wants. From the design above we can see that pets and animals do too! The Pet Supply shop has a very detailed, customized design specific to the animal of interest. Each category is accompanied by a picture and tab that focuses on different needs for the specified animal. OC Designs Online take many things into account to make shopping as easy and effortless for the customer keeping product and category visibility a primary focus.
For a fully loaded BigCommerce shop design come browse the options at OC Designs Online. The attention to detail, ease of browsing and ability to customize for any affair can't be found anywhere else at such an affordable price. Take a moment to browse our portfolio and request a free quote. We have a feeling you won't be disappointed!
Don't forget to find us on Facebook, follow us on Twitter and check out our Google+ Page too!