There's something to be loved in a new outfit. Whether it be looking sharp for a formal work function or just turning heads on the walk to your favorite restaurant. Now, finding that perfect blouse or button-up is as easy as lifting up your laptop screen. Tata Distributions has partnered up OC Designs Online for a sleek, fashion forward appearance. The simple and attractive Vendio template design brings simplicity to shopping.

A good first impression is everything and the welcome pane of Tata Distribution doesn't disappoint. The left and right sidebar back screen displays a woman and man dressed to impress. The Tata Distribution logo can be seen in the top left hand corner with a royal and light blue font keeping the tone cool and classy. The central tab in the welcome pane greets the customer along with addressing the store specialty; introducing the customer to top of the line designers' clothing and accessories. Above the central welcome tab and below the logo is a horizontal panel in blue. This panel lets online shoppers become more familiar with the store with tabs such as "About Us" and "Policy". The customer also has instant access to tracking their order, customer support and their shopping cart. Not only do shoppers get a warm welcome but they have instant access to becoming more familiar with Tata Distribution.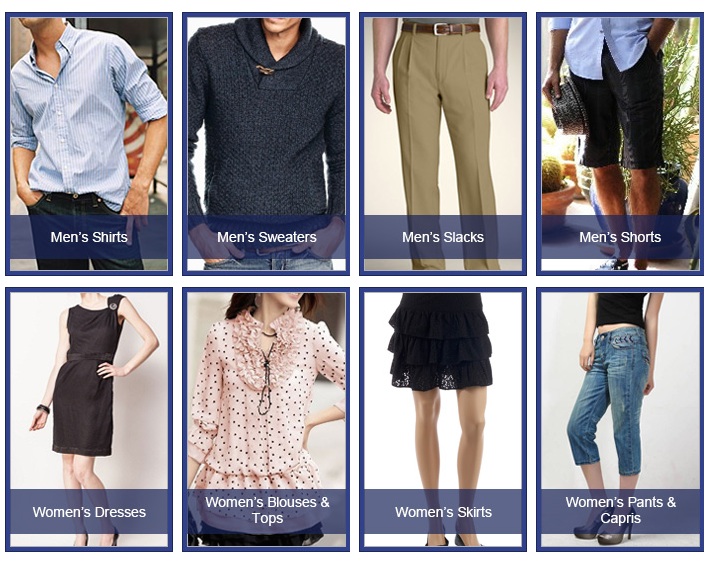 The midsection of this Vendio template design highlights specific categories for the retail shop. Each tab has a category title with a color backdrop to make the font pop from the screen. Along with the category placed in the lower half of the tab is a picture to help describe the category. Everything is shown from women's skirts to men's sweaters. Finding that perfect blouse for a friend's Birthday party can now be as easy as clicking on the picture that describes the article of clothing.

The footer of this online retail shop sums up the top designers that can be found throughout the store. Jones New York, Calvin Klein, and Michael Kors are just some of the prestigious designers that keep customers coming back. If a customer wants to shop for a specific brand name all they have to do is hoover the cursor over the designer name and click to be sent to that particular designer's products.
Want to see some examples of custom designed online stores beyond the ones you see here? Come skim our ever-growing portfolio and compare your current store to our thriving retailers. We fully anticipate you'll see a clear need for our custom designed Vendio storefront.
Let us make your business pop this year. At OC Designs Online, that is our specialty!