We often take for granted the simple things in life. Opening the garage door is as simple as touching a button. Cars are designed and geared toward making that long commute to work a little more delightful. We even have the option of preheating our cars in the brutal months of winter. It's when the simple things in life fail that we hope to find solutions easy and quick. Option Stage 4U has teamed up with OC Designs online to make auto part repairs a cinch. Opening the garage door is only a click away and now finding your desired auto part is too! The eBay templates are customized and variety is in plethora with over 250,000 options!

The welcome pane introduces online shoppers to the store with a cool blue background. A charcoal grey panel lines the top allowing onlookers to get a better understanding of the shop. Tabs including "Shipping & Returns" and "Contact Us" enable customers to become familiar with the shop's top quality customer service. This eBay shop design keeps the essentials within first glance and even makes searching for specific products easy with a search tab.
Brand image plays a critical role in making customers remember to come back for more. This eBay store design places the sleek, simple store logo in the top left hand corner. It's the first thing shoppers see upon browsing the e-commerce store. Directly to the right is a plane in flight, highlighting the store's promise to ship worldwide. Near or far, there's a solution for your car!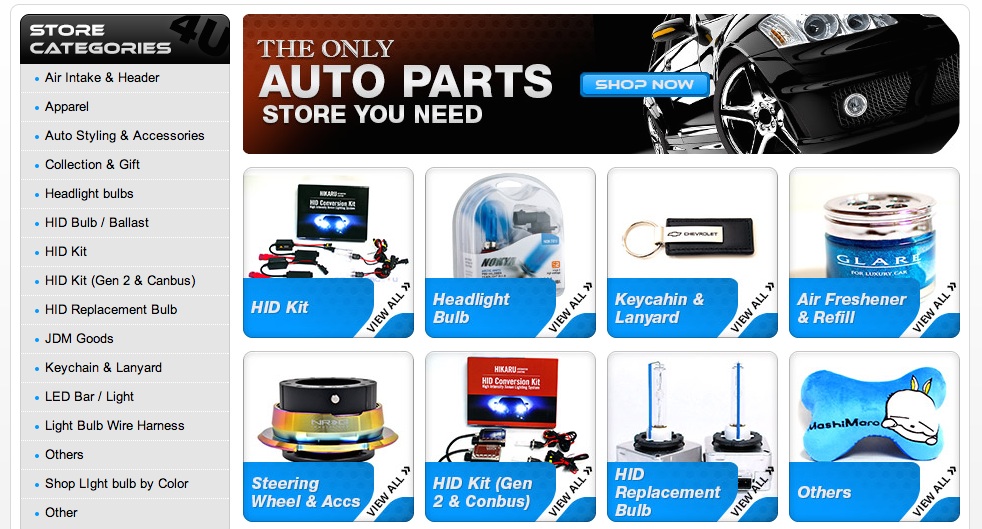 The midsection of this eBay shop design displays tabs summing up the store into 8 categories. Whether it's steering wheel accessories or headlight bulbs you're after, the options are grouped with titles and pictures making searching easy and simple. The introductory tab in the middle section ensures customers that they're on the only auto parts store for them.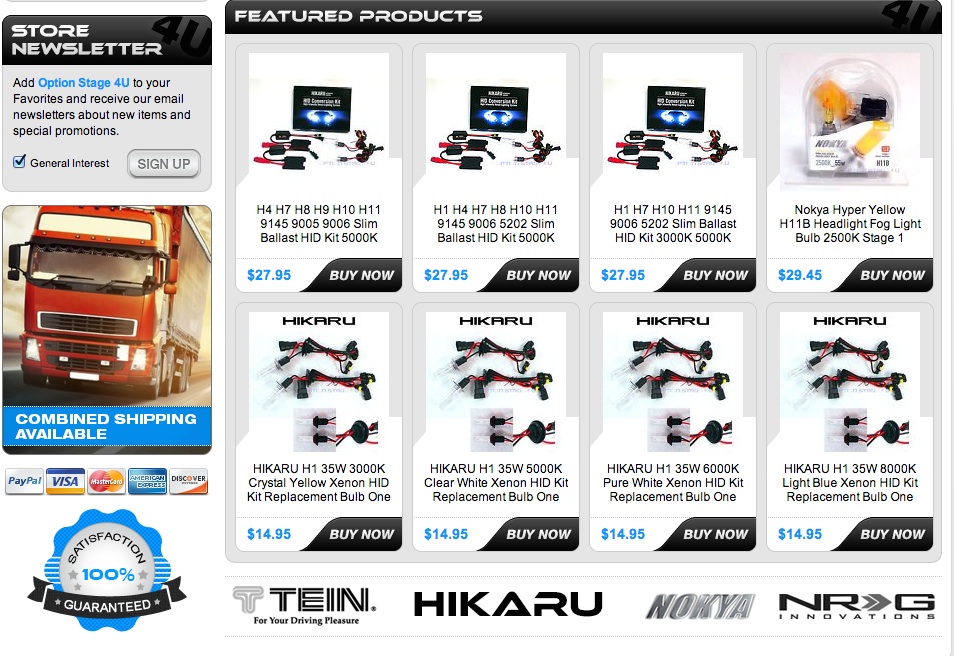 The footer of this eBay store design spotlights the store's inventory with a "Featured Products" section. Top sellers and popular items are turned into tabs making adding that ideal product to their cart speedy and fast. The "Buy Now" option sends customers to the checkout page making payment one step away!
Take some time to browse our portfolio of road-ready store designs, and then request a free quote. There's a template perfect for you and your store. Our goal is to make things simple, easy and affordable for you and your customers.
Don't forget to find us on Facebook, follow us on Twitter and check out our Google+ Page!