We're all born with a blank slate. As time goes by, experiences, hardships and heartbreak develop us and bring about individuality. It's with that individuality as a human that allows us to grow. Some people choose to log their experiences in a journal, store them in the endless library of our memory, and others go the more colorful route. Many shoppers, much like tattoo artists, are visual people. That's why Florida Colors has teamed up with the digital artists at OC Designs Online. An edgy, sleek new design in their endless array of eBay templates was customized specifically for the shop making ink more colorful than ever.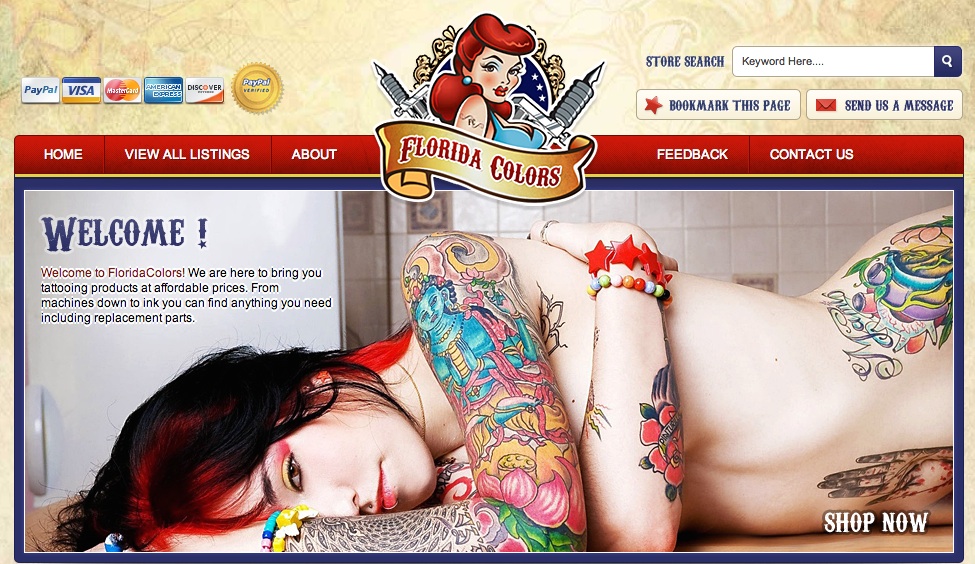 Color, style and attention to detail all bring this customized eBay shop design to life! The welcome pane greets online shoppers instantly with a beautiful woman laying on her side and unveiling her ink. The only woman giving her competition for attention can be found in the store logo located front and center at the top of the page. The red headed bombshell hovers over the store name serving sass and sexy to anyone glancing her way.
The store greeting in the welcome pane can be found in the top left hand corner. A bold blue font highlights "Welcome" and the stores mission of bringing tattoo products to you at an affordable price can be found below in a small, more delicate font. A red panel of various tabs runs horizontally across the top of the page. The tabs introduce online shoppers to the store and include insight on feedback and store policies.
A potential customer may want to cover up a bad tattoo from their teenage years but there's no hiding the store's exceptional customer service in this eBay store design. "Contact Us" and "Feedback" can both be found in the red tabs up top along with a separate "Send Us A Message" tab in the top right hand corner. It neighbors a tab that allows customers to bookmark the store so coming back for more ink and equipment is a cinch!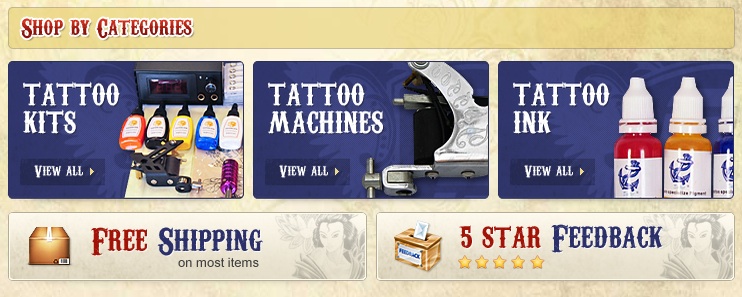 The midsection of this eBay shop design keeps inventory and products in the spotlight. Everything from kits, machines and ink can be found with each individual tab. Below the products one can find two separate tabs that are friendly reminders that Florida Colors believes in 5 star service and free shipping!

The store footer of this eBay store design keeps the ending simple and sleek. The store logo pops in the center and the red tabs from the panel up top are minimized options in case there's need for further reference.
Partner with OC Designs Online for a one-of-a-kind, intricate design that meets the needs of your tattoo enthusiasts. Take some time to browse our portfolio of colorful store designs, and then request a free quote.
Don't forget to find us on Facebook, follow us on Twitter and check out our Google+ Page too!