There's something extra special found in shopping online. The options are endless, free shipping can often grace your cart, and quick delivery is only a button away. The thought of picking up a box at your doorstep after a long, tedious day at work can bring a sparkle to your eyes. Upon unwrapping the box, pulling the garment out of it's protective plastic wrap and tugging a new dress up over your hips, and seeing that it fits like a glove, brings a sense of satisfaction over your body. You can reflect on finding a discount and avoiding the hustle and bustle of shopping malls while feeling proud of your new look. Just like you, Fabulous Designers Warehouse is proud of their new look after teaming up with the graphic designers at OC Designs Online. The store has a dazzling new eBay shop design customized just for them!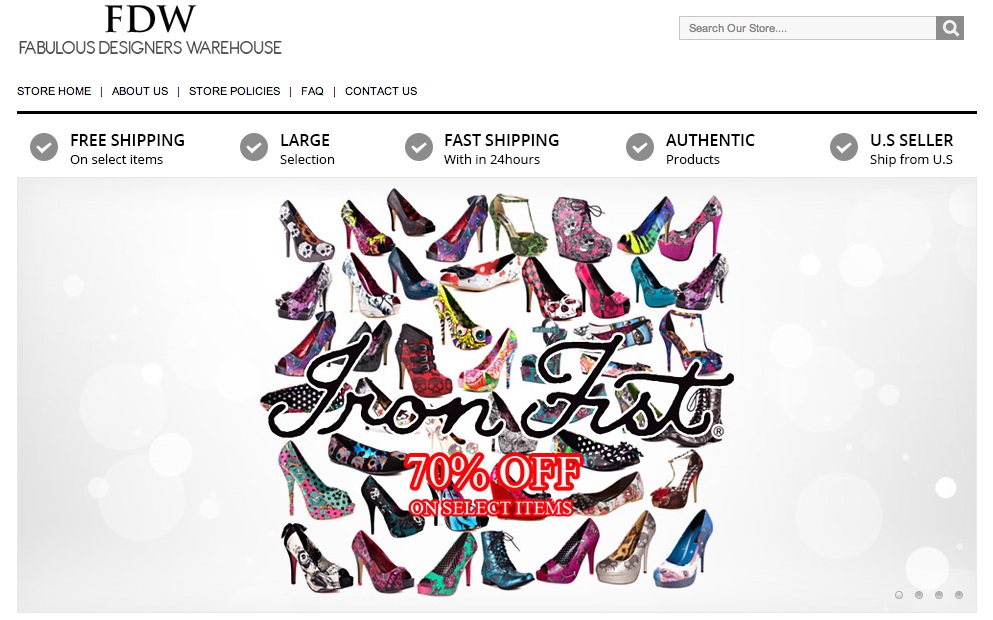 This eBay store design spotlights the three "P"s: products, perks and policies. The main picture is timed and rotates between four images in the welcome pane. The images range from a huge variety of high heels to a wide array of spooky looks pulled from the store's costume vault. The black and white logo keeps a classic and sleek appeal in the top left hand corner. The majority of eBay templates showcase the logo at the top of the welcome pane to help instill a strong brand image with online shoppers.
Along the top of the welcome pane are five tabs with a check mark. These tabs that are listed horizontally in black, white and grey remind customers of store policies and perks. "Fast Shipping" and "Authentic" are two tabs out of the five that ensure customers that they're shopping with a credible, top quality store!

The eBay shop design includes a specialized tab making shopping a cinch. A customized size chart geared toward both genders enables online shoppers to overlook inventory specifically for their body type. Both garment and shoe sizes are listed to enable customers to shop the store with ease. Clothing and accessory companies find this customized tab very fitting!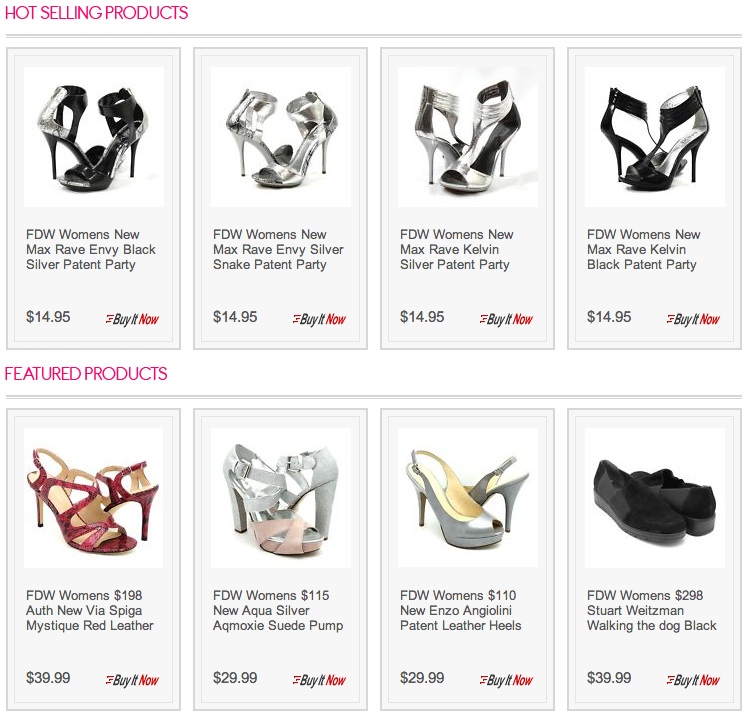 It's only appropriate that the footer of this eBay store design be geared toward the feet! The two sections titled "Hot Selling Products" and "Featured Products" showcases the FDW shoes that are most likely to find a home first. Top sellers and great deals are no stranger to this section of the storefront which only help boost the items added to the shopping cart!
Take some time to browse our portfolio of dazzling store designs, and then request a free quote. We're sure there's a template perfect for you and your shop. Our goal is to make things easy and affordable.
Don't forget to find us on Facebook, follow us on Twitter and check out our Google+ Page!