Many of the timeless films of the 80s revolve around the destruction of a beautiful automobile. One can't help but remember the jaw dropping scene in "Ferris Bueller's Day Off" when Cameron's Dad's 1963 Ferrari Spyder jets out of the glass leaving everything in shambles. And one can't help but empathize with Joel, played by Tom Cruise, after drowning his parent's 1979 Porsche 928 in the film "Risky Business." These cars are a character in themselves and keep the "classic" in the classics. When there's a need for quality used foreign and domestic auto parts it's best to turn to East Coast Auto Salvage. The auto part retailer is driving their sales up by partnering with OC Designs Online for a customized eBay store design!

Over 250,000 eBay templates are up for grabs with OC Designs Online. The welcome pane of this one holds the auto shop's logo in the the top left hand corner. The bold blue font accompanied by the red compass give direction to online shoppers and lead them to the site's inventory. A blue panel across the top of the site allow customer's to familiarize themselves with the e-commerce shop. Tabs include payment, shipping and returns keeping checkout simple, easy and informative. A search tab in the top right hand corner allows online shoppers to search for specific items and parts. Finding the hub cap of choice is as easy as typing in the name and clicking the magnifying glass!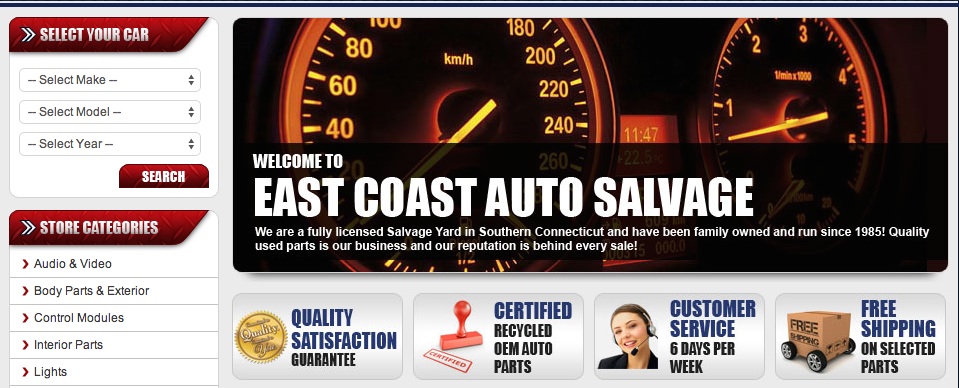 The midsection of this eBay shop design lights up the welcome to East Coast Auto Salvage. Four tabs line up under the lit up dash detailing the store's top-notch customer service. There's a variety of eBay templates available that can properly showcase the store's high regard to service and customer attention. The bold blue font along with a visual easily capture the attention of online shoppers and give credibility to the shop!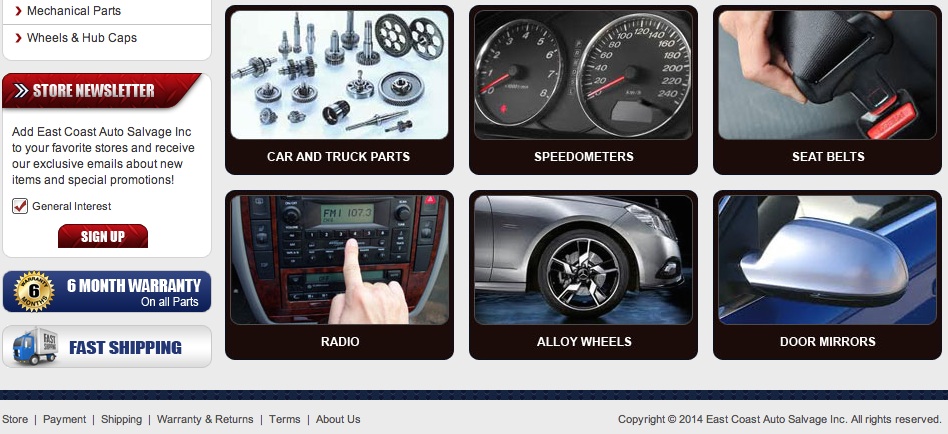 The footer of this eBay store design makes browsing certain areas of the site simple. There are 6 tabs dedicated to store categories. A picture along with the title placed in a white font and black backdrop bring visibility to the options. Customer will be able to cruise along effortlessly and skim the website at the speed of their choice.
We invite you to browse our expanding portfolio of classic designs and request a quote to learn more. Find us on Facebook, follow us on Twitter and check out our Pinterest boards too!