In the world of sports the true legends and champions often gain more than a title. They gain a nickname by the fans that love them most. From "Shaq Attack" to "All the way Babe" the ones that excel are known not only by their achievement but by the name they've created for themselves. All 4 Sport is an E-commerce retail shop that's currently creating a name for itself with a custom Shopify store design. The sport store has partnered up with OC Designs Online making it easy for adrenaline junkies to find the perfect athletic apparel and accessories. The only time anyone has to break a sweat is once the package arrives at the customer's doorstep. Then it's off to the race!

The welcome pane features two pictures of a cyclist along with a warm greeting from the store. The start-to-finish theme portrayed by the picture fires the gun and begins the race for the perfect product. The "All 4 Sport" logo can be seen in the top left hand corner. Neighboring a panel directly to the right the online shopper can find multiple tabs that introduce them to the sport store. "FAQ", "Contact" and "Where's My Order" keep the customer actively engaged on the site and does everything but shy away from top quality customer support. Beneath the logo are top brands that can be found within the product selection. By simply clicking on the brand name online shoppers will be taken directly to a page featuring products by their most favored suppliers. Nearing the bottom of the welcome pane are two check marks acknowledging convenience brought along by shopping on the site. Fast same day shipping and hassle free returns are two of many perks from shopping with All 4 Sport!

The midsection of this template introduces online shoppers to hot items on the site. This "Hot Sellers" section highlights products that have the most views and a high purchase rate. The panel can enable customers to see the product selection at first glance and has the possibility to introducing them to something new and favored by many.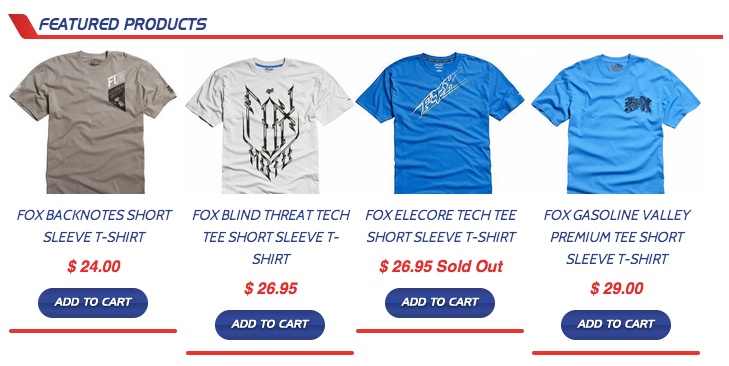 The footer of All 4 Sports keeps product visibility running with a "Featured Product" section. This section allows customers to see products instantly and enables them to purchase the product easily with an "Add to Cart" tab. Once shopping is complete purchasing the items through the site's step-by-step payment screen makes crossing the finish line a cinch.
Want to see some examples of custom designed online shops beyond the ones you see here? Come skim our ever-growing portfolio and compare your store to our successful retailers.
Let us make your business thrive this year. At OC Designs Online, that is our specialty!