The sound of music is a very splendid thing. Beethoven composed pieces nearly deaf knowing passion rooted itself in his favorite art. Babies can be found dancing and moving to the beat without having witnessed rhythmic movement. Music brings joy, happiness and excitement and 12 Volt Blowout specializes in keeping those thrills in your automobile. The e-commerce sound shop has teamed up with OC Designs Online to boost volume of sales and keep customers returning for more. The experts at OC Designs Online took some sound advice from the retail shop and transformed one of their 250,000 eBay templates into a vibrant storefront!

The electric orange and charcoal grey colors in this eBay store design keep an upbeat feel to the sound shop. The store logo can be found in the top left hand corner in a bold font. Subwoofers line the left hand side of the logo letting the store name speak for itself. The brand image is solid and strong so customers won't skip a beat when it comes to returning to the store for more.
An orange panel reaches across the top of the screen offering a variety of tabs. Each tab is geared to let online shoppers take a peek into the policies and practices of 12 Volt Blowout. Shipping, payment and feedback are just a few of the topics named within the tab. To make searching inventory for a specific product easy this eBay shop design has placed a search tab in the top right hand corner of the storefront. This enables customers to find their desired product of choice with ease along with similar products in the shop!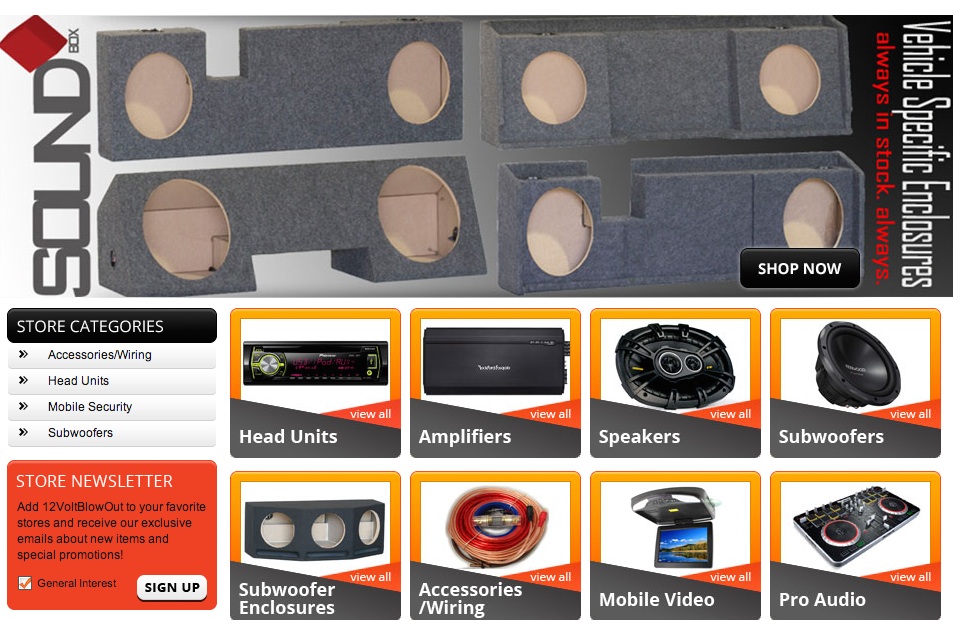 The midsection of this eBay store design displays 8 tabs listing out product categories. Whether it's subwoofers or mobile video options, the tabs above can direct online shoppers in the right direction. Neighboring the category section is a tab prompting customers to sign up for the store newsletter. Once the online shopper clicks "Sign Up" they'll be able to input their contact information so that sales, store updates and new items can be weekly reminders to stop by the shop!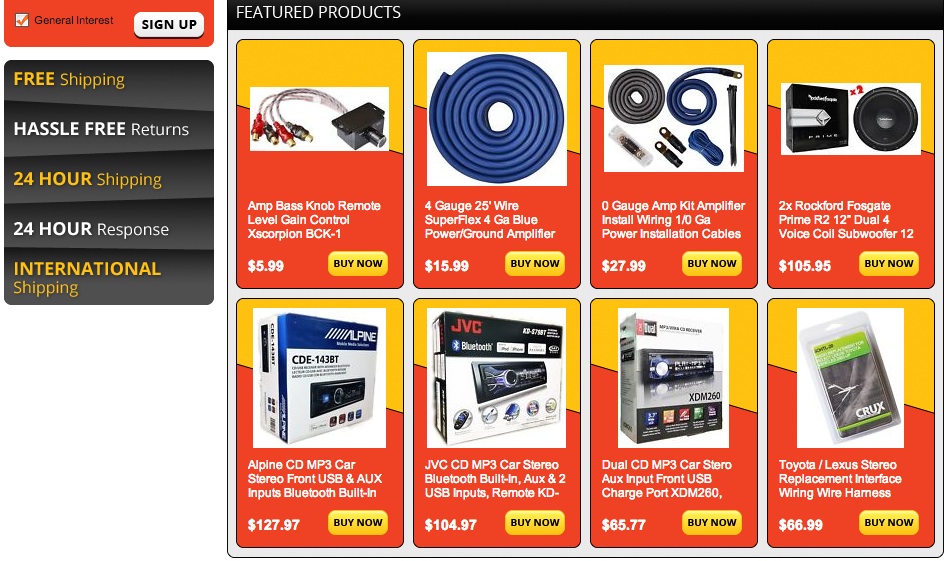 If customers are intrigued with a great deal or want to know about top products they can turn to the "Featured Products" section of this eBay shop design. A yellow "Buy Now" button makes finalizing payment a cinch which is sure to increase the volume of sales!
We invite you to browse our expanding portfolio of upbeat designs and request a quote to learn more. Don't forget to look us up on Facebook, follow us on Twitter and check out our Google+ Page, too when you have a moment!