Doesn't it just seem like the internet makes anything possible? What can't you do online? Pay your bills, buy a car, order groceries, and communicate with family and friends the world over all while telling your TV to record your favorite programs and having your AC kick on just before you walk in the door. Now, thanks to advanced a Web-enabled, GPS assisted QR Smart Tag owners can easily share vital contact information, medical information, documents, photos, recordings, etc. Easily accessible using any smartphone or computer with online access, the system also offers ample storage without the use of batteries or electricity.
Clearly, to effectively market a product which is so internet-dependent, Dyno Tag needed to invest in an ecommerce platform. Given Amazon's expansive reach, a webstore on this medium was the obvious choice.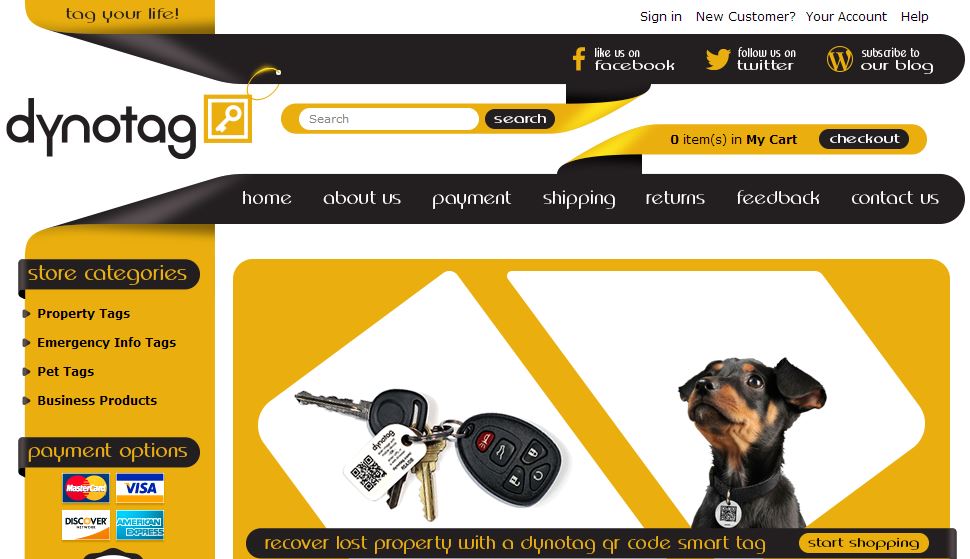 A marigold yellow and gunmetal grey form the color palette for the storefront's strategic branding. The 'tag your life' slogan and logo reside in the upper left corner next to social media plug ins for giants Facebook, Twitter and a subscription to the blog.
Singling out specific products is a cinch with a search bar sitting midway between the header and main navigation bar which boasts tabs for payment and shipping policies, returns, feedback, contact information and more.
Store categories are broken up in the left sidebar with vertical links to property tags, emergency info tags, pet tags, and business products. Directly below, a list of accepted payments ensure shoppers know their options.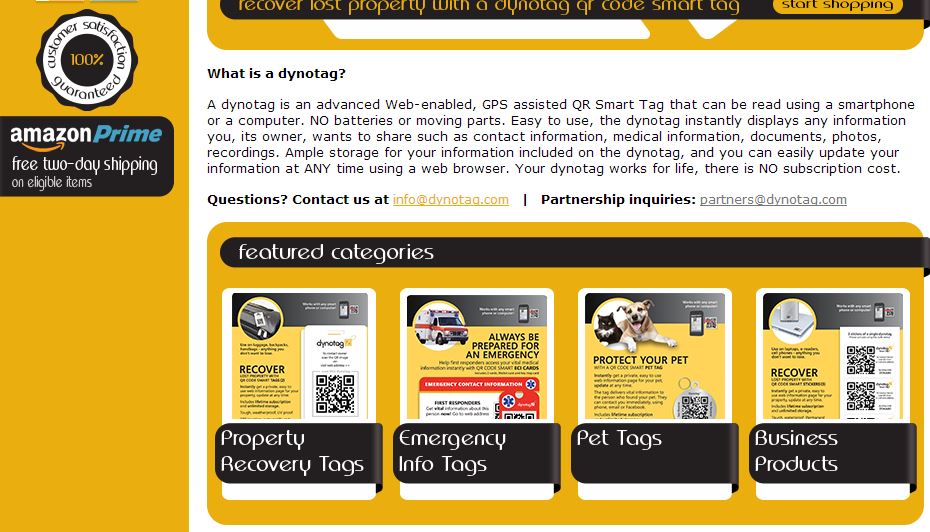 For those who are curious to know a bit more about what Dyno Tag does may read up on the description found in the midsection.
Next, featured categories are explained in more detail complete with screen shots of the many ways the tags can be put to use.
The left sidebar finishes by reiterating the company's 100% satisfaction guarantee and reminding shoppers that those who are eligible will receive free shipping within two days with Amazon Prime.

Finally, a mini sitemap closes the storefront, offering customers quick access to store policies and contact information before they make their final purchases.
Want to see some examples of custom designed online stores beyond the ones you see here? Head on over to our ever-growing portfolio and compare your current store to our shining, thriving retailers. We fully anticipate you'll see a clear need for our custom designed Amazon storefronts.
Let us make your business pop this year. At OC Designs Online, that is our specialty!