How many items in your home use a battery? Better yet, how many objects within eye shot are battery powered? While you might immediately call forth the obvious such as flashlights, remote controls, or your cell phone, larger and arguably more vital systems such as data centers, generators, and alarm systems also require the small metal devices to run.
For the most diverse selection of battery types and brands in the Industrial, Telecom, Alarm and Security industries UPS Energy is the clear choice. Now they're serving their key clientele with a custom Volusion Store Design courtesy of OC Designs Online.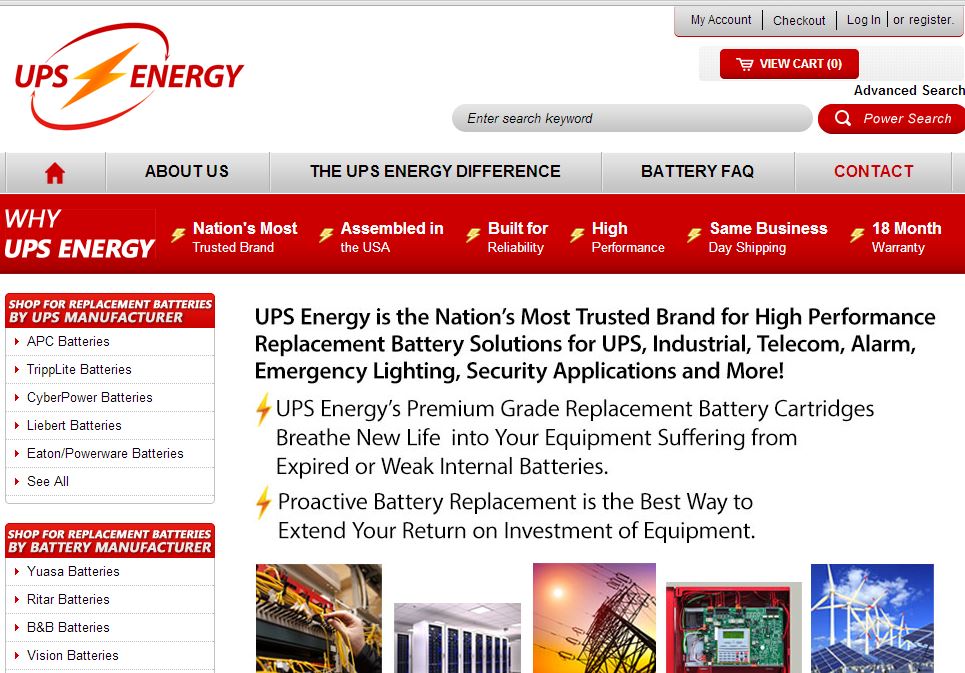 Pops of red against a clean white background guide the audience's eye to the key sections. In the top left corner a red 'view cart' icon bisects customer account information /check out above and an advanced power search option where shoppers can easily take advantage by typing in key words or phrases into the field.
A main navigation bar follows. Here, customers may peruse tabs detailing the company's back story, the UPS Energy Difference, Frequently Asked Batter Questions, and contact info.
Buy why should customers choose UPS over other providers? Our designers aptly included the following in this custom Volusion Shop Design: USA assembly, reliability, 18 month warranty and designation as the nation's most trusted brand.
Insightful web copy in the welcome message below provides additional selling points including the fact that, "proactive battery replacement is the best way to extend an ROI on your equipment".
The left sidebar boasts vertical tabs of two helpful categories- Replacement Batteries by UPS manufacturers or by other top industry brands.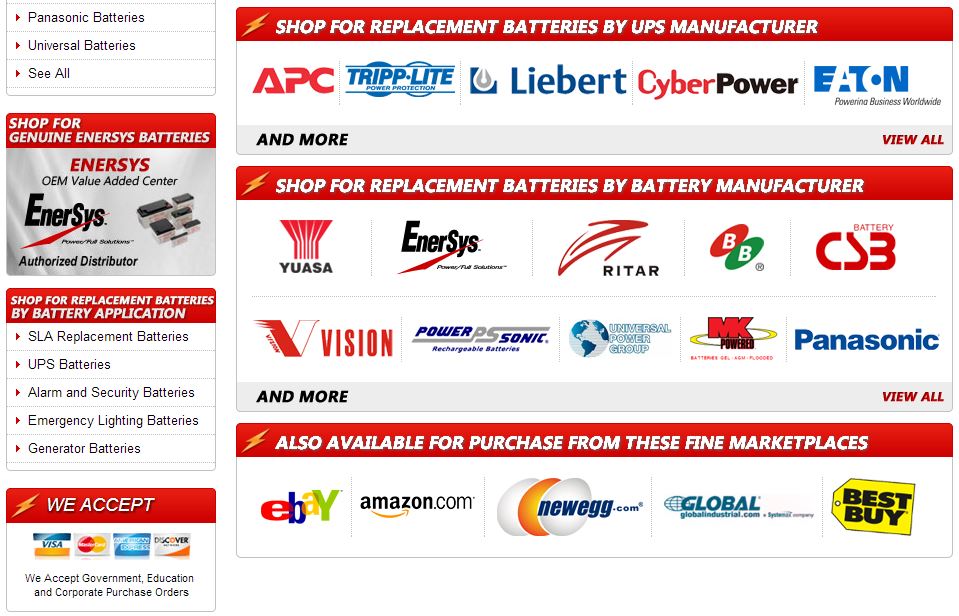 For those shoppers who are more visually inclined, logos of the industry's most recognizable brands occupy horizontal stretches in the midsection while retailer options such as eBay, Amazon, and Best Buy give shoppers additional choices where they can complete their purchases.
The storefront continues with a graphic in the left sidebar alerting shoppers to genuine EnerSys replacement batteries as well as those for categories such as security systems and emergency lighting.

Finally, a custom footer brings this Volusion Store Design to a close by parsing out company information, customer service options and terms and services.
No matter if you're buying or selling, OC Designs Online can help you drive traffic and command sales with our affordable design options. After all, you only get one chance to make a first impression. Better make it count!
Please browse our ever-growing portfolio and then request your free quote today!
We hope you'll like us on Facebook and follow us on Twitter!