"Time is Money" as the old adage so eloquently states. In the whirlwind speeds with which we live our lives, to reach your maximum productivity, mobile technology is an absolute must. However, keeping communication flow alive via online messaging, texting, and internet research is only a viable option when you have a sufficient power source to support you as you work.
Don't let your productivity grind to a screeching halt when the battery in your mobile device dies. Hop on over to Minzos' Custom Amazon Webstore Design and stock up on ways to juice up all your appliances including phones, tablets, laptops, or cameras.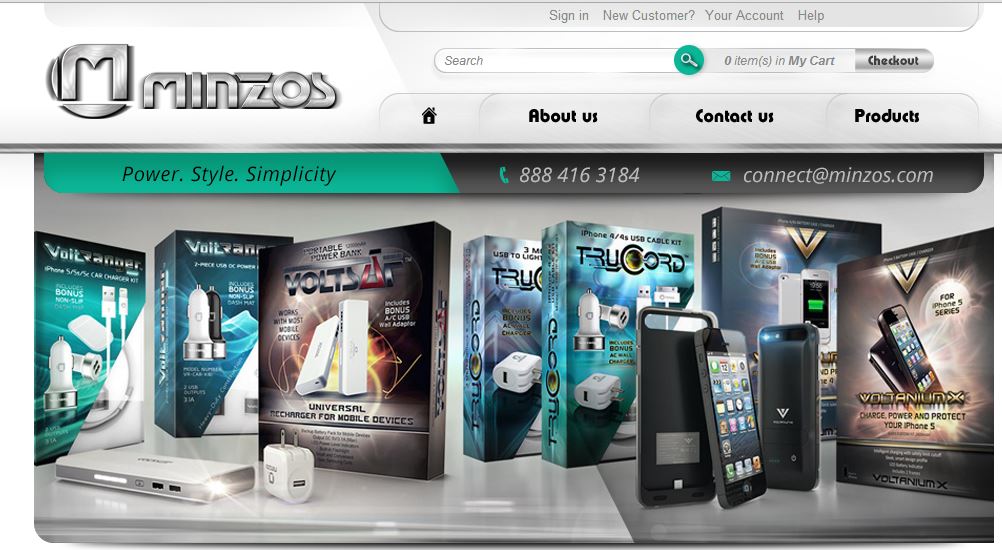 A sleek chrome finish casts a professional light on the storefront as soon as shoppers step inside. For a more personalized shopping experience, customers may use the log in information housed in the very top of the shop or register personal information as a first time user.
Directly right of the custom logo, a search bar makes it a cinch to look up and hone in on specific items or brands.
Three simple tabs in the main navigation bar make sure not to over clutter or overstimulate shoppers before launching in a wide angle shot of hi-res product images in the welcome pane.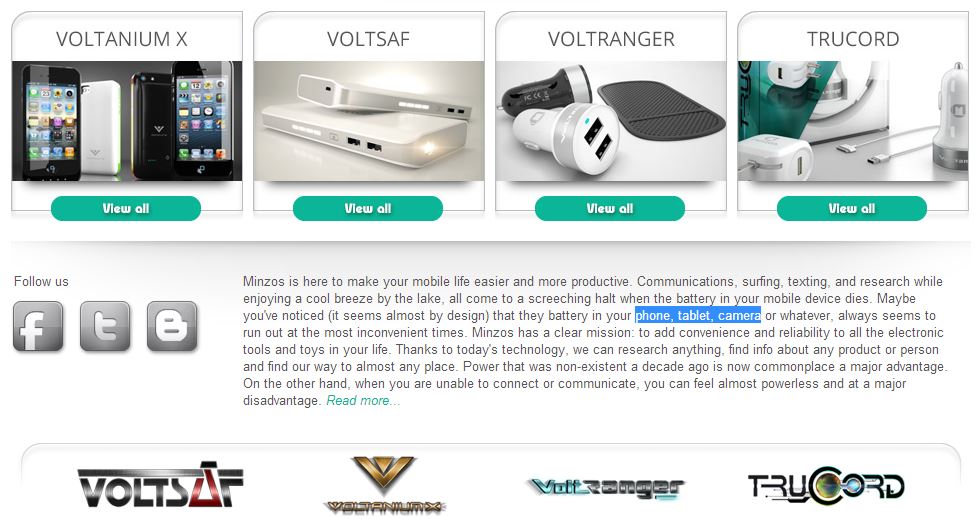 The store's top four brands are organized in a horizontal stretch of space in the midsection with an option to 'view all' products in the Voltanium X, Voltsaf, Voltranger, and Trucord lines.
Social media plug ins in the left sidebar sit next to a welcome paragraph introducing customers to the store's mission, giving first time shoppers a sense of the company's core principles.
Crisp logos of the site's top company partners appear below, taking full advantage of the power brand recognition has while perusing online.

Finally, a simple footer closes the storefront bringing customers face to face with key company information taken from the header, a 100% satisfaction guarantee, fast shipping, hassle free returns, best price guarantee and an Amazon verified vendor status.
Want to see some examples of custom designed online stores beyond the ones you see here? Head on over to our ever-growing portfolio and compare your current store to our shining, thriving retailers. We fully anticipate you'll see a clear need for our custom designed Amazon storefronts. Your holiday sales depend on it!
Let us make your business pop this year. At OC Designs Online, that is our specialty!