No Farms No Food- or so says the American Farmland Trust. Have you ever stopped to think how different meal times would look if there weren't someone growing our food for us? What is perhaps even more disturbing is that America is losing more than an acre of farmland every minute due to development. But what can you do to support your local farmers and markets? One thought is to only buy produce which is 'in season' and within a hundred miles of where you live.
Still others may choose to cultivate their own growing plots, planter gardens and the like. For those green-thumb patrons, Farm Equipment Supply has teamed with OC Designs Online to build a custom eBay Store Design offering essential replacement parts for a variety of tractors and other heavy machinery.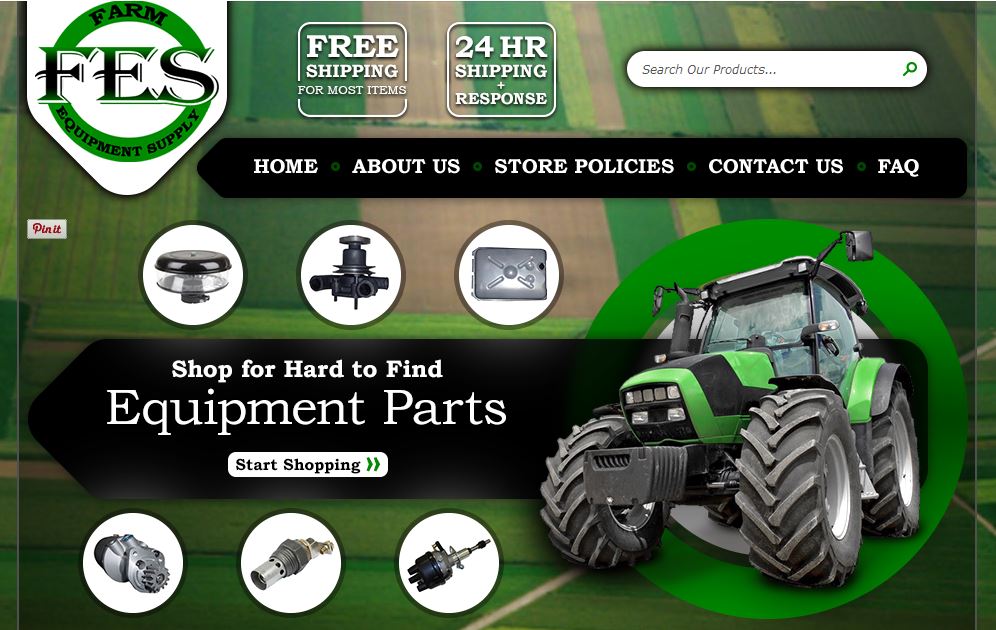 An assortment of green ground and earthy plots of land comprise the background of the storefront. The very official F.E.S logo kicks things off before reminding customers of the shop's free 24 hour shipping policy, and offering customers a convenient search bar on which to seek out specific parts by entering keywords or phrases.
A black swatch of space juts from the right, housing the main navigation bar with tabs linking to the company back story, store policies, contact information and frequently asked questions.
Next, this custom eBay Shop Design continues with a hi-res image of a fully functioning tractor advertising hard to find parts.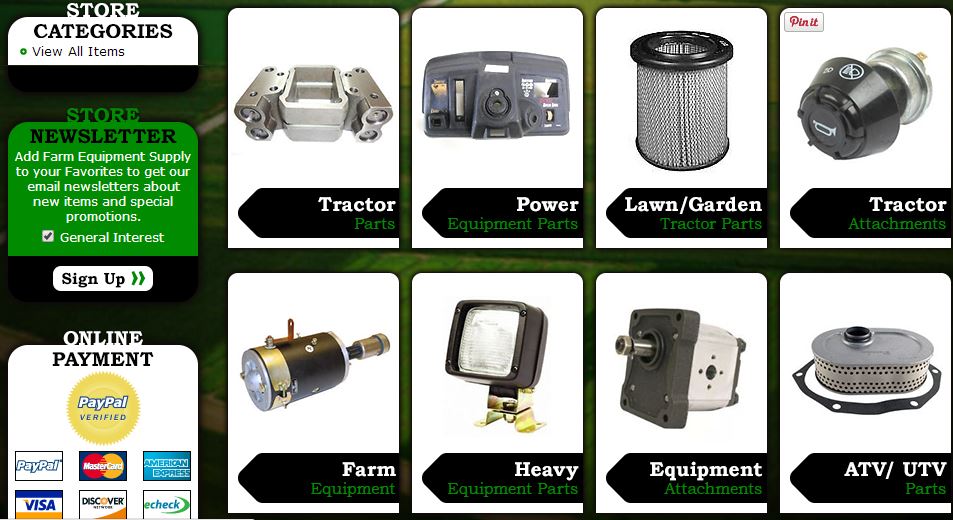 In the prime real estate of the midsection, store categories are divvied up into a 4 X 2 spread. Whether a customer is in the market for tractor parts, power equipment, lawn/garden tractor parts, tractor attachments, farm equipment, heavy equipment parts, equipment attachments or ATV/UTV parts they are only a click away on this highly organized eBay Template.
In the left sidebar, our designers put out an invitation for interested shoppers and friendly farmers to sign up for the company newsletter and receive periodic updates with new items and special promotions.
After a brief introduction to the accepted payments, the storefront continues with a custom footer.

Here, a hassle free return graphic closes the sidebar and space for featured products leaves the door wide open for seasonal or deeply discounted items while a mini sitemap wraps up this custom eBay Shop Design.
Do you sell farm equipment or replacement parts? If so, why not take advantage of a custom eBay store design and custom eBay listing templates to grow within your niche market?
We hope you'll take the time to browse our ever-growing portfolio and once you do, simply request a quote and we'll start working on your design ASAP!
Please do like us on Facebook and Twitter!