Imagine how much money you could save on an annual basis if you had access to whole sale pricing. Without the added mark up most retailers use to recoup shipping costs, rent payments and utility bills, day to day items all the way up to big ticket purchases are substantially cheaper. Exactly how much cheaper depends on the product itself; however one thing is certain- when you're looking to buy direct, online is the way to go.
Crazy Wholesalers has established relationships with a wide array of retailers, bringing direct wholesale pricing to the public. To ensure folks are aware of their many options to save by shopping online, Crazy Wholesalers has partnered with OC Designs Online to create a custom Facebook page to direct folks to their ecommerce platform.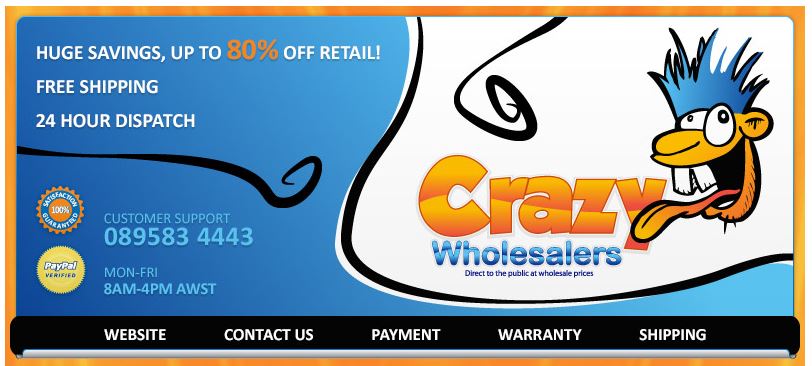 A bright, zany cartoon logo greets shoppers right out the gate. Those wondering just how much they can save will be pleasantly surprised to learn that up to 80% of the retail price will be swept away. The store also offers free shipping with a 24 hour dispatch, saving shoppers from any additional costs.
A customer support number, PayPal Verification and 100% satisfaction guarantee fill the welcome pane before launching into the black navigation bar. Here, shoppers have easy access to the full website and contact information along with payment, warranty and shipping policies.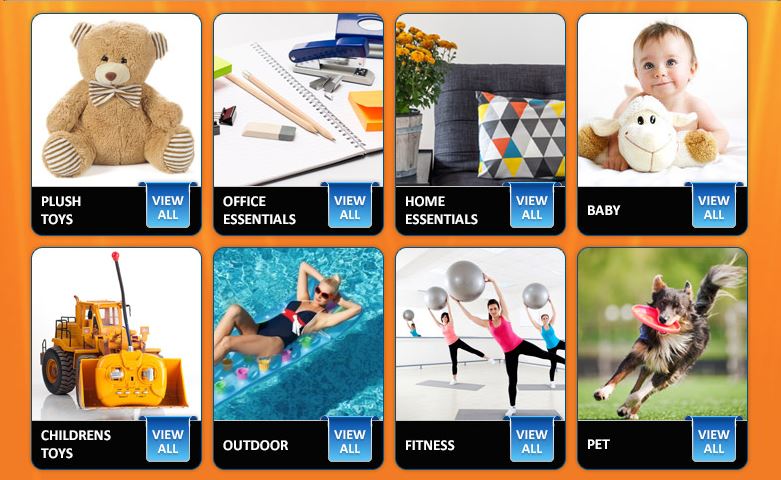 Next, a 4 X 2 spread of categories organizes the many offerings housed in the wholesale warehouses. Everything from plush toys, office essentials, home essentials, baby, chilcrens's toys, outdoor, fitness and pet can be browsed with the simple click of a mouse.
This degree of organization is an absolute must for online shops who boast a diverse collection of merchandise lest customers become overwhelmed and disinterested.

Any marketing professional worth their salt knows that a robust mailing list which allows you to directly connect with customers who are already interested in your products or services is gold.
To foster communication long after the point of sale, our designers have aptly included a an invitation to join the store newsletter where shoppers can receive up-to-date infomration about new items and special promotions.
The contrasting bright orange against a cerulean blue makes it easy to locate the sign up feature.
Did you know 47 percent of online shoppers trust businesses with Facebook profiles? That's why OC Designs Online offers custom Facebook pages to help grow your business. Having more than one venue for ecommerce retailers helps attract customers with seamless imagery and corporate colors that help build brand identity!
Browse our portfolio and be sure to check out our own Facebook page and follow us on Twitter!