For those with a flare for the outdoors and a keen set of survivalist instincts, the search for appropriate gear is never-ending. It's beyond merely camping, with the right equipment, one could feasibly live off the grid and tucked away for years at a time. However, knowing where to acquire these types of specialty products is only the beginning.
Thankfully, Tactical Fallout partnered with the web experts at OC Designs Online to create a custom Volusion Store Design to bring their unique brand of supplies to the online market.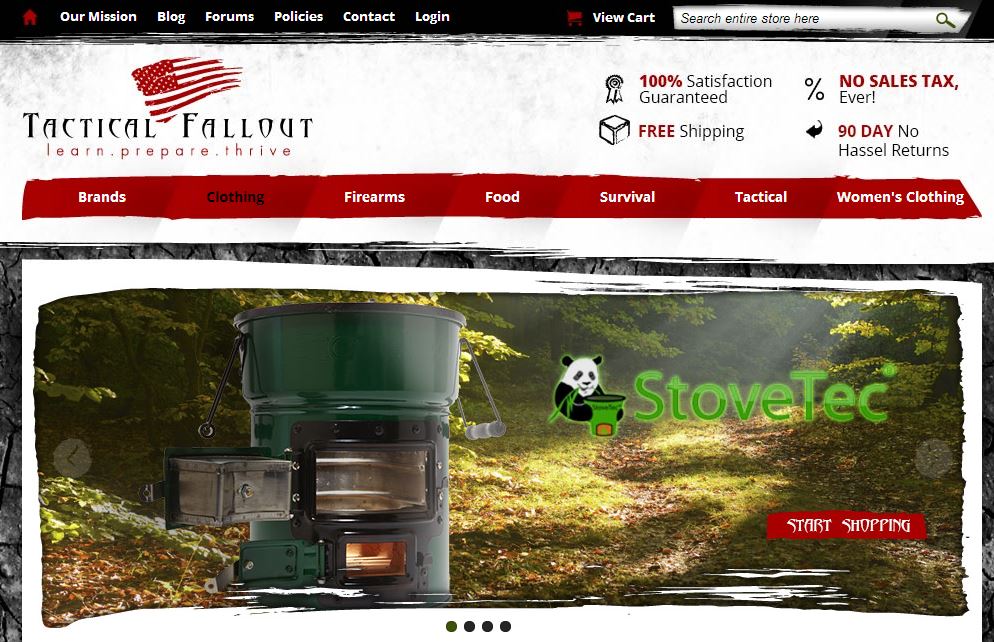 A monochromatic color scheme is set against a cracked closeup of cracked Earth, bringing shoppers a close feeling to nature. The very top of the storefront is peppered with company essentials including the mission statement, online content in the form of blog posts, forums, store policies, contact info and a log in option. To view one's cart or seek out specific products, customers may enter keywords or phrases int he search bar.
Next, designers aptly remind shoppers of the shop's satisfaction guarantee, free shipping, no sales tax, and a 90 day hassle free return policy.
Seven red tabs in the main navigation bar display link to popular brands, clothing, firearms, food, survival, tactical and women's clothing options.
Top brands scroll across the main welcome pane, showcasing recognizable sellers like StoveTec.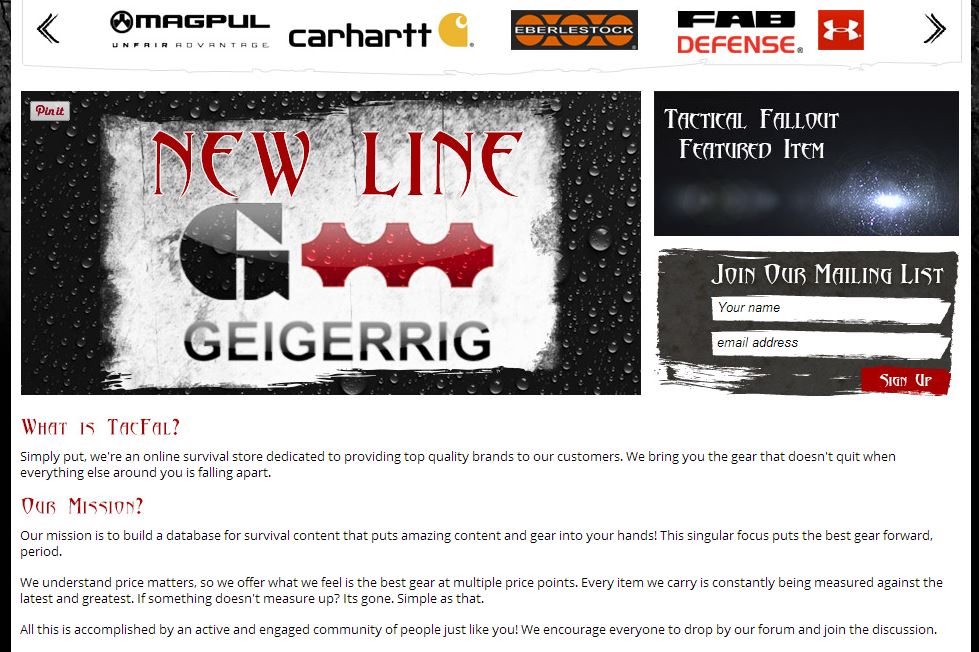 Things really heat up in the store's midsection where additional logos of top brands appear above a promotion for Geigerrig's new line. Directly right, our designers left space for a Tactical Fallout featured item and invitation to join the store newsletter.
The mission statement is repeated next before moving on the custom footer.

Here, shoppers have convenient access to key company info such as frequently asked questions, and the outreach program, a collection of store policies, a forum for general discussion, product review, DIY and the like as well as social media plug ins and accepted methods of payment.
At OC Designs Online, we know you can sell just about anything on eBay, but having the right Store Design can and does make a difference in your brand getting noticed online. We are delighted with this Volusion store design and if you're looking to sell online or already do, browse some of our other store designs to get an idea of what we can do for your ecommerce store!
Let's be social…Be sure to find us on Facebook and Twitter, and remember that quotes at OC Designs Online are always free!