As humans, we crave diversity. Diversity in our food, diversity in our experiences and diversity in our goods & services. It's no wonder big name stores that sell it all under one roof (think Walmart, Target and the like) have been so wildly successful over the past several decades.
Sunny HomeMart sought out to recreate this shopping experience within the ecommerce realm by offering customers a little bit of everything. However, they knew their biggest challenge would be to organize their site's diverse offerings in a succinct, navigable way. Thanks to the web  experts at OC Designs Online, their new custom eBay Store Design allows them to do just that!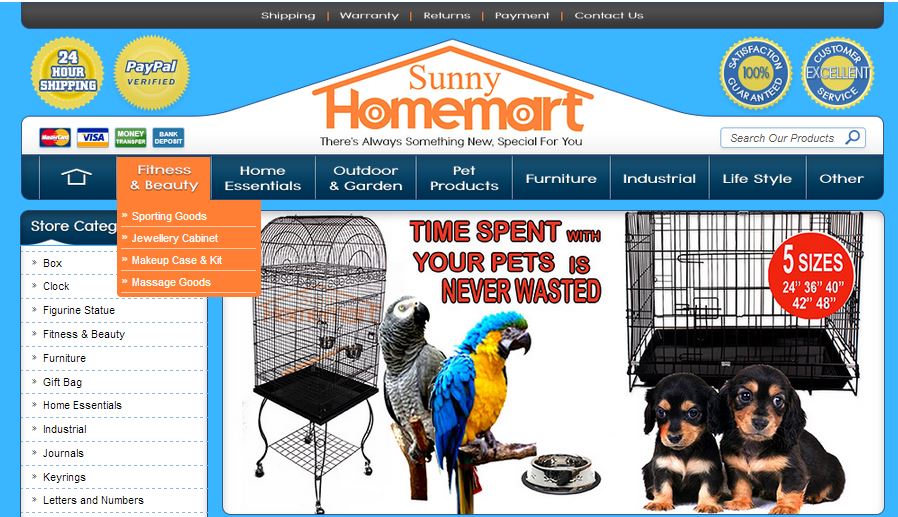 At the very top of the storefront, customers can choose to access store policies including shipping, warranty, returns and payment. By taking care of any 'housekeeping' up front, this custom eBay Shop Design leaves ample room for the many quality products which follow.
Badges with the promise of shipping in 24 hours, PayPal verification, satisfaction guarantee, and excellent customer service sit directly above the orange Sunny HomeMart logo, accepted methods of payment and custom search bar.
In the main navigation panel which follows, eight overarching store categories house drop down menus with additional product offerings- all of which are conveniently accessed by scrolling one's cursor over the tabs.
In the left sidebar, several dozen other store categories appear as vertical, clickable links while a scrolling wide-angle shot flips through various store offerings including those which cater to our furry family- our pets!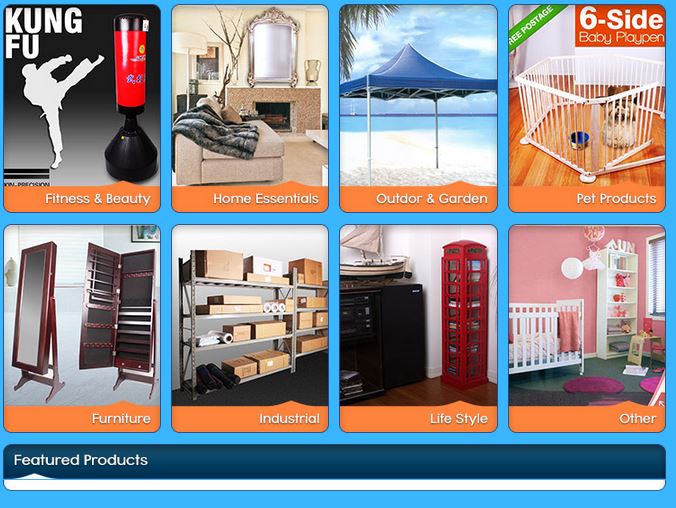 Next, an 4 X 2 spread of categories are organized into fitness & beauty, home essentials, outdoor & garden, pet products, furniture, industrial, life style and other. Each of the eight individual panels is underscored by an image representing the section.
Our designers left space in the eBay Template for a future section where the site owner can upload new featured products to highlight merchandise of their choice.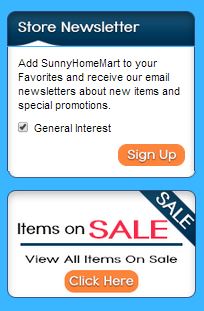 We always make sure to give stores the opportunity to continue marketing to their customers long after the initial point of sale. A simple, yet effective invitation to join the store newsletter makes it easy for both shopper and shop to stay in touch.
Finally, by organizing a section of sale items which link to a tasteful graphic, customers looking to snag a bargain can easily search through only those items being offered for an additional discount.
No matter what you sell in the ecommerece space OC Designs Online enjoys the challenge of piecing together eBay shop designs with a big presence and even larger inventory.
Check out our portfolio for more samples of our work then request a quote. Stay connected to OC Designs Online and check us out on Twitter and follow us on Facebook—be sure to find us on Google+!