How many appliances do you have in your home? Let's do a quick count. You probably own at least a refrigerator and oven. Most likely, you also have a washer, dryer, microwave, and dishwasher to think about. If any one of them break, repairs could put you out several hundred dollars. Perhaps one of the best ways to save on costly repairs is to buy your own replacement parts.
With Partsify on your side, you can save big on DIY project involving replacement parts. And now, it's easier than ever to order all those tiny, yet necessary little pieces that keep your appliances running. Check out this custom eBay Store Design courtesy of OC Designs Online.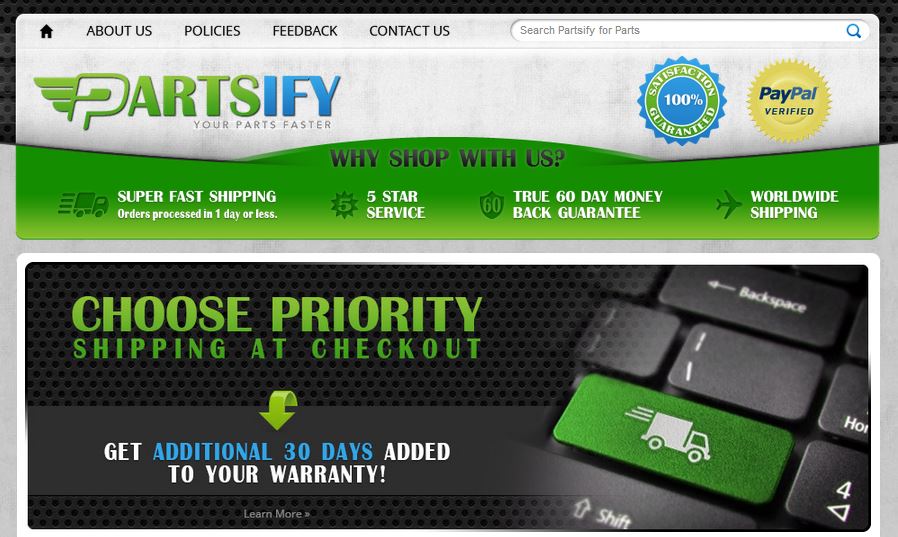 Our designers kept it all business up top with a navigation bar sporting tabs which detail the company's back story, store policies, feedback and contact info. Directly right, a search bar makes it a breeze to single out parts for a specific brand or type of appliance.
Below the logo, satisfaction guarantee and PayPal verification, the eBay Shop Design alerts customers to the many reasons to shop including fast shipping, five star service, 60-day money back promise, and ability to ship worldwide.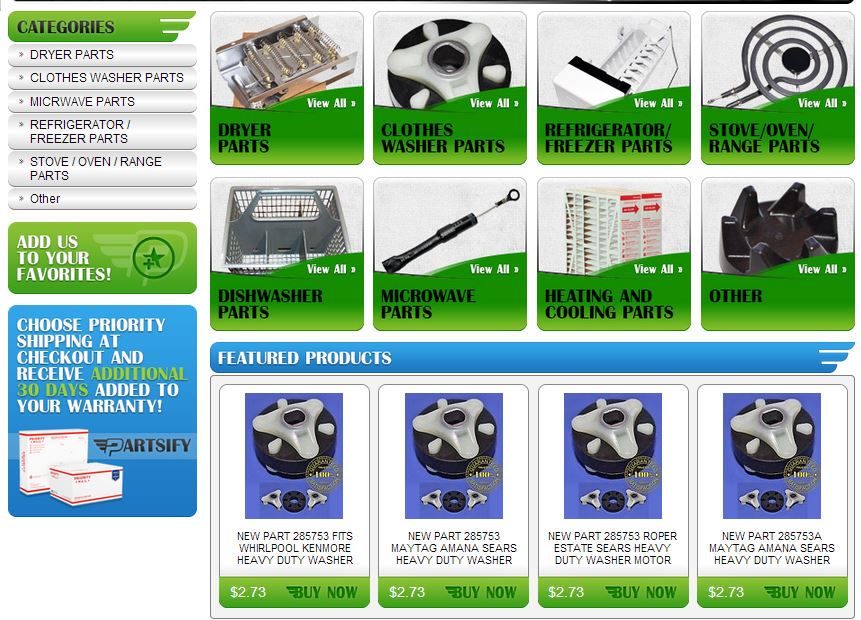 In the midsection, shoppers have the option to browse store categories in the vertical list of clickable links in the left sidebar or by perusing the eight panel spread of dryer parts, washing machine parts, refrigerator parts, oven parts, dishwasher parts, microwave parts, or heating and cooling parts.
Featured products below offer deep discounts on replacement items for big names such as Whirlpool, Kenmore, Maytag and Sears.
The left sidebar of this custom eBay Template closes with an invitation to add Partsify to the shopper's list of favorites, and reminder that customers who elect for priority shipping receive an additional 30 days added to their warranty.

Finally, a custom footer rounds out this eBay Store Design with a mini sitemap complete with key company info linked from the header alongside the Partsify logo and slogan for brand recognition.
No matter what you sell on eBay, at OC Designs Online, we want you to dominate your market niche. That's why are our eBay shop designs are so affordable. We also offer ecommerce store solutions with matching eBay listing templates.
Take your store to the next level and request a free quote from OC Designs Online, browse our portfolio where you can visit our store creations live and be sure to visit us on Facebook!