Anytime you pair the words electronics and sale in a sentence you're likely to receive a glut of inquiries from bargain hunters. However, when your sole business is centered around a never-ending sale of computers and their many accessories having an established online presence is vital.
The decision to sell on eBay is a no brainer. Yet to get the proper amount of traction you need a storefront that's visually appealing, easy to navigate and highly organized. Thanks to our many years in the industry and a very talented staff of web experts, OC Designs Online is the leader in the custom eBay Store Designs that get you noticed!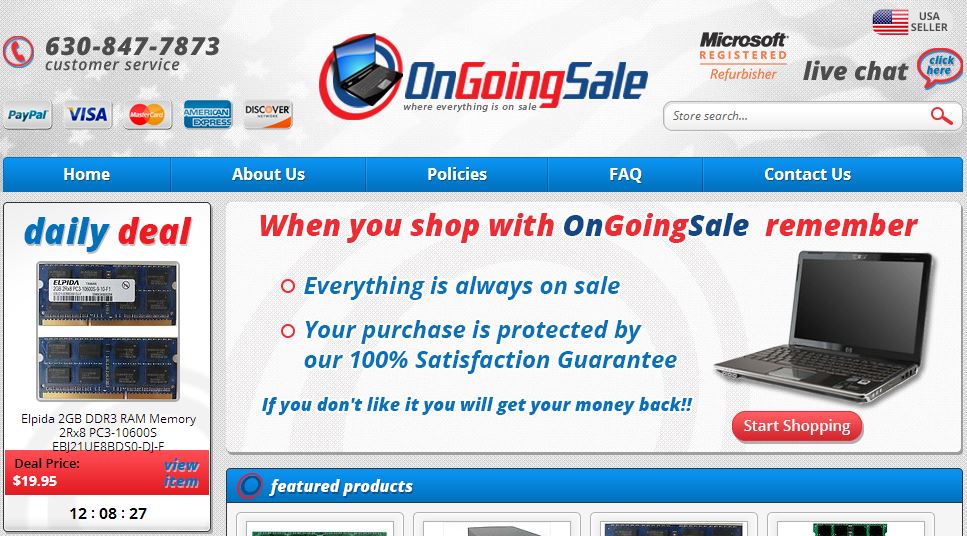 Our designers waste no time making sure potential buyers know On Going Sale is  a Microsoft Registered Refurbisher. Directly right U.S. seller designation and an option to live chat ensures customers won't be left with unanswered questions, while a custom search bar brings an element of added convenience.
Moving left a custom logo, customer service number and list of accepted payments round out this custom eBay Shop Design header.  Below, shoppers have easy access to the company back story, store policies, frequently asked questions and additional contact info.
In the left sidebar a daily deal boasts a deeply discounted price and clock counting backwards to the special's expiration. This encourages customers to act quickly and incur additional savings.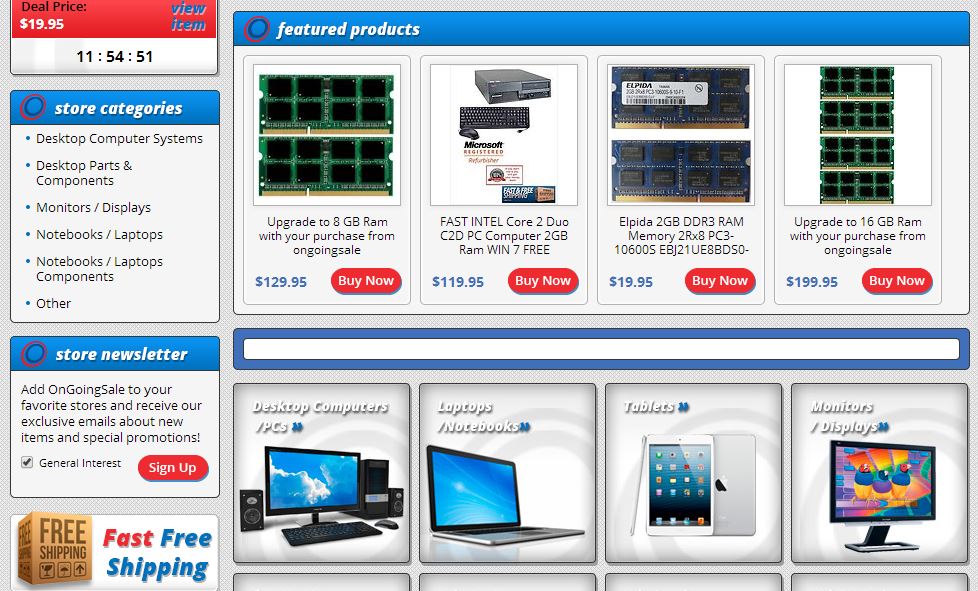 The side space continues with store categories that boast popular items such as desktop computer screens, notebooks/laptops and tablets while an invitation to join the store newsletter below keeps shoppers abreast of new items and special promotions as they become available.
In the midsection, four featured products underscore deals and steals with a hi-res image, description and sale price. Meanwhile, the eBay Template continues with additional store category options in a colorful and highly organized 4 X 2 spread.

Finally, graphic reminders of the store's free shipping option and 100% satisfaction guarantee rest above the custom footer- at which point the custom eBay Store Design comes to a close with a repeated logo in the bottom right corner for brand recognition.
Ready to see how a custom-made eBay shop design can set your site traffic ablaze? We are experts in the template designs guaranteed to grow your online business and we invite you to browse our ever-growing portfolio and request a free quote!
Like what you see? Be sure and 'like' us on Facebook and don't forget to follow us on Twitter!