The magic of an old fashioned candy shop has been immortalized in movies such as Willy Wonka and the Chocolate Factory and are a treasured part of any childhood experience. After all, there's a reason why the old adage 'happy as a kid in candy store' exists.
However, with the internet being the ecommerce giant that it is, many shop owners have elected to take their business to the web and avoid the overhead of pricey brick and mortar storefronts. That's why Online Sweetshops hired the experts at OC Designs Online to craft them a custom eBay Store Design to sell their sweet treats.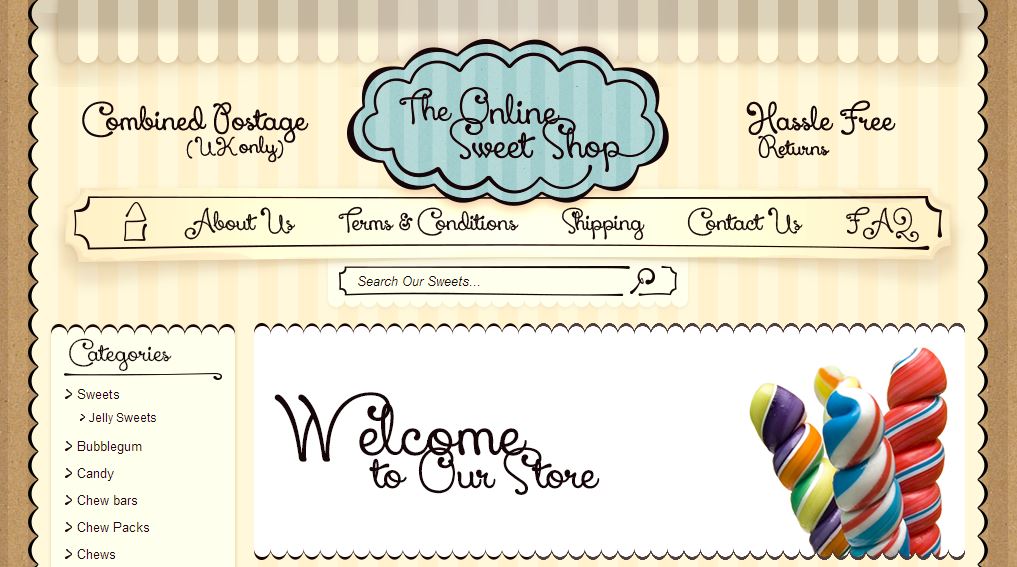 The alternating striped background mirrors that of an oning found street side of a traditional shop. On either side of the custom logo, reminders alert customers of their options to combine postage, and hassle free returns.
In the main navigation bar of this eBay Shop Design, playful typography leads shoppers through the company back story, terms & conditions, shipping policies, contact information and FAQs. Below, a custom search bar makes sifting through sweets a cinch.
Over in the left sidebar, delicious store categories such as jelly sweets, bubblegum, candy and chew bars simultaneously organizes inventory stock and educes drooling.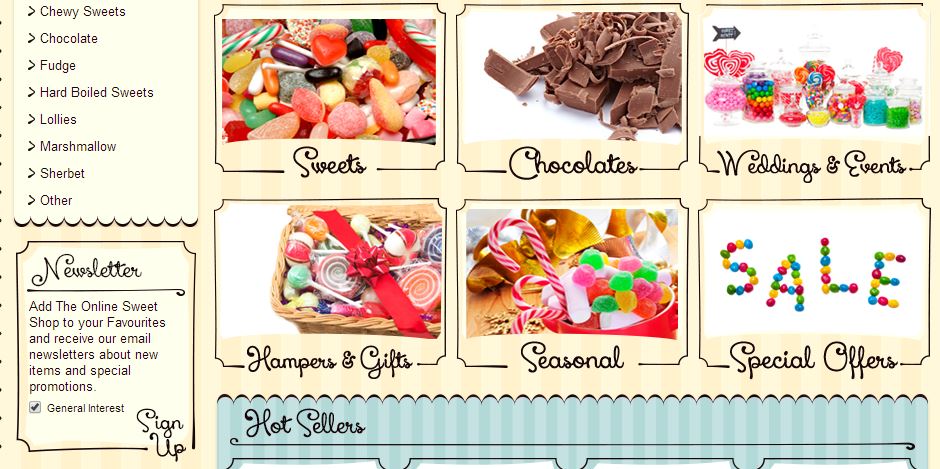 These sweets have such visual appeal, our designers were sure to capitalize on their colorful appearance by underscoring store categories with hi-res images in a 3 X 2 spread.
Our custom eBay Templates include an invitation to join the store newsletter to receive special promotions and new items .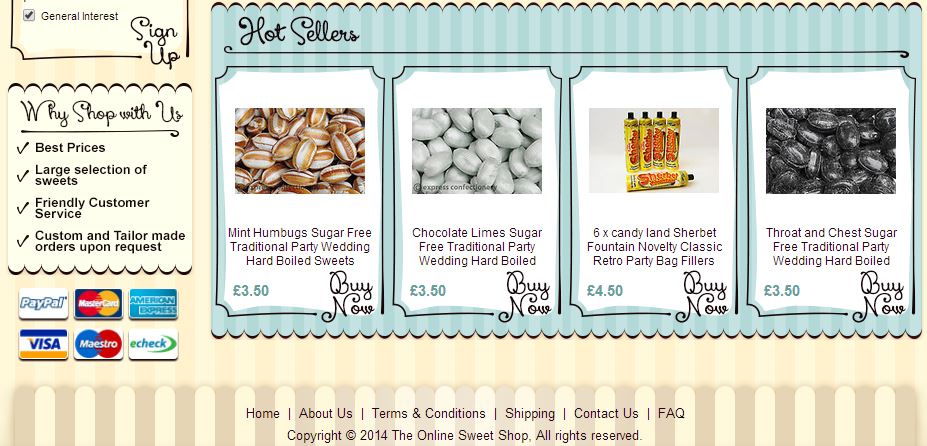 'Hot Sellers' in the midsection maximize four key listings chosen by shop owners. There's no better way to display specialty items such as sugar free candy than this prime real estate.
Reasons to shop with Online Sweetshop include best prices, large selection, friendly customer service, and the ability to put together customized and tailor made orders and are illustrated in the comfort of the left sidebar.
The custom eBay Store Design closes with a mini sitemap which includes vital company information taken from the main navigation bar.
At OC Designs Online, we know you can sell just about anything on eBay, but having the right eBay Shop Design can and does make a difference in your brand getting noticed on eBay. We are delighted with this design and if you're looking to sell online or already do, browse some of our other store designs to get an idea of what we can do for your ecommerce store!
Let's be social…Be sure to find us on Facebook and Twitter, and remember that quotes at OC Designs Online are always free!