With as much competition as there is for mobile accessories these days, sometimes you simply can't afford to be subtle. When making sure your customers know there's only one place they need to shop when looking for the rock-bottom-lowest prices, why not start with your company name?
When Everyday Is On Sale decided to venture into ecommerce, they knew that investing in a custom eBay Store Design was their ticket to success. Enter OC Designs Online. Now they have a highly navigable storefront tailored to showcase their wide selection of cell phone and tablet accessories.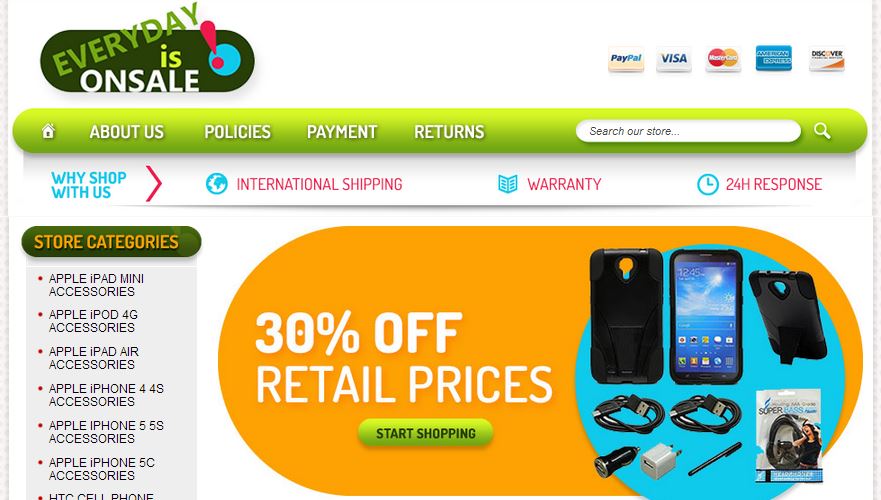 A bright pallet of florescent colors energize the look of this custom eBay Shop Design. The header boasts the 'look at me' logo alongside accepted methods of payment before launching into the main navigation bar with tabs for easy access to company policies, payment specifics and return options. In the far right of this green bar, customers can elect to enter keywords or phrases to search out specific brands or products.
Our design experts were sure to highlight key store policies including international shipping, warranty promises, and a 24 hour response team ensuring Everyday Is On Sale stands out from the hundreds of competitors in their market.
In the left sidebar, a vertical list of store categories are divided alphabetically by make and model so shoppers can quickly skim to find their device. With a 30% markdown in retail price, customers can be sure to stay within budget.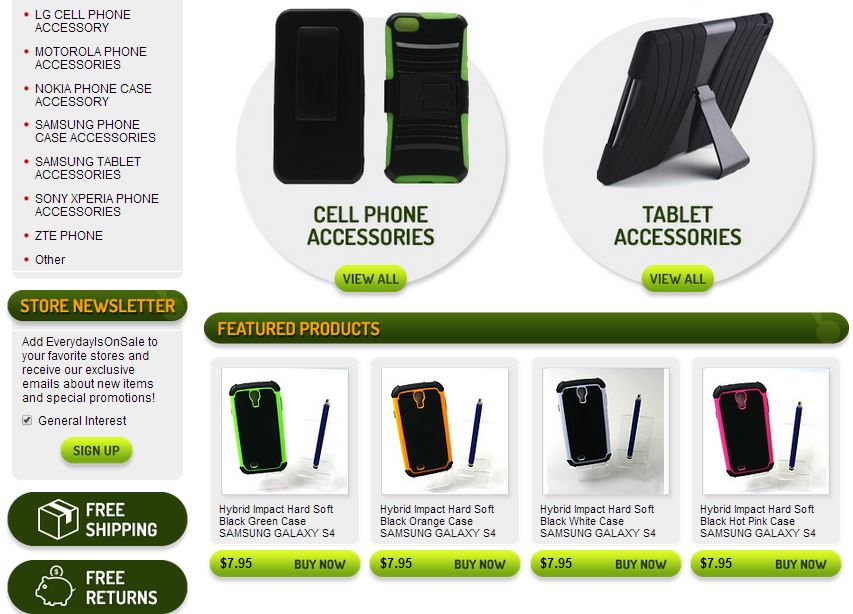 Next, more visual browsers have the chance to select products by choosing the smartphone or tablet accessories graphics in the midsection. Below, four featured products take up prime real estate in this eBay Template. For shop owners, there's no better way to maximize your listings!
The left sidebar continues with an invitation to shoppers who wish to stay on top of in-store exclusives by signing up for the store newsletter. The free shipping and free returns graphics ensure customers they won't be out any money of their own should an issue arise.

Closing out the custom eBay Store Design, a simple footer provides easy access to key company information similar to that of the navigation bar at the storefront entrance.
Ready to see how a custom-made eBay shop design can set your site traffic ablaze? We are experts in the template designs guaranteed to grow your online business and we invite you to browse our ever-growing portfolio and request a free quote!
Like what you see? Be sure and 'like' us on Facebook and don't forget to follow us on Twitter!