With a store name like 1800 Accessories, can't you just envision the rows and rows of products lining their inventory shelves? But realistically, who has the patience to sift through thousands of items if they're not highly organized and easy to browse at a glance?
To help layout this diverse array of accessories in a manner that ecommerce shoppers won't scoff at and manage the sheer volume of products, our web experts at OC Designs Online customized an easy to navigate eBay Store Design, that showcases the top quality items within.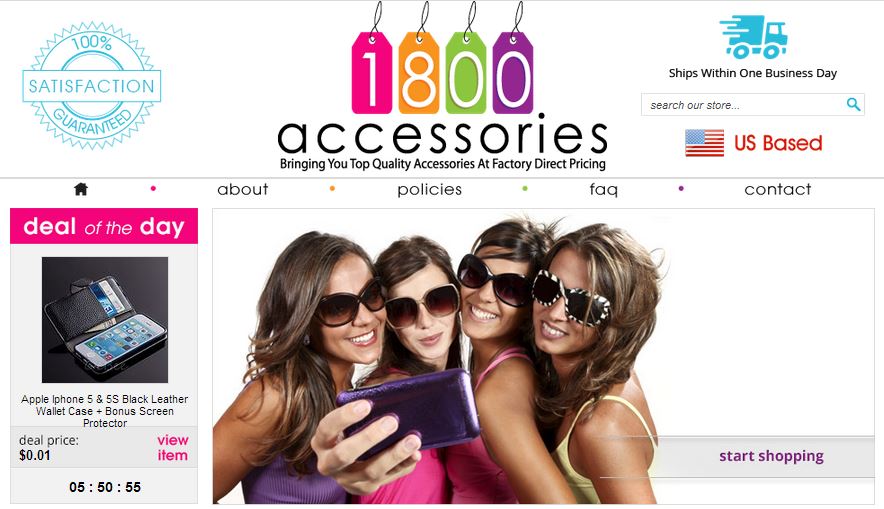 Taking their target audience into account, our design gurus made the colorful store logo front and center, drawing customers in and welcoming them to the online portal. A 100% satisfaction guarantee, ensures buyers they'll find precisely what they're after, without the risk of being stuck with a product that isn't up to snuff.
And forget waiting around wondering if your new iPhone case will ever arrive. 1800 Accessories ships within one business day of your purchase!
This US-based ecommerce retailer, promises to bring you top quality accessories at factory direct pricing and offers a custom search bar to help you isolate by brand or device.
The left sidebar of this custom eBay template boasts a deal of the day priced at a steal! Interested parties are encouraged to act quick as a clock counts backwards to the expiration.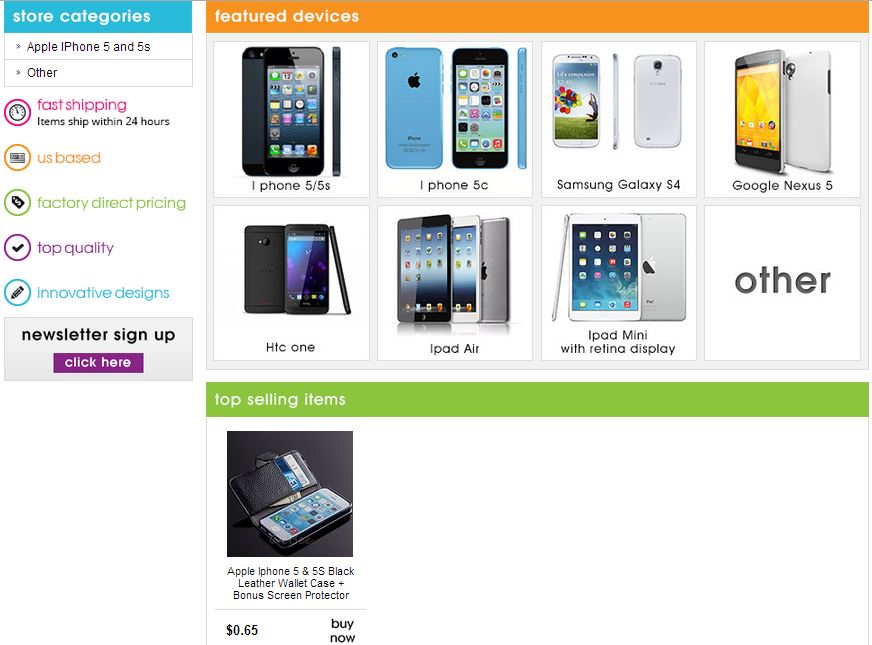 Next, overarching store categories and compelling reasons to shop such as fast shipping, a basis in the US, promises of top quality, and innovative designs help this eBay Shop Design distinguish itself from the competition.
The eight panel spread below offers easy access to a section of 'featured devices' showcasing the shop's top sellers in the storefront's midsection. Here, whether you are in the market for an iPhone 5 or 5s, iPhone 5c, Samsung Galaxy 4, Google Nexus 5, HTC one, iPad Air, or iPad Mini you're just one click away.
Finally, an additional section for 'top selling items' is a great way to pique the interest of a shopper who's just come to browse.
Your store deserves an eBay storefront that is eye catching and one of a kind, so why not consider a custom eBay Store Design from OC Designs Online. We invite you to browse our expanding portfolio of stunning designs and request a quote to learn more.
Don't forget to look us up on Facebook, follow us on Twitter and check out our Pinterest boards too!