With the polar vortex begrudgingly releasing its grasp on the U.S. after several months of harsh storms and record low temperatures, folks are itching for sunny weather. During the spring and summer months pool parties and beach goers rejoice, soaking up the sun at any spare moment.
For years, Boutique Bathers has been supplying sun worshipers and beach bunnies with the most fabulous swimwear…well, under the sun! To bring their selection to the ecommerce realm, they hired the experts at OC Designs Online to craft them an easy to navigate eBay Store Design. Check it out!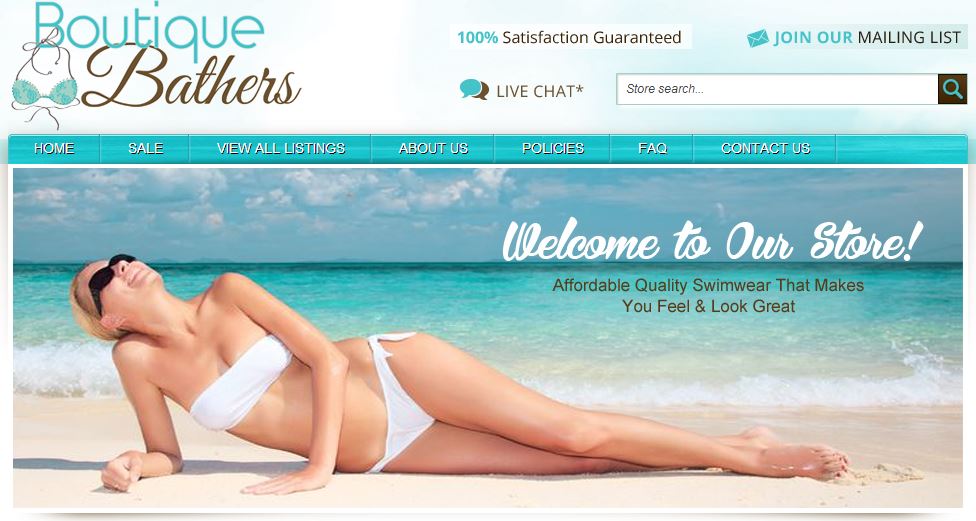 The Boutique Bathers logo welcomes perspective shoppers with a fun, playful design, reminding them that their satisfaction is guaranteed and inviting them to join the company newsletter, live chat, and utilize the custom search bar to single out specific designers, styles or brands.
The cool blue of the main navigation bar matches that of the pristine ocean in the hi-res photo below. Here, customers have easy access to sale items, all listings, company back story, store policies, FAQs and contact info.

Next, the eBay Shop Design boasts store categories that can be access in the vertical tabs along the left sidebar, or directly right where hi-res beach bodies outline mix & match options, bikinis, and one piece swimwear.
Shoppers also have the added convenience of shopping by size with a drop down menu where they can easily select their product and size to filter their choices.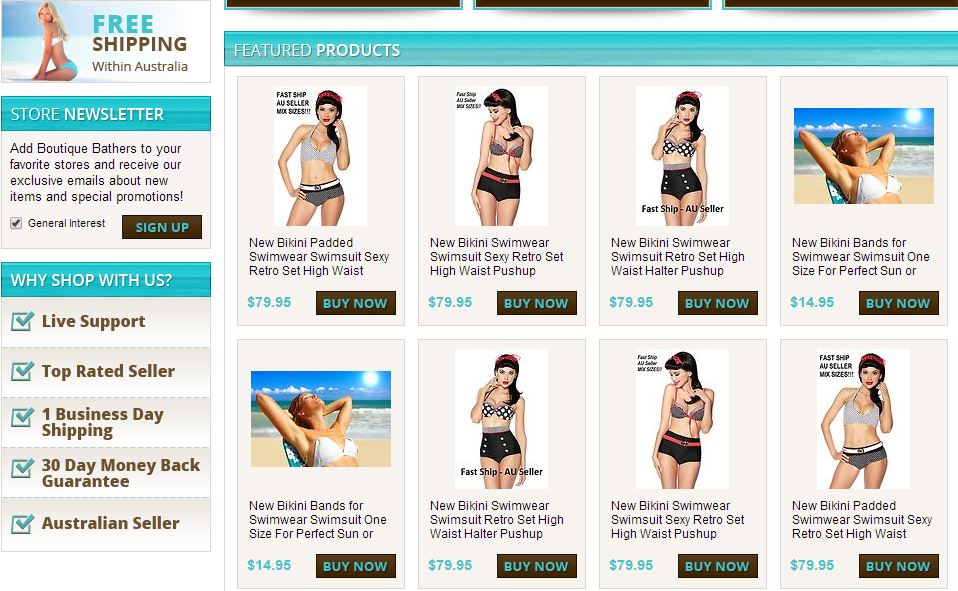 In the midsection of the eBay Template, featured products showcase popular swimwear in prime real estate. Each of the eight panels includes a description of the suit, price and blue 'buy now' button in the bottom right corner.
The left sidebar continues with a reminder of the store's free shipping policy, an invitation to sign up for the company newsletter, compelling reasons to shop including live support, 30-day money back guarantee, and proud Australian Seller designation.

Finally, a custom footer wraps up the storefront with a mini sitemap detailing essential company links and the Boutique Bathers logo for brand recognition.
Investing in a custom eBay store design that gets noticed and stands out is not only easy, it's also affordable! OC Designs Online is your top choice for custom eBay Shop Designs and we invite you to browse our portfolio of stunning store designs and then request a free quote.