Aside from your home, your car is likely your family's biggest investment. Adding personalized touches is often a great way to really make it feel like your own. With the average American spending approximately 600 hours per year in their cars, it's no wonder we take care to outfit them well.
For Auto Customs, it was essential they have an online presence to offer "the industry's best prices and unbeatable customer service for automotive accessories". To help them in this pursuit, OC Designs Online crafted a well organized eBay Store Design to showcase their wide selection of parts.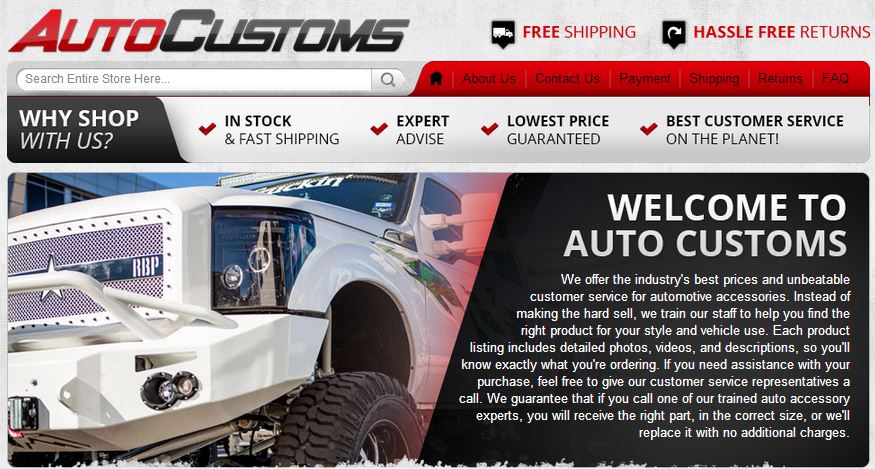 A monochromatic color pallet uses red to emphasize the storefront's main points including free shipping, hassle free returns, and a main navigation bar. Here shoppers can read up on the store's back story, find contact information, review polices on shipping, returns and payments along with FAQs.
A compelling list of four reasons to shop such as fast shipping, expert advice, low price guarantee, and exceptional customer service, segue to the welcome message- a spectacular added feature of this custom eBay Shop Design.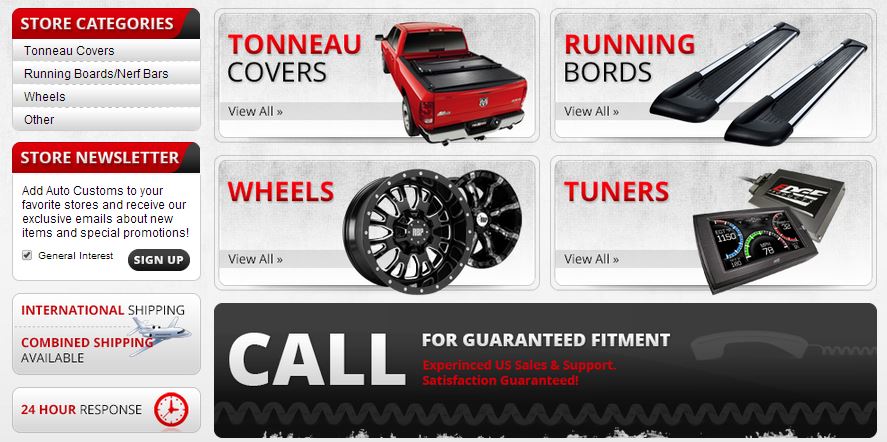 In both the left sidebar and midsection, store categories boast accessories such as Tonneau Covers, Running Boards, wheels and turners offering customers two ways to shop.
Next, our eBay Template boasts an invitation to join the company newsletter allowing Auto Customs to keep in touch with their most avid car enthusiasts.
For guaranteed fitment, an experienced sales and support team is standing by 24-hours to respond to any questions that arise. As the site states in their welcome message, "Instead of making the hard sell, we train our staff to help you find the right product for your style and vehicle use."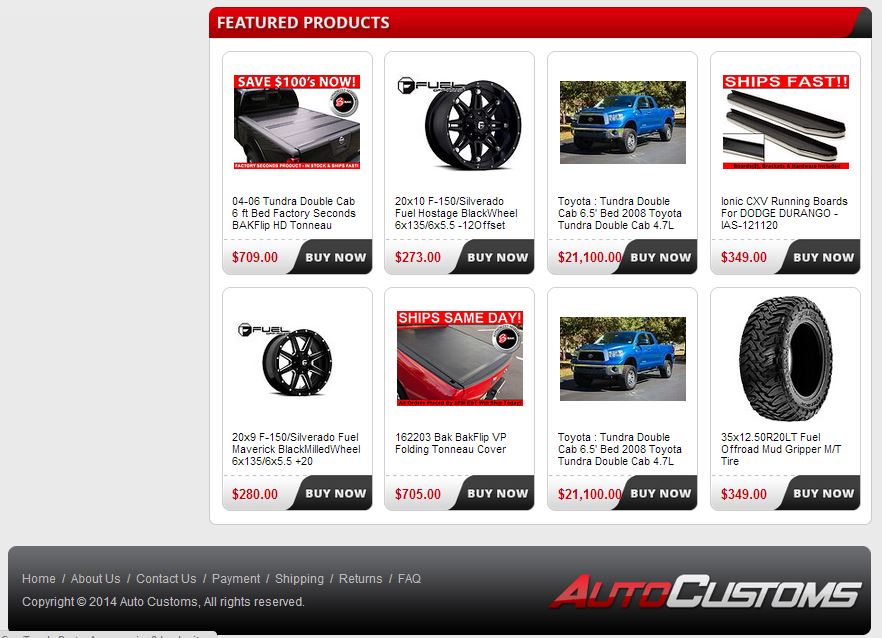 An eight-panel spread of featured products brings up the rear. As per company policy, each product listing includes detailed photos, videos, and descriptions, so shoppers know exactly what they're ordering.
Finally, as is standard with our eBay Store Designs, a custom footer wraps the store, again promoting the logo and repeating the main navigation information with links to key company policies.
Interested in seeing more samples of our eBay Store Designs? Go to OC Designs Online to see our comprehensive portfolio. We can also keep you updated on news and deals if you follow us on Twitter or like us on Facebook.
Ready for your eBay online store to start wowing your customers now? Simply click on the request a free quote tab and you'll soon be on your way to a customized eBay store that will engage and start reeling in the customers.