While the old adage is correct that you should never judge a book by its cover, how you dress does say something about your personality. Depending on what side of it you want to convey you might elect to style yourself in different looks. Helping you bring a 'spice of life' variety into your wardrobes is 5.99 Fashion!
Now with an ecommerce and online presence they're reaching customers like never before. Thanks to our dedicated team of web professionals, OC Designs Online was able to craft this custom eBay Store Design in a flash!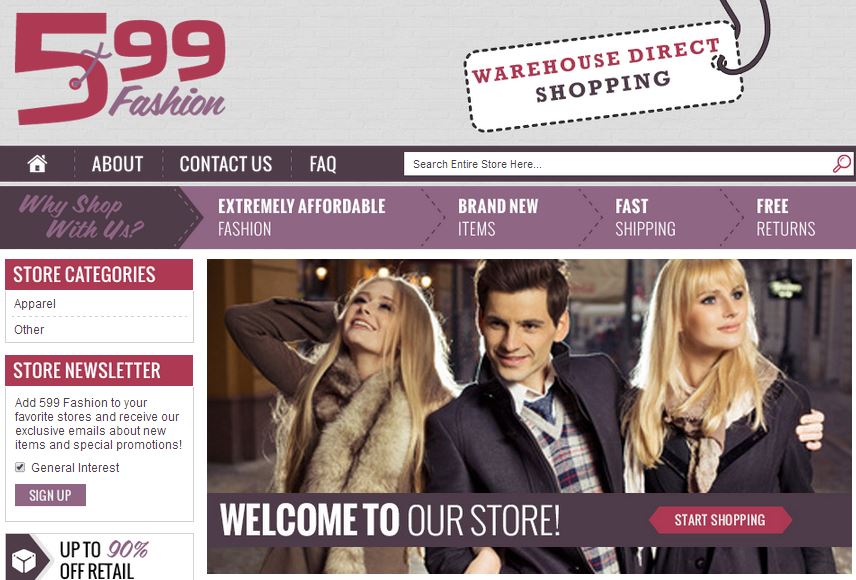 With the 5.99 logo and a promise of 'warehouse direct shopping' prices, the stage is set for some serious wardrobe updating! The soft plum, lavender and dusty rose color hues take shoppers through the site's easy to navigate features.
The first of which, a main navigation bar, sports contact information and FAQs and a custom search bar where buyers can seek out merchandise by entering keywords or phrases. Below, a 'why shop with us' panel boasts promises such as extremely affordable fashion, brand new items, fast shipping and free returns.
In the left sidebar of this eBay Shop Design, store categories and an invitation to begin receiving the store's newsletter means fashionistas never again have to miss out on a sale or new inventory stock.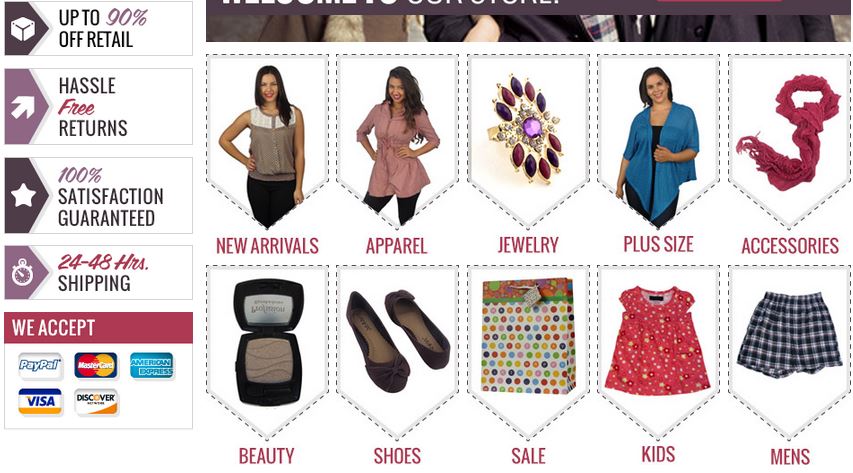 Continuing down this section shoppers are reminded that 5.99 Fashion offers clothing and accessories at up to 90% off retail prices, hassle free returns, 100% satisfaction guaranteed, and shipping within 24-48 hours. A list of accepted payment methods includes major credit cards such as Visa and additional options including PayPal making it easy for shoppers to complete their purchases safely.
The eBay Template's midsection offers an organized collection of store categories in a 5 X 2 spread, with everything from new arrivals to shoes and kids apparel.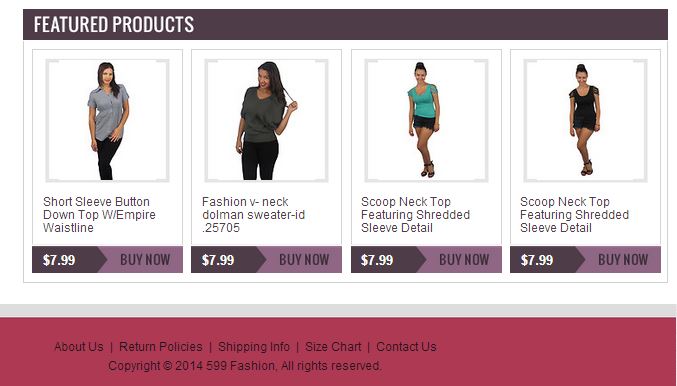 Finally, a four panel collection of carefully curated featured products showcases in-season and high-demand items complete with a brief description, image and special price.
As is standard with our eBay Store Designs, a custom footer offers easy access to key company information, shipping info and a handy size chart before coming to a close.
No matter what you sell in the ecommerece space OC Designs Online enjoys the challenge of piecing together eBay shop designs with a big presence and even larger inventory.
Check out our portfolio for more samples of our work then request a quote. Stay connected to OC Designs Online and check us out on Twitter and follow us on Facebook—be sure to find us on Google+!