When you were a child, did it feel like the coins in your mom's purse held the key to some of the most magical treasures? Out to dinner, were you inevitably drawn to all the multi-colored machines with their sweets and treats? Gently tugging on the pant leg of your parent, pleading for a shiny quarter to unlock the objects of your desire.
As an adult, vending machines still retain some of their childhood wonder; however, we now understand that they must be supplied. Since 2006 Wholesale Vending Products has reined king of vending machine trinkets. With such a niche market they rely on their custom Volusion Store so their customers can find them. OC Designs Online was quick to get their storefront up to snuff and now they're completing orders left and right!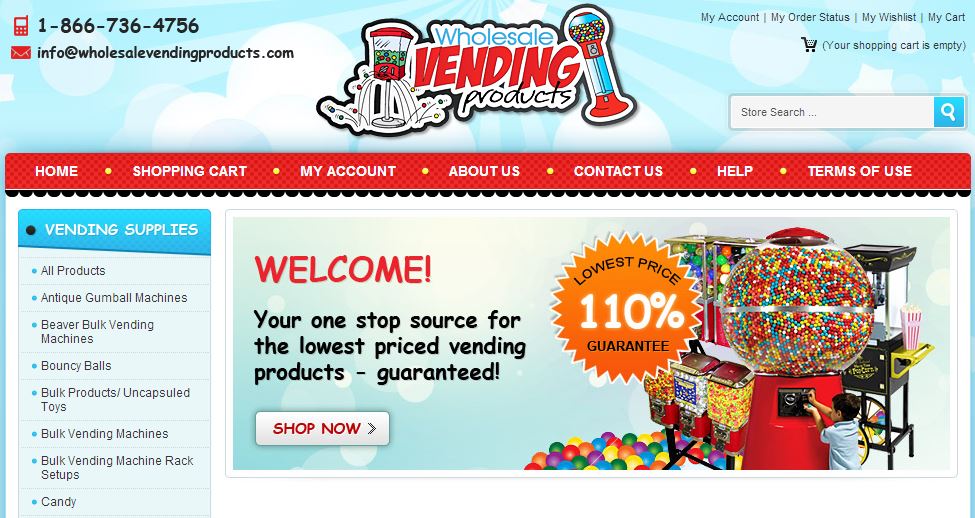 Keeping contact with their customers is a top priority. That's why their toll free number and email address are present in the top left upon entry. The custom logo in the middle of the header divides shopper's account information and a plug in to search the store by typing keywords or phrases.
A red navigation pane spells out tabs of easy access to shopping carts, account and contact information, a help menu along with terms of use.
Vending supplies are clearly listed in a vertical collection with dozens of options all set against sky blue backdrop. Directly right a welcome message offers buyers a 110% lowest price guarantee before they launch into their browsing.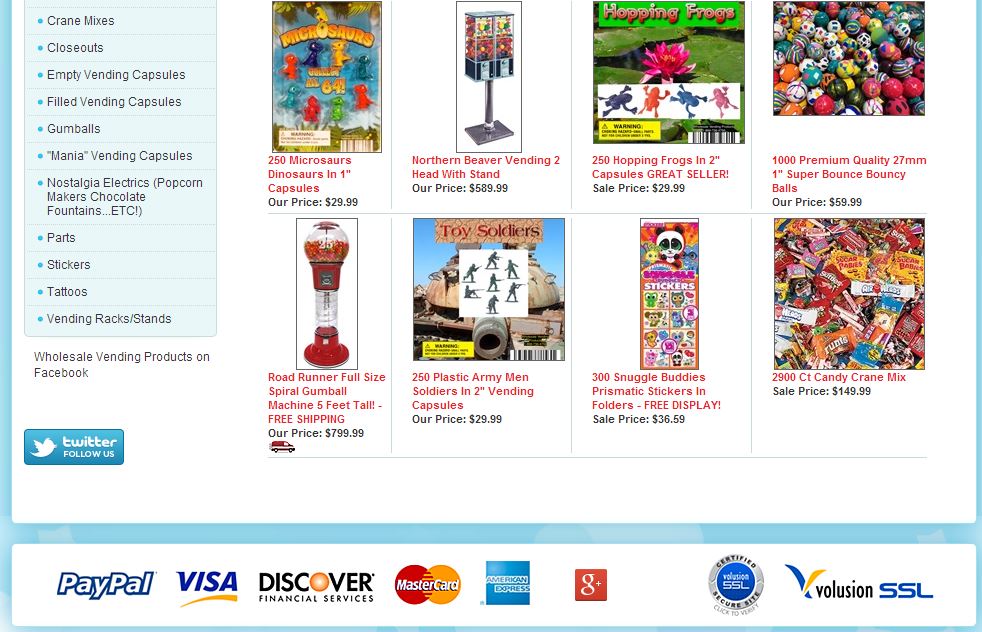 In the midsection, a 4 X 2 spread of specially priced featured products promotes select inventory, while a banner idles below offering accepted methods of payment, a link to the store's google + and a volusion SSL certification.

Finally, a custom footer utilizes five tabs to invite shoppers to join the store newsletter, offer reasons to buy from Wholesale Vending Products, provide access key company information and company information, along with testimonials from satisfied clients. With social media plug ins for Facebook and Twitter shoppers can keep in touch long after they've completed their purchases.
Ready to take your ecommerce business to the next level and leave your competition in the dust? Think the Volusion ecommerce platform may be right for you? We highly encourage you to browse some of the awesome designs in our portfolio. It's also easy to request a free quote.
Let's stay in touch. We hope you'll like us on Facebook and follow us on Twitter!