As Tone Proper Audio explains, the store emerged as a result of a love for all things audio. With useful lessons learned on tour, they bring their experience to the world of ecommerce. From Jakarta to South America their world travels inform their business model and influences their inventory stock. Move over "Big Box" stores, let the sojourners take care of all your system design, room tuning and optimization needs.
To ensure their musically inclined clients know how to locate them in such a niche market, they solicited the help of web experts, OC Designs Online to outfit them with a custom eBay Store Design.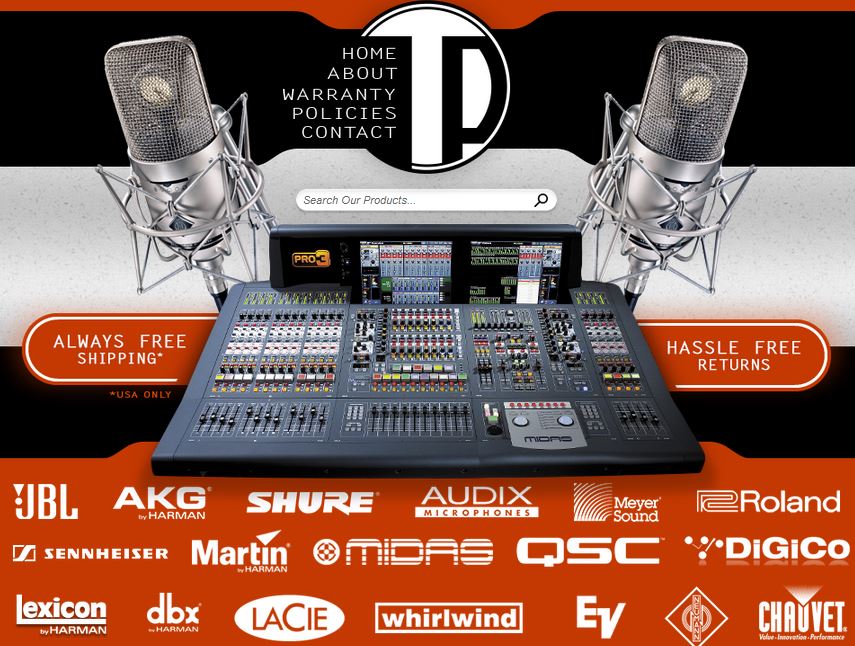 Among a hi-res shot of a fully fledged soundboard the main menu presides, nestled between two mics. Here, shoppers can access key company information including warranty specifics and store policies as well as ways to contact the site.
Below, a custom search bar allows buyers on a time crunch to seek out specific products with keywords, phrases or brands- a feature which comes standard with many of our eBay Templates.
Some of the industry's top logos section off the header from the remaining products below. Clearly displaying these highly recognizable brands lets customers know they're in the hands of the professionals.

Following the swatch of logos is a list of store categories. At a glance, shoppers can quickly and easily navigate to tabs or photograph links to popular items such as mics, mixers, speakers or amplifiers.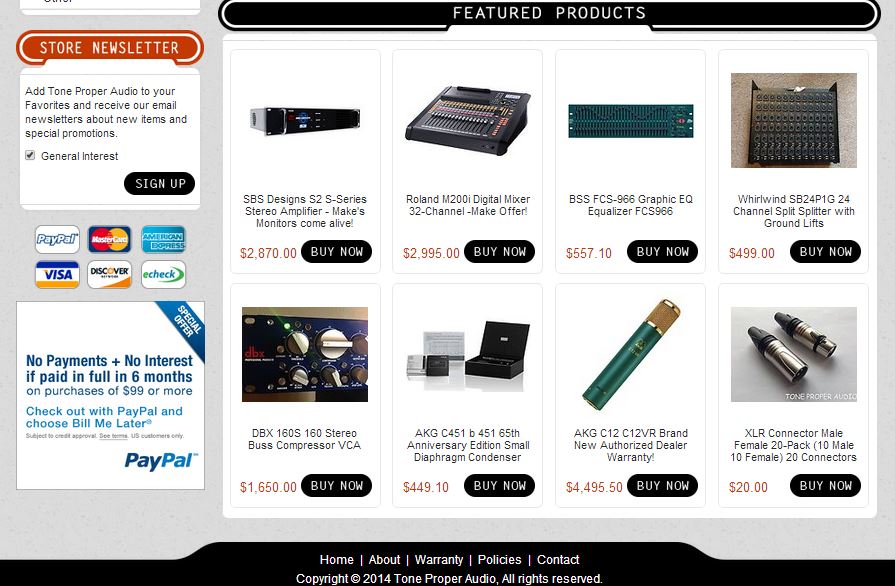 In the midsection of this eBay Store Design, a 4 X 2 spread of featured products encourages browsers to wade through special deals selected by Tone Proper Audio. Each field comes with a photo, descriptive summary and clearly marked price along with encouragement to 'buy now' with the click of a button.
In the left sidebar, an invitation to join the company newsletter means never again missing out on new items or promotions.
A complete list of accepted payments closes the section out, and gives shoppers a reminder that they can defer their payments for up to six months with no interest on purchases of $99 or more.
OC Designs Online enjoys the challenge of piecing together eBay shop designs with a big presence and even larger inventory.
Check out our portfolio for more samples of our work then request a quote. Stay connected to OC Designs Online and check us out on Twitter and follow us on Facebook—be sure to find us on Google+!