If diamonds are a girl's best friend, imagine how special the giver of said diamonds is. But these days, women aren't waiting around for benevolent donors to frost them with jewels. They're not shy about buying for themselves!
Whether you're an independent lady looking to give yourself a present, or a doting partner looking for the perfect way to say 'I love you', My Jewelry Box has the gems for you.
Since enlisting the help of the professionals at OC Designs Online, their custom eBay Store Design traffic has exploded. Check out this sleek design: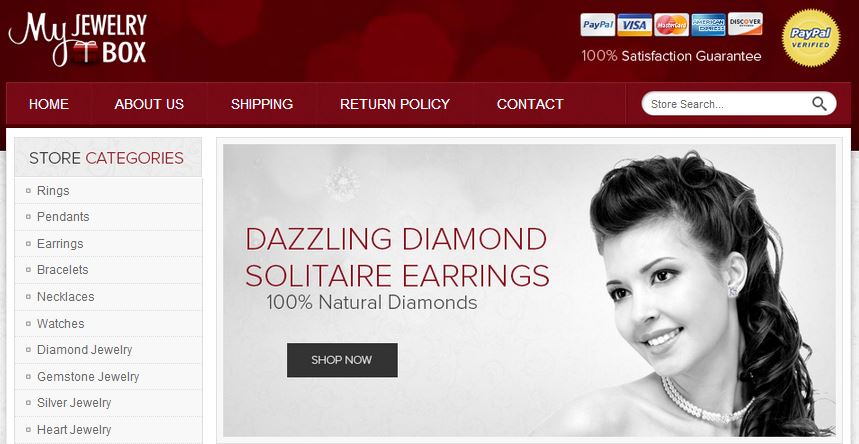 The background of the storefront is set against a deep red, conveying an air of romance that puts shoppers in the mood to show his or her deepest affections. In the top right, a list of accepted payments and a PayPal verification, put shopper's minds at ease when preparing to make high-dollar purchases.
The custom eBay Shop Design continues with a main navigation bar located just below and offers a quick jump to store policies and contact information, while a store search bar allows committed buyers to skip right to the jewelry or brand of their choice with a simple keyword.
Those that wish to review the shop's selection can easily elect to peruse the list of store categories located in the left sidebar. Beside which a stunning black and white photo advertises the 100% natural diamonds in store.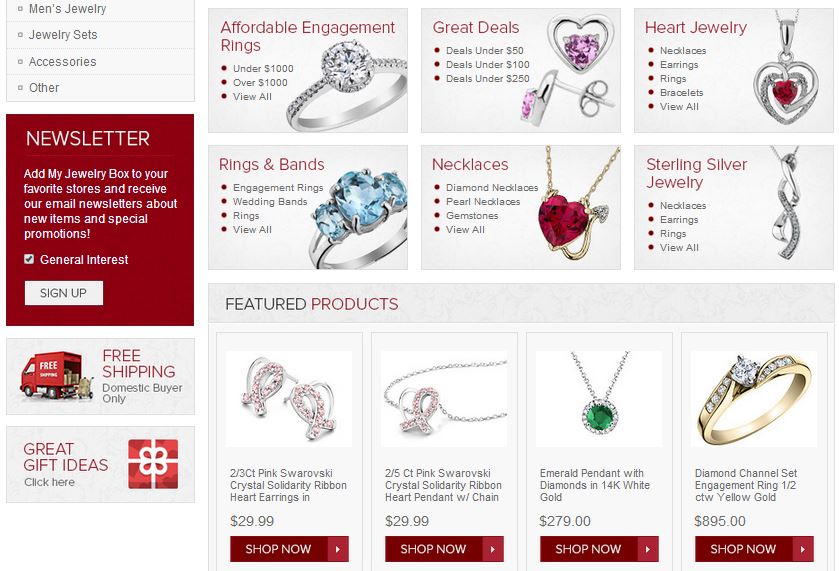 Next, the top six selling categories appear in a 2 X 3 pane, promoting affordable engagement rings, great deals, heart jewelry, rings & bands, necklaces and sterling silver jewelry. A four panel spread of featured products follows, showcasing affordable, high-impact options such as solidarity ribbon and emerald jewelry.
Back in the left sidebar, an invitation to join the store newsletter means never again missing out on new items or promotions-a standard in many of our custom eBay Templates. Our design experts also included graphics reminding customers of free domestic buyer shipping and a section for great gift ideas for those who may be feeling overwhelmed.

Finally, a digital illustration of a jewelry box wraps this eBay Store Design, offering customers a second chance to review key company information from the navigation bar.
If you sell jewelry or fashion of any kind on eBay, don't you want to take your store to the next level and stand above your competitors? OC Designs Online offers affordable eBay Shop Designs for eBay stores and eBay store listing templates.
Please browse our ever-growing portfolio and then request your free quote today!
We hope you'll like us on Facebook and follow us on Twitter!