Females are notoriously known for keeping up their appearances. Aside from general grooming, they are also frequently on the hunt for quality products to help keep their nails and lashes fresh. However, they can't do it alone. Salons make big bucks keeping their public looking sleek.
When Niko Beauty decided to rebrand the decision to go with leaders of industry OC Designs Online was an easy one. Now they are celebrating increased sales with a highly organized storefront that's as slick as the nails they help polish.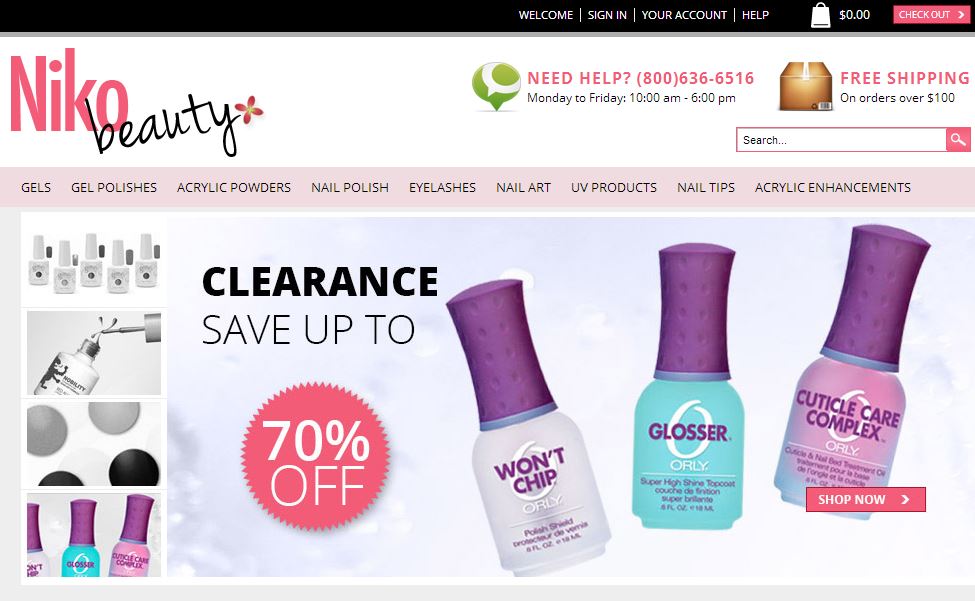 For a customized shopping experience, personal account features and a running tab are located at the very top of the homepage, offering customers easy access to account specifics.
Next, a help line and free shipping promise sit atop the custom search bar which allows customers to seek out individual products or brands with keywords or phrases. Separating the header from the hi-res welcome photos which rotate below is a thin bar boasting various store categories including gel polishes, acrylic powders, eyelashes, nail art, UV products and more.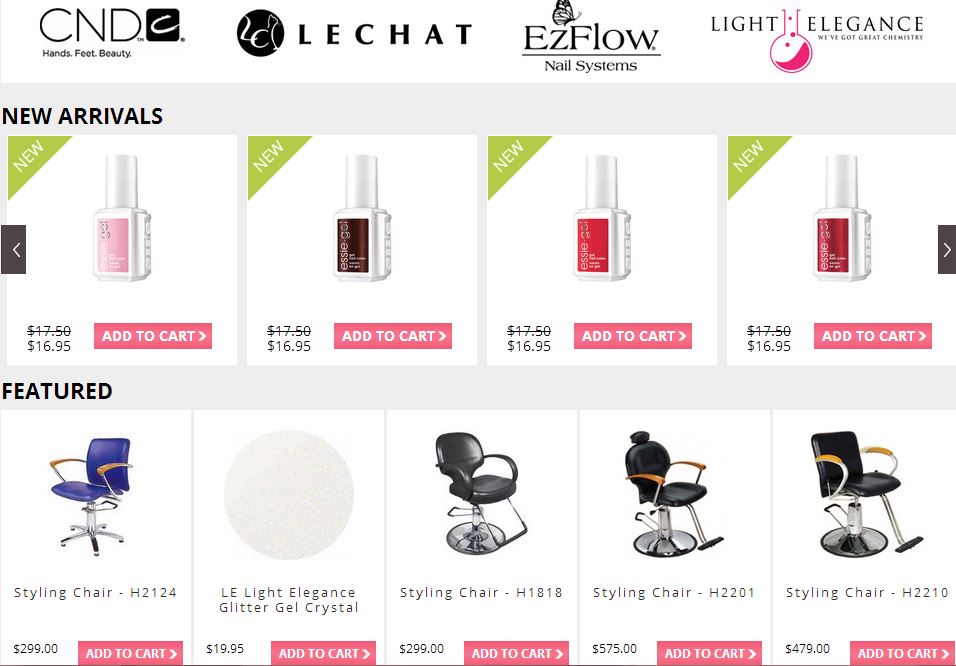 Following that, some of the top brands in the industry are underscored by their custom logos, ensuring shoppers they have access to top quality buys.
For browsers, four rotating new arrivals offer top selling polish at a discount. The movement is sure to grab the attention of any visitor wandering through. Anyone in the market for larger items such as professional styling chairs may select from any of the 5 X 2 spread of featured products which appear below.

Finally, our designers wrap the storefront, making sure to entice customers by keeping final clearance items under wraps. With no more to advertise their sale than a simple admonition to , "get them before they're gone", interests are piqued and sales are made.
In the thorough, yet organized customer footer below, shoppers can clearly access an array of important company information. Tabs include help links to check on order statuses or company policies, a list of top categories and brands, social media plug ins for top condentors including Facebook, Twitter and Pinterest, along with an invitation to sign up for the company newsletter to stay abreast of the latest news and special offers.
Are you considering a Big Commerce for your ecommerce store? If so, let OC Designs Online show you our expertise in creating stand-out Big Commerce store designs. Simply request a free quote and feel free to browse our portfolio!