Since 1994 Metropolitan Display has been proudly providing high quality Display and Point of Purchase products. While they have a main sales office is located in New York, as well as manufacturing, warehousing and shipping facilities are across the country, when you're shipping to customers in Canada, Mexico and beyond it makes sense to have an online presence.
For niche markets like this one the internet is a total saving grace. In fact, investing in a custom eBay Store Design has enabled Metropolitan Display to grow leaps and bounds at lightening speed! Check out this sleek layout courtesy of OC Designs Online: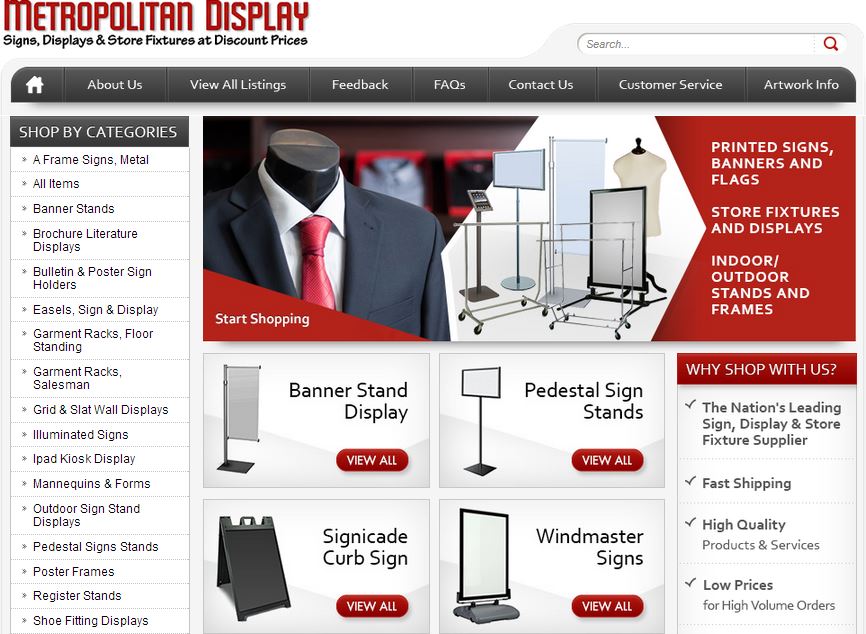 A well-positioned logo sits atop the tagline letting customers know they have found the place to shop for signs, displays and store fixtures. For customers who wish to skip the browsing process, a conveniently located search bar allows them to single out specific products by plugging in a keyword or phrase to aid their search- a feature that comes standard with many of our quality eBay Templates.
In the slate grey navigation bar below, buyers have access to a complete display of listings, customer feedback, FAQs, contact info, customer service options and artwork info.
Shopping by category is a cinch with a vertical display of links in the left sidebar. Here, displays and stands of all varieties are at your disposal. Directly right, the top ten store categories are underscored with a visual, offering ways to shop at a glance.
In the right sidebar, shoppers are invited to investigate all the ways Metropolitan Display distinguishes itself from the competition with reasons to shop.

It's important for customers to know representatives are always available to assist them. After all, since there's no physical employees to greet them as they walk through the door, making sure shoppers feel they have a personal connection while making their purchases is key. Our design experts added a separate 'contact us' graphic and list if accepted payments to make transactions go as smoothly as possible.
In addition to the satisfaction guarantee on the right, we've also taken care to remind folks to take advantage of combined shipping opportunities- all of which are placed by the next day!

Finally, a custom footer wraps up this custom eBay Shop Design, sectioning itself off with a contrasting thick grey background.
At OC Designs Online, we know you can sell just about anything on eBay, but having the right eBay Store Design can and does make a difference in  your brand getting noticed on eBay. We hope you'll browse some of our other eBay store designs to get an idea of what we can do for your ecommerce store!
Let's be social…Be sure to find us on Facebook and Twitter, and remember that quotes at OC Designs Online are always free!