According to the NDP Group, in 2011 electronics sales reached nearly $144 billion. Perhaps this figure is not surprising when you consider all the additions that come along with major electronics including computers, cameras and cell phones. With so many devices to outfit, folks are understandably on the hunt for a bargain.
Gadget hunters lucked out when Inside Computer decided to take their steals and deals to the internet. The experts at OC Designs Online jumped at the chance to create them a custom Volusion Store Design, now they're breaking sales records left and right.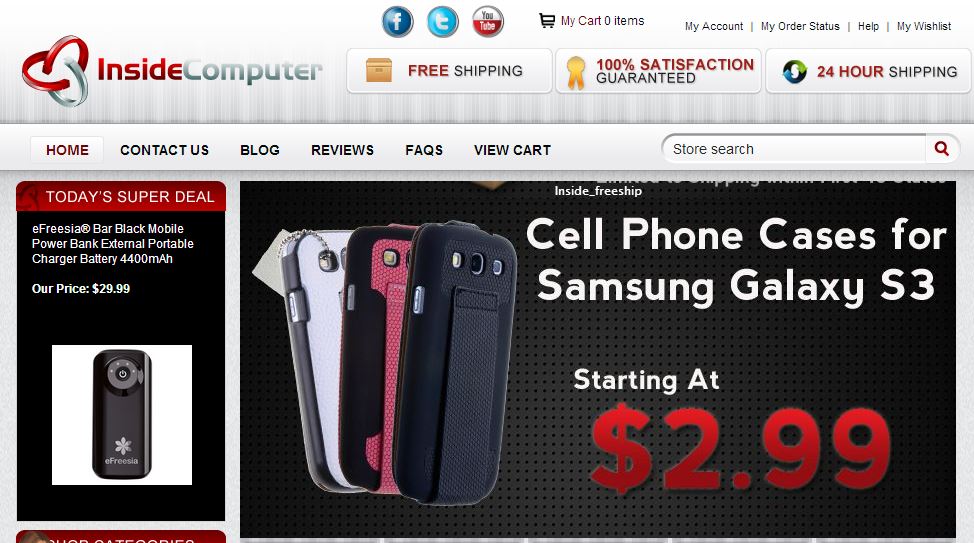 Plug ins for social media giants Facebook, Twitter and YouTube appear at the top of the page, driving traffic and conversation long after purchases have been sold and delivered. Below, graphics alert customers to the store's free shipping, 100% satisfaction guarantee and 24 hour shipment promises.
As a special feature built in to enhance the user experience, a tool bar with additional social media links, brand logo and option to check out crawl with shoppers as they scroll up and down the site.
In the main navigation bar buyers can keep up with the company's current events and trends by accessing their blog.
For those that prefer to forgo browsing, our design experts have built in a custom search bar so shoppers can easily access specific products with keywords or phrases.
In the left sidebar a super deal of the day displays a specially priced electronic in prime real estate, encouraging customers to review before making their final purchases. Directly right a welcome graphic fades in and out to different offerings, drawing substantial attention to in-house advertising efforts.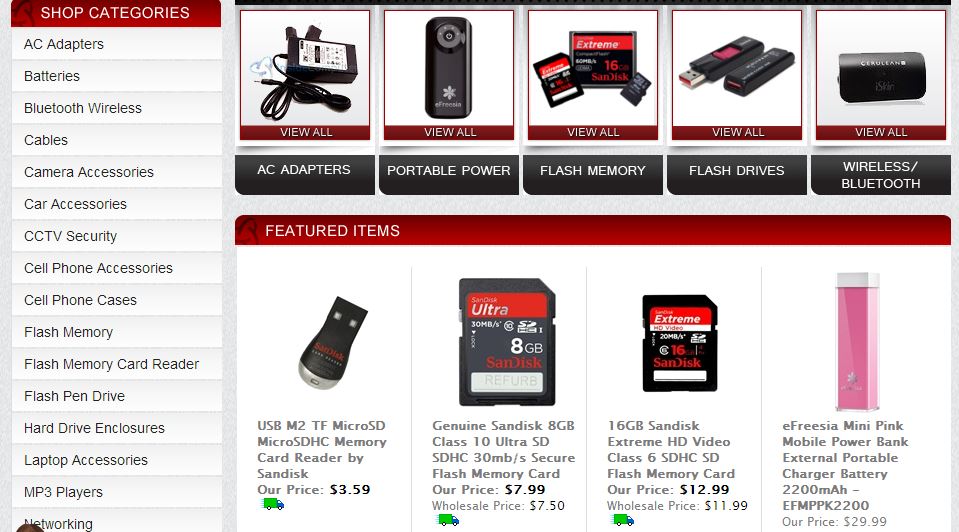 Next, store categories offer customers two ways to shop. The first of which is an organized vertical list of products ranging from AC Adapters to tablet accessories. The site's top five categories sit along side, underscored by a visual to help represent their field.
In the midsection, a collection of eight featured products maximize the listings of the store's top gadgets. Each is complete with a brief write up and wholesale price for an even deeper discount.

Finally, a custom footer breaks vital company information into four categories and closes with the Inside Computer logo.
If you're considering a Volusion store design, contact us for your free quote and above all, we invite you to browse some of our Volusion store portfolios designs to get an idea on what we can do to take your Volusion store the next level and keep it competitive!
We are now on Google+ so follow us and read our popular posts and don't forget to follow us on Facebook!