Is there a particularly fashionable guy or gal in your office or at your school? Do you often find yourself wishing you could cop their style? That one real life style icon exists for most of us. Thus the inspiration for Style Like Mine's ecommerce store.
To be on the cutting edge of fashion, it makes sense to involve the internet while clothes shopping. That's why they turned to the experts at OC Designs Online to craft them a Volusion Store Design as stylish as the wares they sell in their store.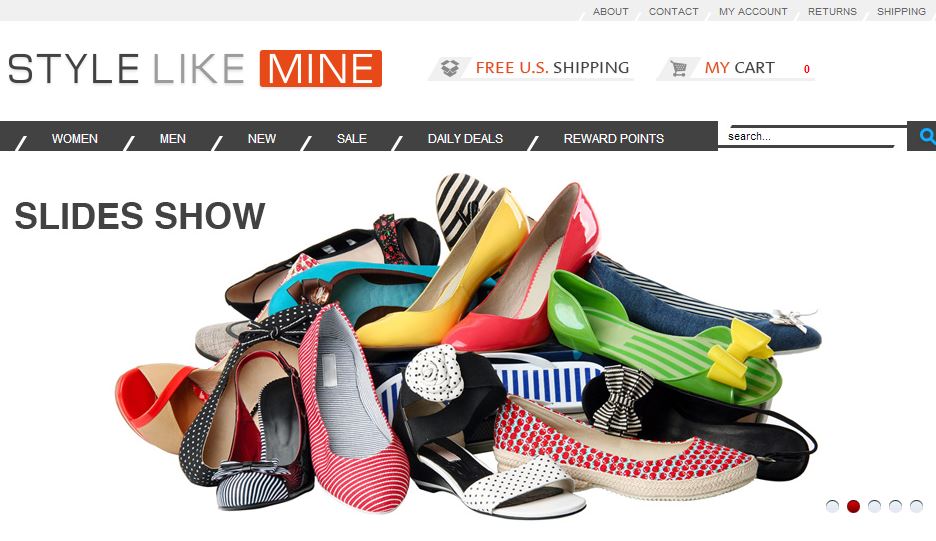 The sleek design begins by offering customers easy access to company and contact information, their personal accounts, as well as return and shipping policies. By keeping them fixed to the top left corner, the storefront has ample room to show off their collection.
After a proper greeting from the logo- emboldened with orange backdrop for emphasis- Style Like Mine reminds shoppers that shipping is free within the U.S. and includes a plug in so customers can clearly see the number of items currently in their cart.
In the main navigation bar below, store categories are divided into men's, women's, new and sale merchandise, along side daily deals and a tab to use reward points. A search bar to the far right allows shoppers to cut through the browsing process and target specific products by typing in brands or keywords.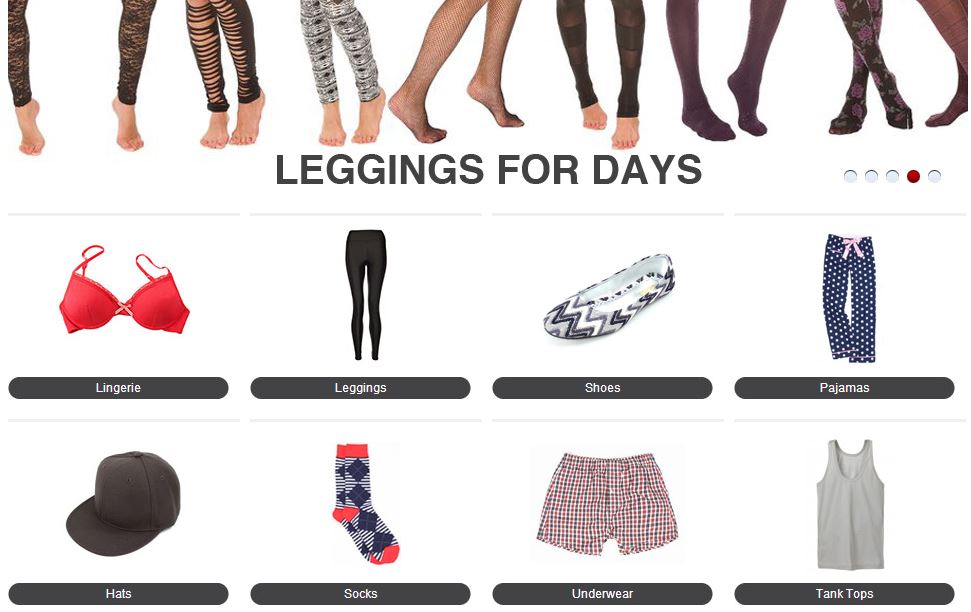 A rotating wide-angle shot toggles between five promotional images. A small horizontal collection of circles in the bottom right corner make it easy for shoppers to investigate a particular pane by clicking its corresponding dot.
The store's top eight categories, which include lingerie, leggings, shoes, pajamas, hats, socks, underwear and tank tops, appear in an organized 4 X 2 spread, making it a cinch for shoppers to peruse the items of their choice.

Closing out the storefront is a custom footer. Four overarching categories cover sections like customer care which allow shoppers to track their orders, info & help where buyers can find important store policies, and social media plug ins for FaceBook and Twitter. Visitors are also encouraged to stay in touch by joining the company newsletter by entering their email address.
If you desire a Volusion Store Design that combines quality and creativity, consider OC Designs Online. We invite you to browse our portfolio of imaginative designs and request a free quote to learn more.
Please look us up on Facebook, follow us on Twitter and check out our Pinterest boards too!