Deep down don't we all have a desire to be our own boss? The title is one of authority, independence and leadership. But being 'boss' doesn't always have to mean you deal with direct reports.
Boss Powersports Outlet is the best source for discount parts and accessories for your motorcycle, ATV or UTV. Their one goal is to bring you the best products at the absolute lowest prices. Between their extensive buying power and unmatched levels of customer service it's no wonder they have over 15,000 happy customers singing their praises.
Check out their sleek, new eBay Store Design: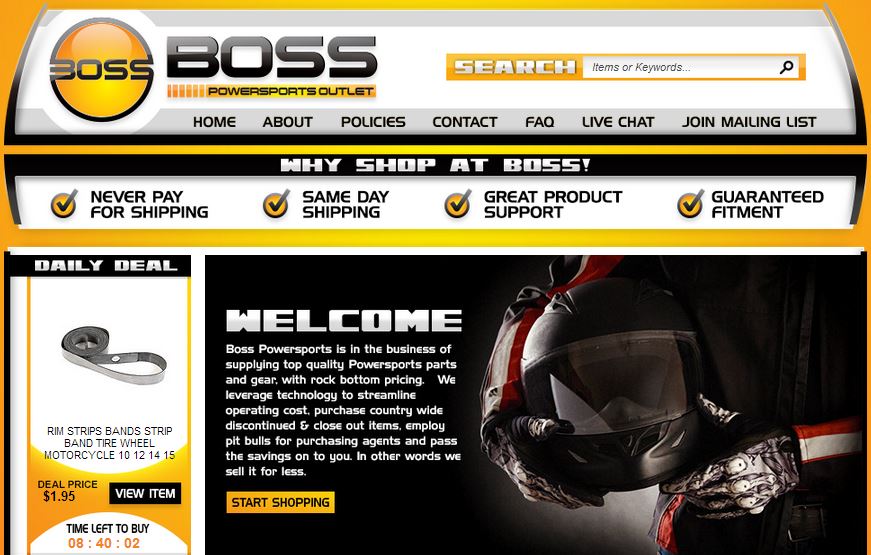 A sophisticated black and yellow color scheme set the stage, while a custom search bar directly right of the custom logo offer shoppers an easy way to cull the inventory stock.
Below a navigation bar promotes tabs containing policies, contact info, FAQs, an option to engage in live chat, and an invitation to join the mailing list.
Why shop at Boss? We'll tell you!
Our designers were sure to highlight good business practices such as never letting customers pay for shipping, processing orders the same day they're received, great product support, and guaranteed fitment in the custom eBay Shop Design to help drive sales.
Each morning, a daily deal feature is updated, offering shoppers a special product at a steal! A clock counts backwards encouraging them to act quick.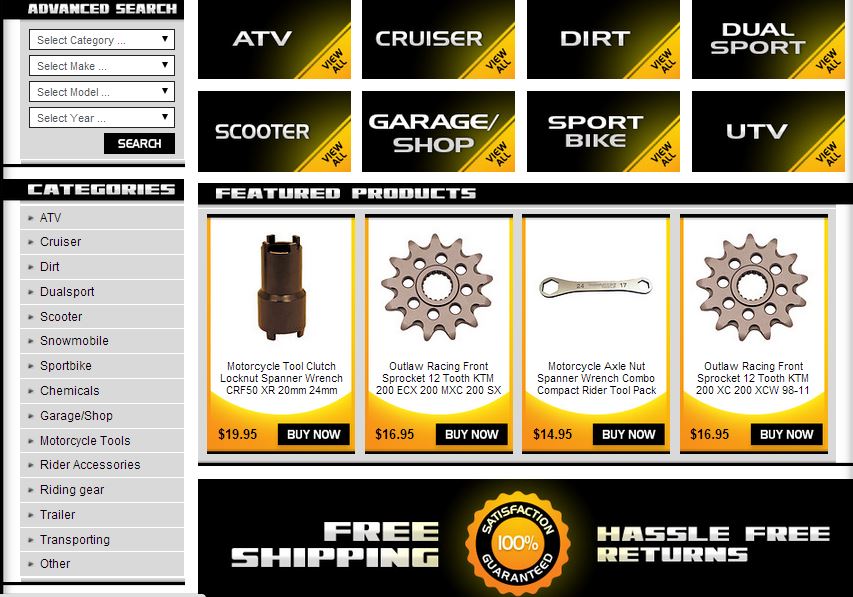 Next, the eBay Template continues with an advanced search function in the left sidebar complete with drop down menus where buyers can select the make, model and year of their vehicle to cull product offerings.
Those who prefer to search by store category may do so in the vertical list to the left, or a 4 X 2 spread for top sellers such as ATV, Dual Sport, Scooters, and Sports Bikes among others.
Below, four featured products are singled out in the midsection and serve as the best way to maximize listings.

Finally, a formal invitation for Boss' customers to sign up for the company newsletter mean they have a direct marketing opportunity with interested buyers. The custom footer brings the custom eBay Store Design to a close by repeating vital company information found in the header and displaying accepted payment methods.
If you're looking for a website design or landing page design that doesn't require spending monthly fees for support, we hope you'll request a free quote and find out why OC Designs Online is your #1 choice for designing the perfect eBay template.