Clothes of the highest quality often come with a designer label. And with said label, a designer sized price tag. When you're looking to acquire designer clothes to update your wardrobe, there's no more cost effective outlet than online.
Without the added expense of a brick and mortar store, ecommerce retailers like Awesome Retail Couture Specialties can offer pricey designer ware at a fraction of the cost. However, when your online store is the only space you are selling, your storefront needs to be superb. That's where a custom eBay Store Design from professionals like OC Designs Online can make the difference between turning a profit, and going in the red.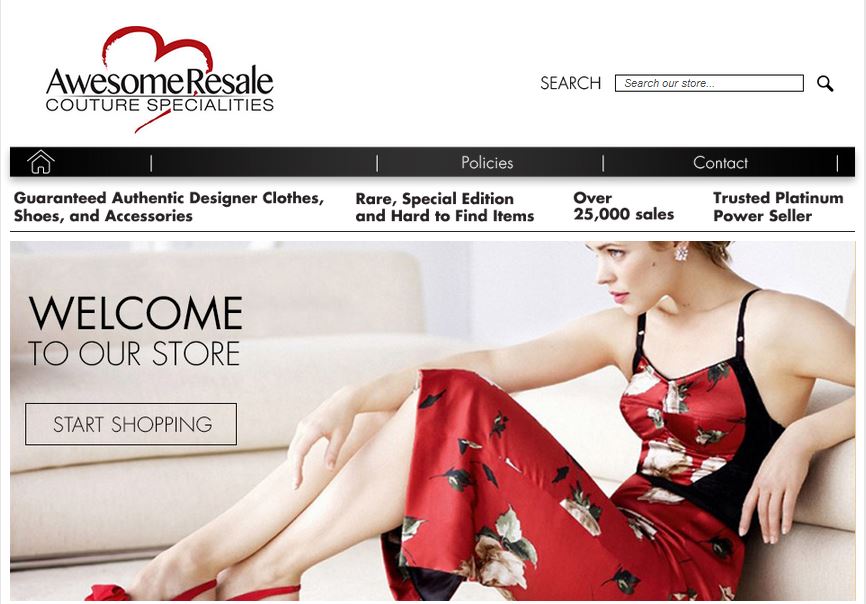 First, a clean logo welcomes prospective buyers to the site. In top right portion of the header, a search bar allows customers to skip the browsing process and single out specific items for purchase. Need policies to be spelled out or a representative to walk you through to completion? The main navigation bar offers clearly marked tabs to help simplify the process.
Next, our designers infused compelling marketing copy into this eBay Shop Design, enticing shoppers with authenticity guarantees, rare items, over 25,000 in sales, and designation as a trust platinum power seller.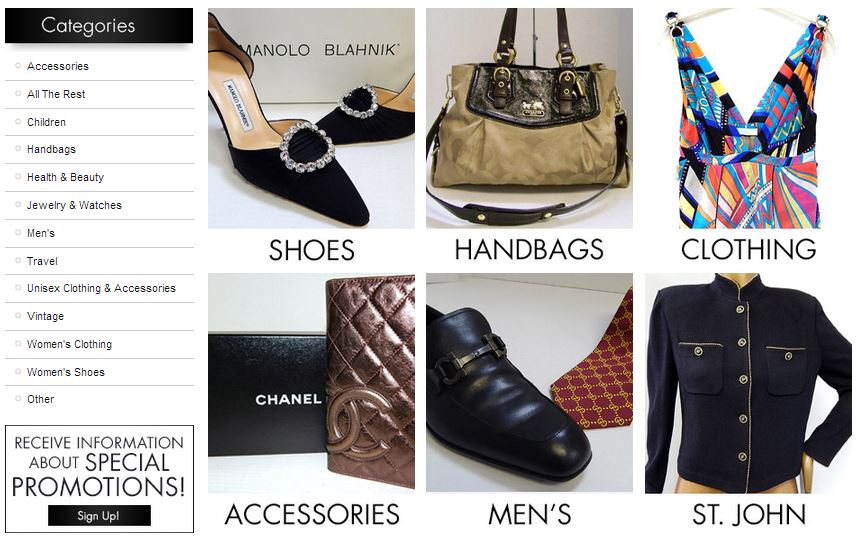 In the midsection of this custom eBay Template, store categories such as shoes, handbags, clothing, accessories, menswear and St. Johns use hi-res images to invite customers to browse through the site's top inventory.
In the left sidebar, an alphabetical list of categories appear in vertical tab form, making for a clean, organized way to peruse listings.
Below, a black and white graphic invites shoppers to receive information about special promotions by signing up to receive periodic emails.

As a courtesy, our experts aptly remind shoppers of Awesome Resale's free shipping options and promise of hassle free returns should anything need to be sent back.
Finally, a custom footer comes standard with our eBay Store Designs. While we have the ability to incorporate an array of links and information to close out your storefront, here we've kept it simple with a mini sitemap and repetition of the logo.
Are you looking to gain an edge with a stunning and noticeable eBay Shop Design? Let us show you how! Browse our portfolio and then request a free quote.
Let's be social! We cordially invite you to follow us on Facebook and Twitter. For Pinspiration, wander over to our Pinterest boards and take a peek.