Each year hundreds of thousands of Japanese cars are imported into the United States and Canada. With that kind of volume, it's no wonder auto parts for these brands are in such high demand. However, when shopping for replacement parts it's critical you source from a highly trusted dealer.
Since 1985, Tiger Japanese Auto Parts has been one of Canada's largest importers and distributors of jdm engines, transmissions and aftermarket automotive collision parts. In addition to their three brick and mortar locations, they recently commissioned the experts at OC Designs Online to craft them a custom eBay Store Design to expand their reach and are now serving customers all over the world.

For targeted searches or questions, shoppers can contact an expert by calling the toll-free number listed in the header or utilize the custom search bar to seek out specific products.
The main navigation bar houses the sharp logo, company information, shipping price index, FAQs, ways to contact and a list of payment options. Below, this eBay Shop Design engages customers with bright red dividers which help organize the many free shipping and services offered to US customers.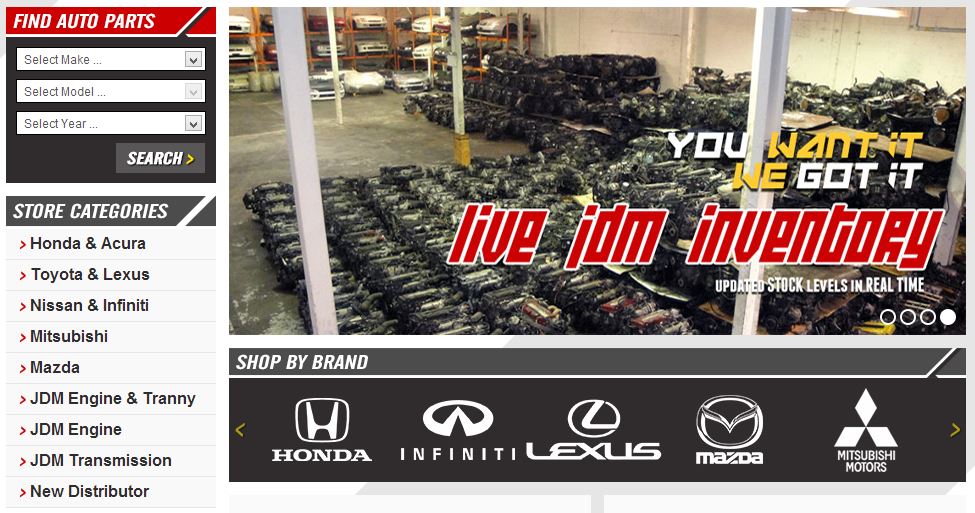 Finding specific parts is a cinch with a drop down menu in the left sidebar where shoppers can input the specific make, model and year of their car to access the perfect fit. Customers can also elect to peruse through a list of store categories for well-known brands including Honda & Acura, Toyota, Nissan, Mitsubishi, Mazda, and more. A horizontal scroll of car logos drifts along the side, helping buyers identify by brand.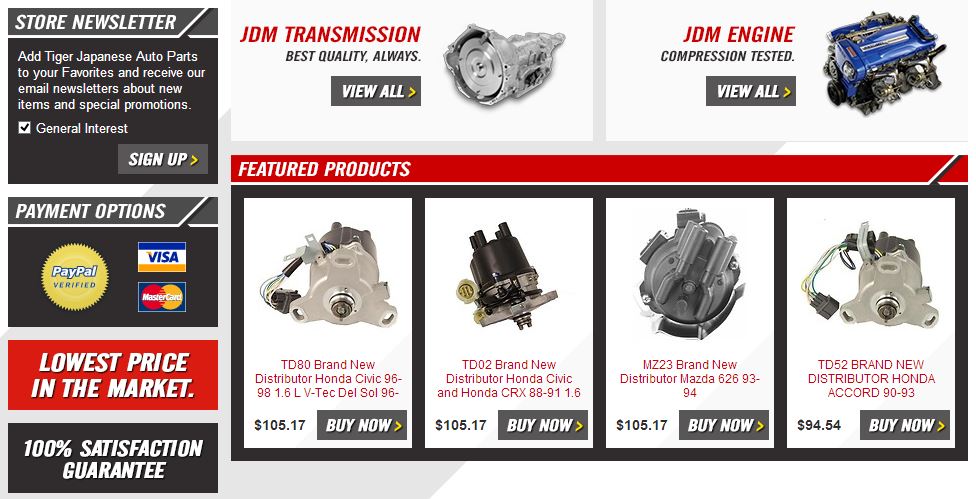 Returning to the left sidebar an invitation awaits customers who want to receive information about new items and special promotions while payment options including PayPal verification and a list of major credit cards ensure a hassle free buying experience.
Directly right, our professional design staff has included graphics and links to the shop's most sought after jdm transmissions and engines in this custom eBay template.
The midsection includes a four-panel spread of featured products which include a brief description and price along side a conveniently located 'buy now' link in the lower right corner.

To wrap up the eBay Store Design, a custom footer links to important company and warranty information, while the Tiger logo counterbalances the header.
Are you looking to gain an edge with a stunning and noticeable eBay Shop Design? Let us show you how! Browse our portfolio and then request a free quote.
Let's be social! We cordially invite you to follow us on Facebook and Twitter. For Pinspiration, wander over to our Pinterest boards and take a peek.