For years, ecommerce websites have relied on platforms like Volusion to sell their wares on the web. And when you sell to a niche group of sports enthusiasts like K&K ATV Racing, your online storefront is your business' mainstay.
Fortunately, the experts at OC Designs Online are well versed in a wide array of industries. We've got the knowhow to reel in traffic and lock down sales. Check out some of our handiwork below!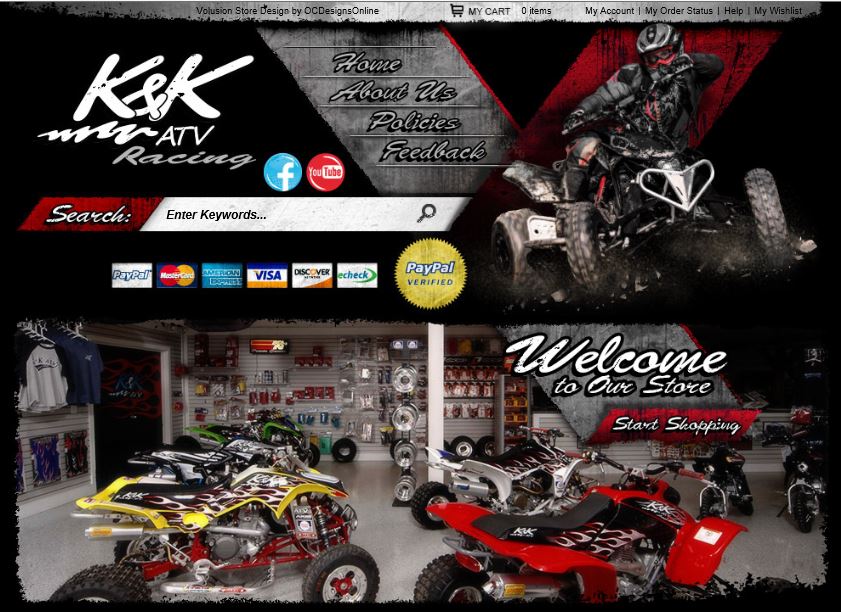 Personal account information including your wishlists, order status, and electronic carts reside at the top of the site among a textured metallic backdrop. Company information such as store policies and feedback rest in a diagonal navigation pane between the K&K racing logo and wide-angle action shot.
Next our design experts capitalize on social media channels Facebook and YouTube with plug ins and offer customers an opportunity to shop by utilizing a custom search bar to cull inventory.
Several payment methods are provided and include PayPal and eCheck options, making it a cinch to complete your purchases come checkout time. A PayPal verification ensures customers feel comfortable entering their personal information.
Finally, a welcome message invites buyers to start shopping by clicking anywhere on the spread.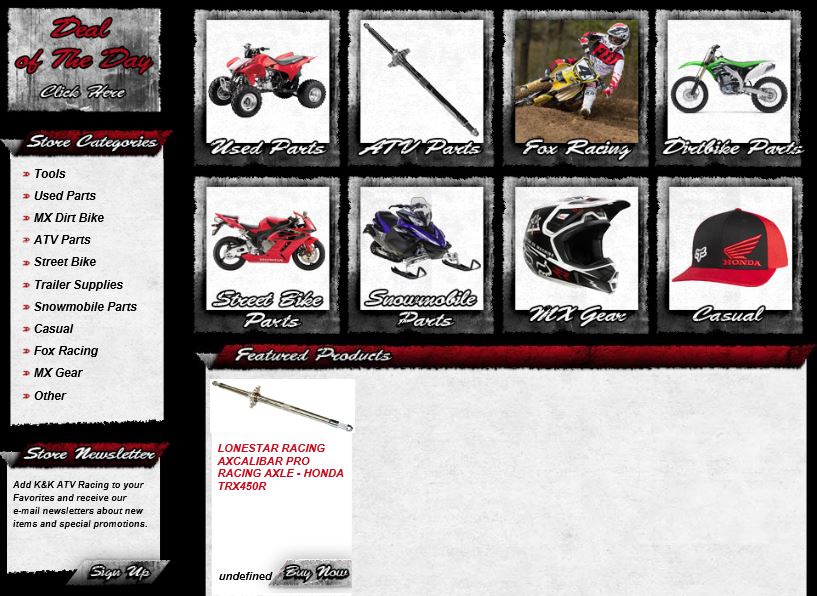 Below, a low-key grey and red graphic entices shoppers to click the link for a specially priced deal of the day. The left sidebar segues into roughly a dozen store categories covering a host of parts including fox racing, street bikes, and trailer supplies and invites shoppers to sign up for the store newsletter to receive electronic communication about new items of special promotions.
The midsection displays the store's top eight categories in a 4 X 2 panel underscored with hi-res visuals and has ample space for featured products on display in prime real estate.

To wrap the site, a custom footer gives an overview of important company information. The mini sitemap includes customer service options such as shipping info, store policies including privacy policies, connection options via Facebook and YouTube as well as an option to purchase gift cards.
Are you ready to attract customers to your site and convert traffic to sales? At OC Designs Online, we have a talented staff of graphic designers that are experts at Volusion store designs- and just about any other ecommerce store design. It's easy to request a quote—and free!
We hope you'll browse our stunning portfolio, and stay connected by liking us on Facebook and add us to your circles on Google+!