During the new year, many folks take stock of their wardrobes, engage in a little spring cleaning to purge outdated items and make note of what pieces are missing. Those that have a little extra Christmas spending money in their pockets might even elect to do a bit of updating.
For the last 15 years, Branded Styles has been a leader in internet retail. With huge volumes of branded, designer clothing at a steal and new items rotated in daily, it's no wonder they're so successful. But with so much stock in tow it became increasingly important their eBay store design was user-friendly and easy to navigate. Our web professionals and OC Designs Online were more than happy to accommodate!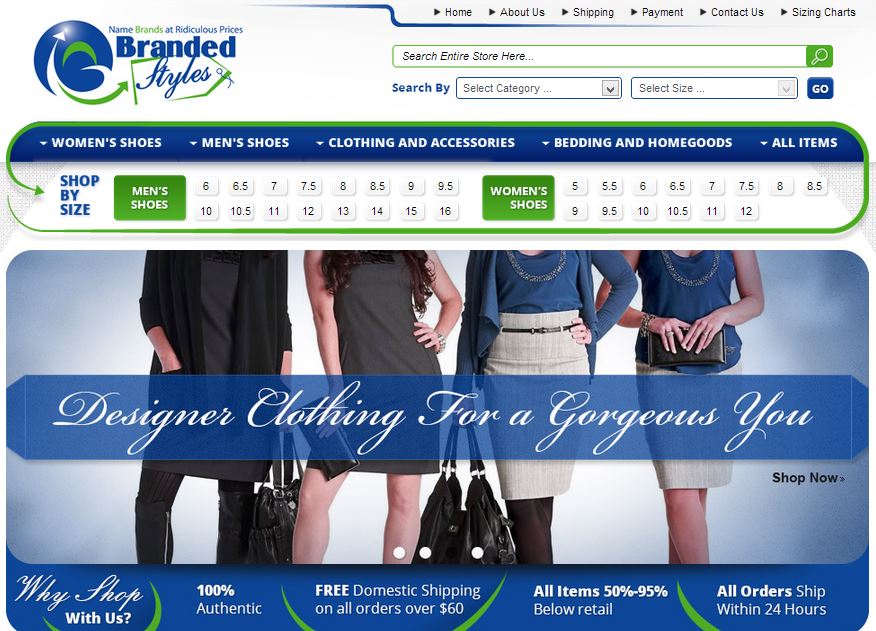 Right off the bat, customers are extended two ways to sift through merchandise- by entering key words, phrases or brands into the custom search bar, or with convenient drop down bars sorted by brand and size.
Next, store categories are divided into groups including men's/women's shoes, clothing and accessories, bedding and homegoods, or all items. Below, shoe sizes are laid out in a highly organized spread, helping shoppers narrow their selection.
A compelling blue and green 'why shop with us' feature joins with the hi-res welcome message above. It is here we learn Branded Styles ensures its pieces are 100% authentic, offers free domestic shipping, prices all items 50-95% below retail, and ships all orders within 24 hours.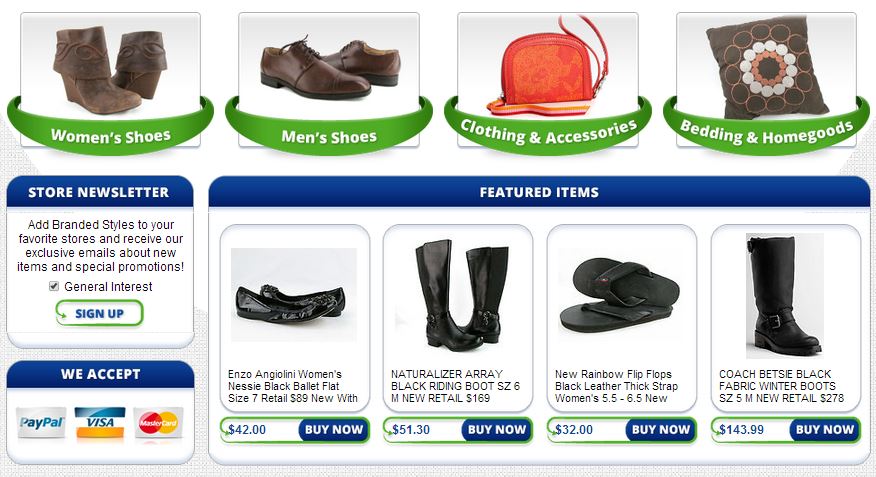 This custom eBay shop design continues by offering another avenue in which to shop by category, while a four-panel of 'featured items' showcases items marked down at an additional discount.
In the left sidebar, customers are invited to sign up for the newsletter and receive exclusive emails containing new items and promotions, and a list of accepted payments takes the guesswork out of how to complete purchases.

Most of our eBay templates close with our custom footer. In this case, our design experts have included a mini sitemap with key company information such as an about page, shipping and payment policies, contact info and sizing charts to help with at home fitting.
Need some ideas for your online store? Peruse our portfolio or go to our Pinterest page for inspiration. By liking us on Facebook, you'll be first to hear about deals.
We are experts in the designs guaranteed to boost your traffic and lock in sales.
Ready for a new eBay store design? Request a free quote today!