Going to the dentist is universally regarded as a very high-stress situation for a vast majority of people. Folks put so much trust in the hands of the man or woman with that magical DDS at the end of their name. And while cutting corners simply isn't an option, running a practice can be quite expensive.
That's why the bargain hunters at Handpiece USA had the OC Designs Online experts craft them a highly navigable 3D Cart Design to bring the largest selection of reconditioned dental handpieces and attachments to the online sphere.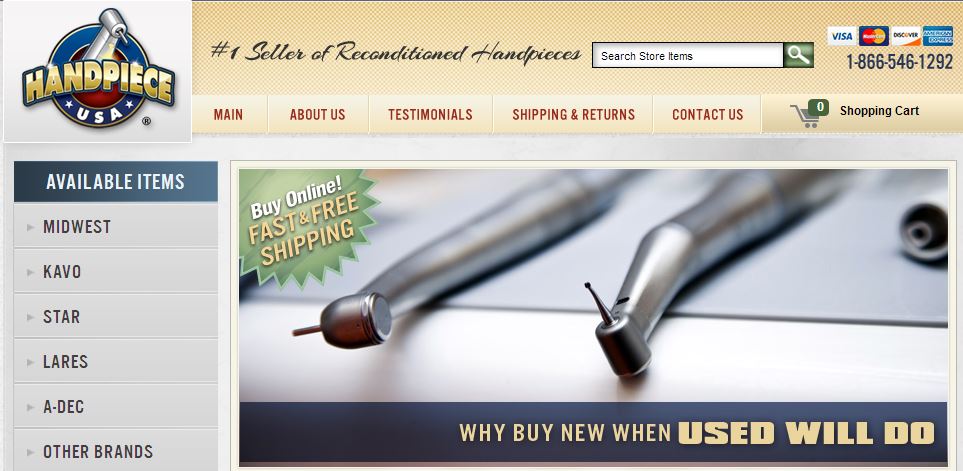 Searching out specific tools is made easy with a custom search bar in the storefront header. Riding along side are accepted methods of payment and a customer service number to help steer shoppers in the right direction and resolve any potential issues.
For company information, testimonials, shipping and returns policies, or ways to contact, customers can visit the main navigation bar which sits just below.
Next door, a welcome message encourages practices to heed the motto, "why buy new when used will do" while the right sidebar is home to an organized collection of store categories conveniently sorted by brand.
Click on any of the six outlined tabs and shoppers are taken to a separate page where they can make additional selections regarding the speed, types of attachments, couplers or miscellaneous assortments.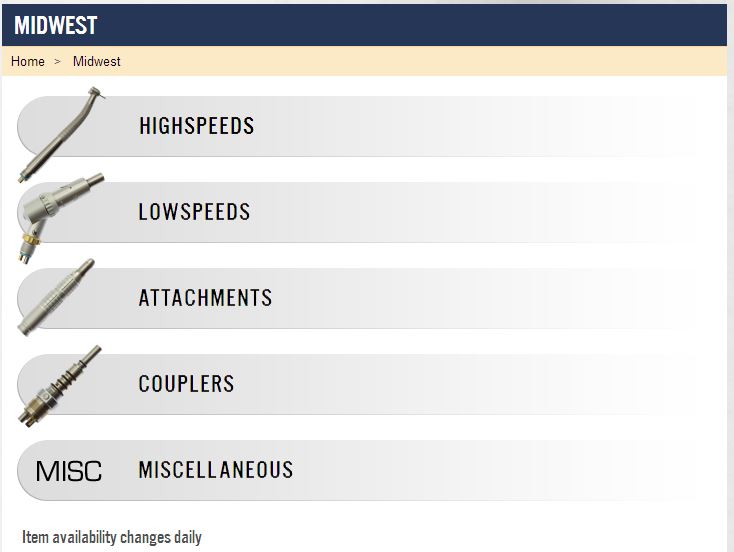 Back on the main page, shoppers are again met multiple customer service options including a toll-free number and link to send a message online via email.
Those who are looking to sell their unwanted pieces in exchange for cash are also invited to conact Handpiece USA to arrange the switch.
Directly right, graphics illustrate and promote the shop's promise of free shipping both in the US and abroad, a warranty on all purchased items, and a 100% satisfaction guarantee assuring buyers that any issue will be remedied and compensated with a full return.

Closing out, the Handpiece USA branding is bathed in light green further emphasizing recognition among their clients.
Ready for your own 3DCart store design? Let OC Online Designs show you what we can do for your ecommerce store. We invite you to browse our portfolio of ecommerce stores and we've worked with many platforms including eBay, Volusion and ChannelAdvisor and more! We also make it easy to request a price quote with a short fill-in form.
Stay up-to-date on everything new and exciting from OC Designs Online—check out our Google+ Page and follow us on Twitter and Facebook!