Can you imagine if every time you set out to shop it was like black Friday? Minus the crowds, but every bit of the deals of course. With Dauntless Deals, everyday is like Cyber Monday. Hordes of items to make your days merry and bright with the added convenience of shopping from your home computer.
With the help of OC Designs Online expert panel of web professionals, completing your holiday shopping while skipping the crowds is a cinch. Check out this highly organized eBay Store Design below: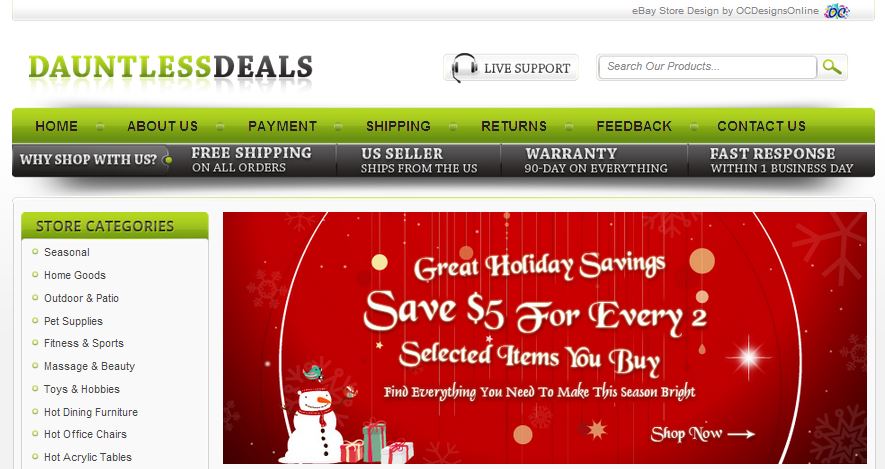 With customer service being at the forefront of everything Dauntless Deals does, our designers decided to add a live support link at the top of the eBay Shop, directly right of the custom logo and next to a custom search bar where shoppers can easily target gifts by entering keywords or phrases.
The bright, lime green navigation bar below hosts company info, accepted payments, store policies, feedback, and ways to contact while they utilize a slender section of grey to highlight compelling reasons to shop which set them apart from their competition.
Jumping down to the right sidebar, customers are able to review groupings of about fifteen store categories including seasonal merchandise. To capitalize on this high-volume time of year, this eBay Template Design uses the main welcome section to advertise a $5 off promotion in this prime real estate.

For those who prefer a more visual browsing experience, store categories are repeated in the site's midsection, under scored visually with hi-res images.
Since marketing is such an essential function of any successful business, our custom eBay Store Designs come standard with an invitation to sign up for the company newsletter, allowing your most loyal buyers to stay abreast of new items and special promotions.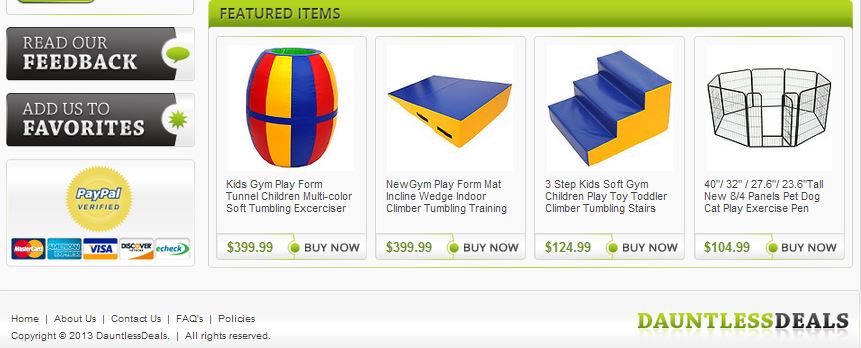 But don't take our word for it, visit the left sidebar to read other customer feedback, then add the site to your favorites, but not before you eyeball the carefully selected featured products next door.
Finally, the storefront wraps with a custom footer complete with a mini sitemap and repetition of the logo in the bottom right to counterbalance the look.
Ready to see how a custom-made eBay shop design can set your site traffic ablaze? We are experts in the template designs guaranteed to grow your online business and we invite you to browse our ever-growing portfolio and request a free quote!
Like what you see? Be sure and 'like' us on Facebook and don't forget to follow us on Twitter!