It's widely held among social scientists that a smile is the only universally understood cultural milieu. For this reason and so many others, protecting your smile is essential! However, who knows what kind of damage you could potentially be doing in your sleep.
Realizing that no nighttime grinder should have to grin and bear jaw or mouth pain, Sporting Smiles commissioned the experts at OC Designs Online to draft them a custom Magento Go store to help its customers' pearly whites stay safe.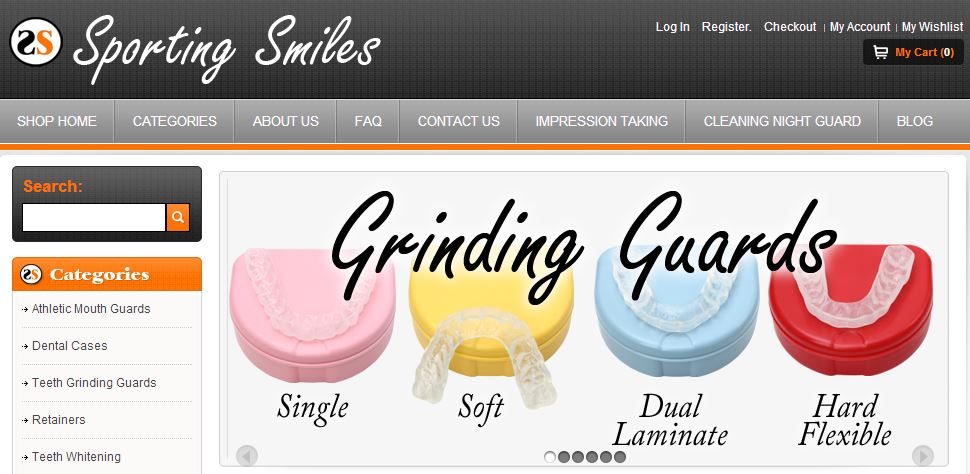 The mirrored logo greets customers as they enter the site. To the right, personal information including cart and wishlist links offer shoppers means to access or create accounts of their own.
In the main navigation panel that follows, buyers can access general company info, FAQs, ways to contact, instructions on taking dental impressions or cleaning their guard, and a tab linking to blog posts.
For those who know exactly what they require to complete their purchases, we've built in a custom search bar to target your finds. Or simply pop over to the vertical category links to see the full inventory spread.
In the rotating welcome banner resting center-right, the site has a built-in way to market specials including customizable guards, whitening kits, at-home impression packs, and more!

Need a new tray or guard but prefer to forego the hassle of sitting through an impression? No problem. The left sidebar not only guarantees your satisfaction 100%, it also alerts customers of Sporting Smiles' convenient reorder policy.
Additionally, shoppers will be pleased with the superbly easy to navigate midsection which effectively lumps swaths of inventory into three main categories.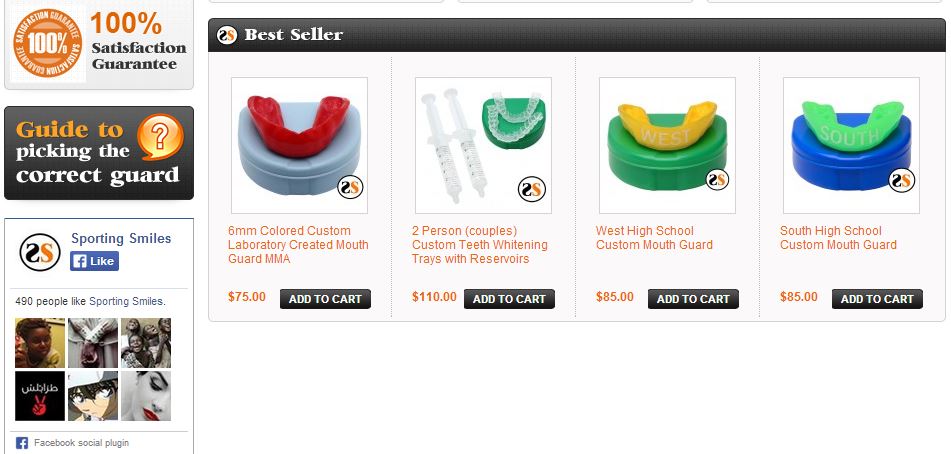 Those who are unsure which guard is for them may be interested in the 'Best Sellers' section to get a sense of what most shoppers are after.
As a way to stay connected, our experts have also added a Facebook social plugin where customers can see who of their friends already "like" Sporting Smiles, or visit their page for more information.

Next, adding instructional and how-to videos, is just one more way Sporting Smiles goes above and beyond for its customers.

Finally, a thorough custom footer wraps the site. Here, shoppers are invited to join the newsletter by simply entering their email address, peruse through the mini sitemap, contact customer representatives, and pour over nightguard reviews.
If you're a distributor of any sort, no matter the product, ask OC Designs Online how we can help you reach your sales goals by creating a custom Magento Go store design.
We work with Magento Go retailers worldwide so we invite you to Request a Quote and be sure to follow us on our Business Google+ page.
Be sure and check out our portfolio of ecommerce store designs and then pick up the phone or send us an email—at OC Designs Online our goal is to treat every client like they are our very first client!