For those who protect and serve, their safety is absolutely vital in many life or death situations. When it really counts don't you want your hero to have the necessary protection to brave any catastrophe?
Recognizing this need to take care of those that take care of us, Safe Rite Solutions called upon the professionals at OC Designs Online to draft them an easy to navigate, highly organized Amazon storefront.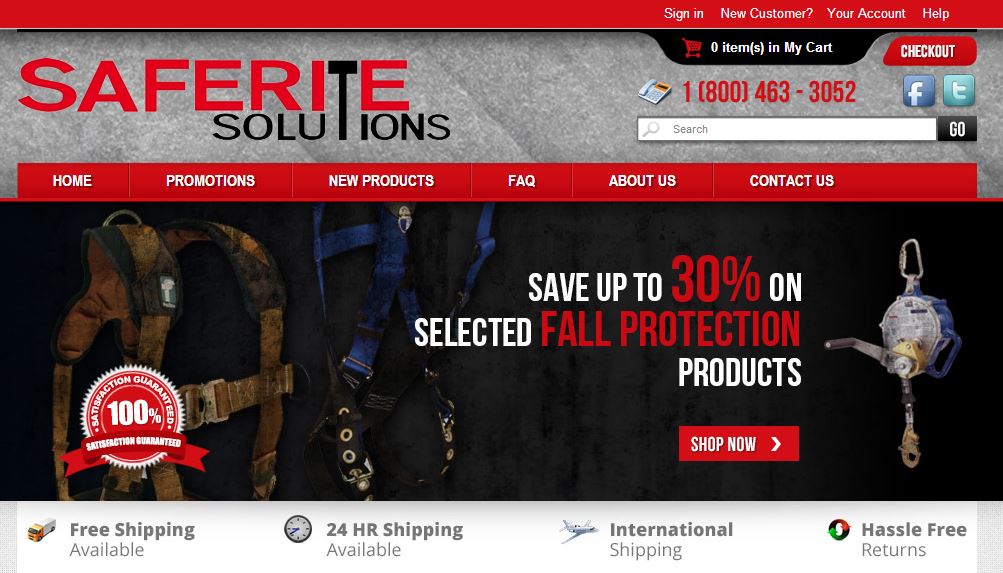 The fire engine red color scheme is completely apropos given the target clientele. It also serves to accentuate the site's most important features.
At the very top, new or existing customers can easily access their accounts, view their carts or find help. However, getting a live person on the phone is a cinch, and our design experts have prominently displayed the customer service number next to facebook and twitter social media plug ins, to avoid a hunt.
Those who know exactly what they are after can easily target specific products or gear with the custom search bar in the top right.
Cruising down to the main navigation panel, promotions, new products, FAQs, company or contact information are highly accessible.
In the welcome pane Fall Protection Products are advertised at a 30% discount and come with a 100% satisfaction guarantee. Further, with the many shipping offers and a promise of hassle free returns shoppers can rest easy knowing their purchases are in the hands of true professionals.

Next, the site clusters its sprawling inventory into recognizable store categories including fall protection, respiratory protection, head protection and high visibility, each represented with a defining icon to enhance the spread.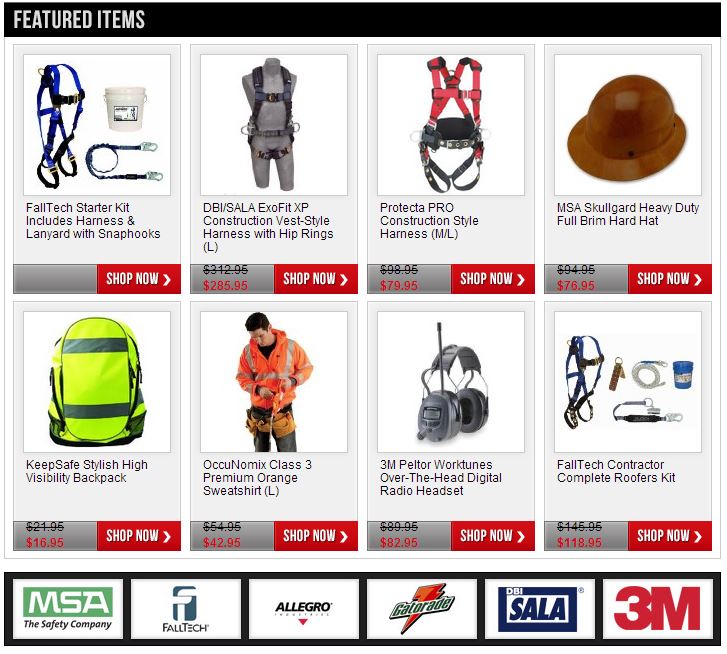 The midsection is devoted to a 4 X 2 panel of featured products, each one underscored visually with a hi-res image of the protective gear being marketed. After a brief description, the eye naturally falls on the discounted price which has been cast in red just below the original. Click anywhere on the space to 'shop now' or read a bit more.
Below, a six pane spread of logos re-enforce the site's professional demeanor and promote brand recognition.

Finally, the storefront closes with a custom footer complete with a mini site map and McAfee secure graphic.
Whether you want a custom storefront that is classy and elegant, tough and rugged or anywhere in between, OC Designs Online can help. Please look through our increasing portfolio of impressive designs and request a free quote to learn more.
Don't forget to look us up on Facebook, follow us on Twitter and find us on Google+ too!