Hobby stores are keepers of some of America's favorite pastimes, and selling these treasured radio control (RC) toys online is a great way to increase revenues and reach a wider audience of collectors. A custom eBay store design and eBay templates can help you do just that. If you own a hobby or RC eBay store, why not take it to the next step just like some the folks at K&K Hobby have done!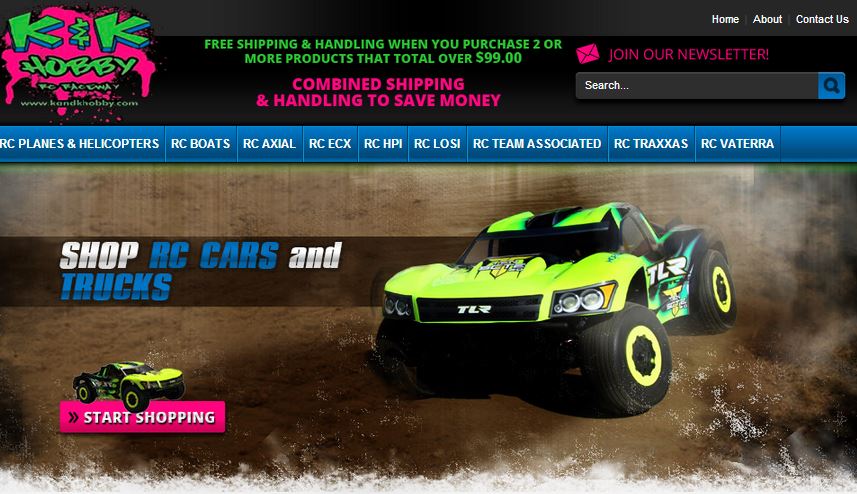 With so much inventory in stock, K & K Hobby's main concern was presenting a layout that is representative of their large selection, yet exceptionally easy to navigate.
To achieve this, a custom search bar sits top right, inviting shoppers to cull their options by plugging in key words, phrases or parts while it's the playful green and magenta color scheme which imparts a feeling of being truly 'young-at-heart'.
Collectors who are interested in keeping tabs on new inventory or promotions are also invited to join the newsletter.
By designating company and contact information to the very top of this eBay shop design, our professionals are able to shine the focus on the main navigation pane. Here, a plethora of category listings include specific tabs for cars, trucks, helicopters, trains, accessories, and more.
The main feature utilizes a wide-angle shot of an rc truck in motion. A pop of color is used to alert customers to the link which will allow them to 'start shopping'.

Directly below, a horizontal panel of several store categories which may be of particular interest to the seasoned hobbiest are underscored with a visual. Shoppers who like what they see can click anywhere on the spread to view the entire inventory.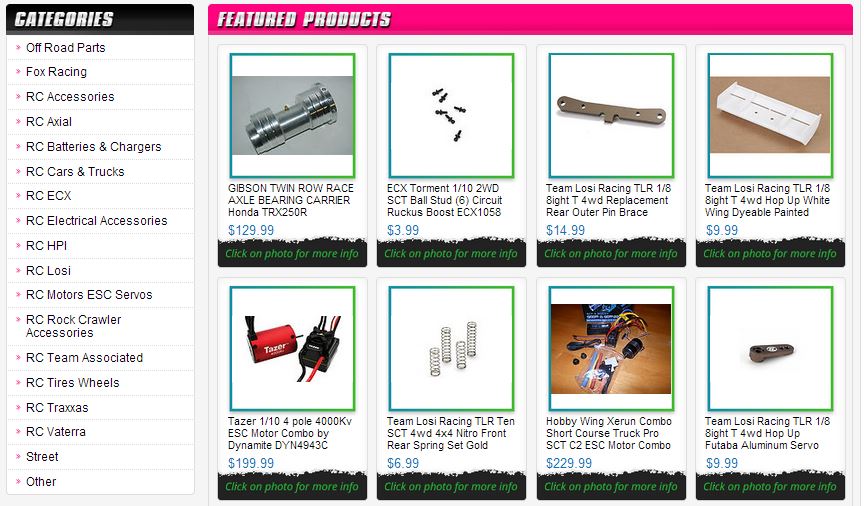 Coasting down to the midsection, it's a cinch for shoppers to view the full array of store categories in the left sidebar.
However, a 4 X 2 spread of 'featured products' is arguably the most effective way to showcase highly sought after , seasonal or discounted merchandise.

Closing out the eBay Template is a custom footer, complete with mini site map and logo to brand a lasting impression.
Want your own RC or hobby custom eBay store design with eBay templates? Get a free quote—you'll be surprised at how affordable we are—and all online retailers need to advertise, brand and make the best online presence if they want to be top-rated PowerSellers!
After you browse our portfolio, be sure to follow us on Twitter and be sure to find us on Google+!