The age of the smart phone means walking around with what essentially amounts to a personal computer at your finger tips. However, despite the added conveniences it brings we're still talking about a solid piece of glass that you frequently hold to your face. Which is exactly why keeping your smart devices safe, and crack free is a non-negotiable.
Striving to offer folks the most modern, yet quality cases, Imprue sought the help of our experts at OC Designs Online to craft them a custom Magento Go Store to bring their products to the rest of the world.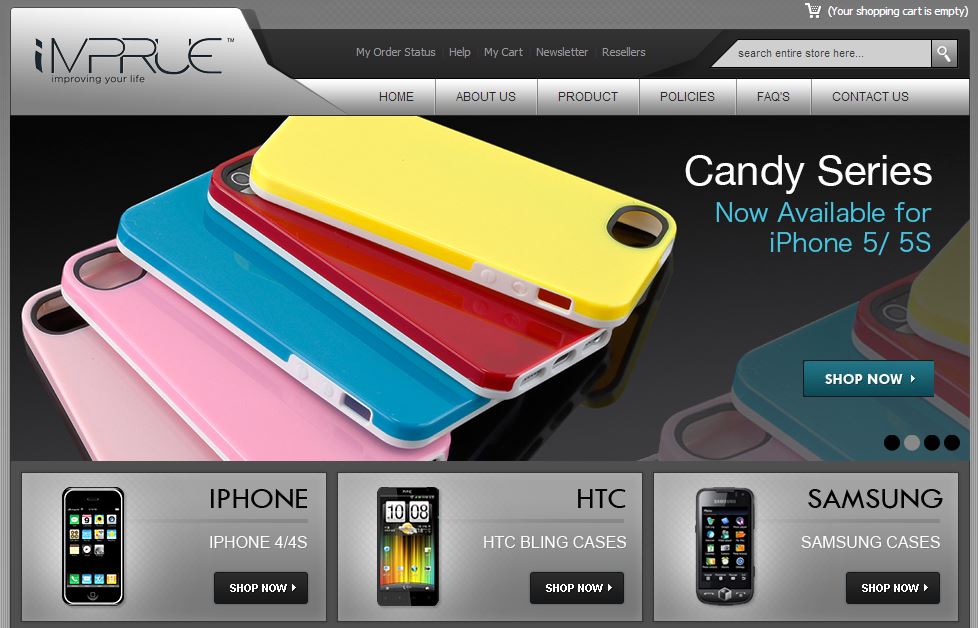 At the top of this eBay store design is a search function that allows the shopper to type in a keyword or phrase to sift the inventory and target specific brands or items.
In the site's upper left corner customers notice the presiding Imprue name and logo. An option to log into one's account and view their cart sit against the chrome backdrop. Alternately, shoppers are invited to brush up on their reading with the newsletter or reseller information. Just below, select tabs in the main navigation tab offer company information including products and policies or a frequently-asked-questions section as well as a contact feature for the buyer.
A rotating welcome panel highlights collections of possible interest as well as discounted cases with a free shipping promotion. Each sports a "shop now" button which lets buyers quickly peruse the available catalog.
Underneath, buyers are able to further narrow cases and view only those which fit their particular device.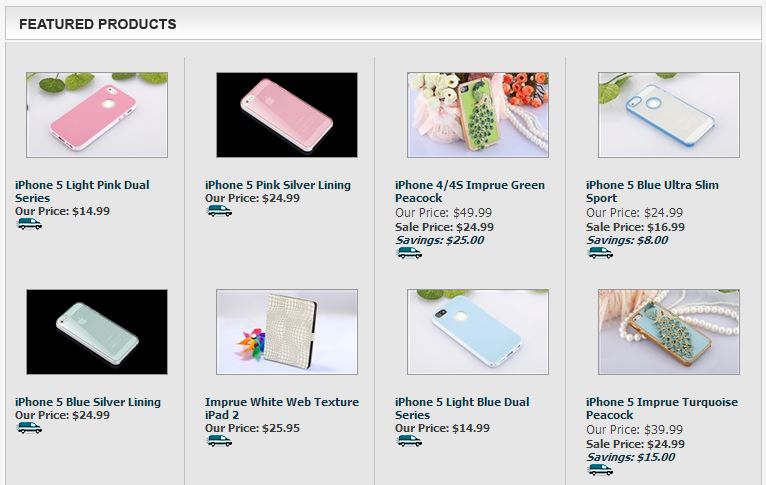 In the midsection, a 4 X 2 featured products section offers a short item description, price, and what that amounts to in savings.

OC Designs Online realizes that buyers prefer simplified listings and has chosen the bottom of the page to offer a complete inventory by case type. Since it can get a bit confusing when shopping for cell phone accessories, the store's designers have gone to great lengths to keep the look and feel of the page uncluttered and well-organized.
Finally, there is a directory of accepted payment options and verification seals. Would-be buyers are sure to appreciate the convenience of this information that is so visibly displayed on the store's website.

Closing out the storefront is a custom footer complete with an extensive mini sitemap, invitation to join the newsletter, and links to social media outlets.
If you sell cell and smartphone accessories online, isn't it time you invested in a custom store design? It's easy to request a free quote and we encourage you to peruse our ever-growing portfolio.
Don't forget to like us on Facebook and add us to your circles on Google+!